How Are Pirates' 2023 Draft Picks Performing So Far?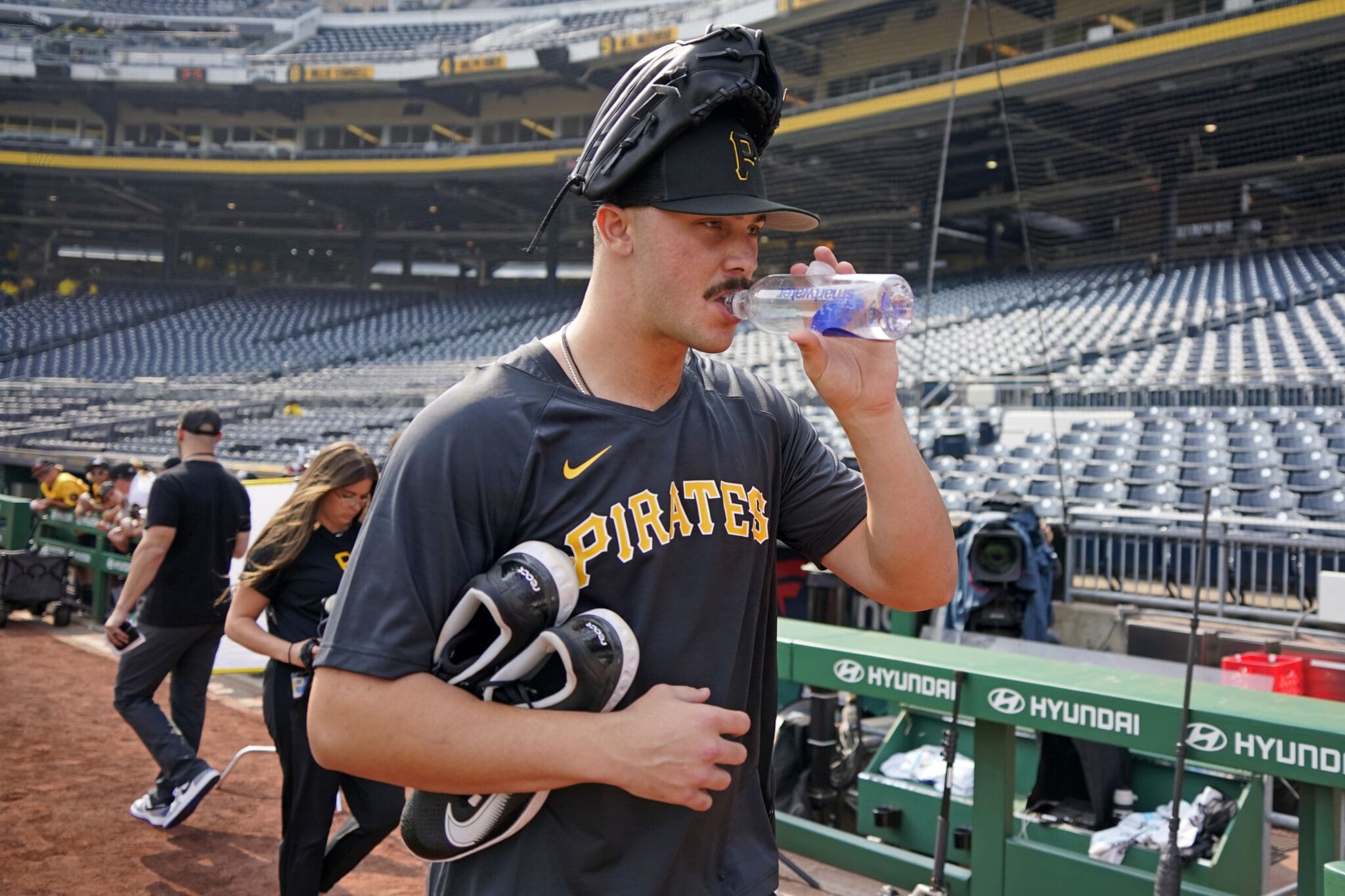 It's been over a month since the Pittsburgh Pirates kicked off the 2023 MLB Draft by taking right-handed pitcher Paul Skenes with the first overall pick.
After Skenes was selected, the Pirates made 20 more selections to round out this year's draft class. Of the 21 picks, 20 signed with the Pirates.
While not all of the new Pirates' prospects have started their professional careers, the majority of them already have.
Here are all the 2023 draftees who have seen game action and how they have fared so far.
Round 1: RHP Paul Skenes
0-0, 0.00 ERA, 0er/4.0ip, one hit, no walks, five strikeouts, three appearances/three starts
After making his debut in the Florida Complex League, Skenes' last two outings have come with the Bradenton Marauders. In total, the right-hander has played the part in his brief sample with four seamless innings.
His next start will come with Double-A Altoona after the Pirates promoted him from Bradenton.
Skenes is considered the No. 3 overall prospect in baseball and the top pitching prospect in the league according to MLB Pipeline.
Round 2: INF Mitch Jebb
.292/.381/.361, three doubles, one triple, six RBIs, seven steals, 18 games
Jebb, to this point, has been as advertised with Bradenton. His contact skills have been on full display with more walks (10) than strikeouts (eight) and he's showed off his speed with seven stolen bases.
The 21-year-old is considered the Pirates' 11th-best prospect.
Round 3: 1B/3B Garret Forrester 
.278/.552/.278, three RBIs, six games
Forrester has been an on-base machine with the Marauders. He's drawn 10 walks in 29 plate appearances (34.5% walk rate). Though he has yet to record an extra-base hit, there is some power potential.
The Oregon State-product is the Pirates' No. 23 prospect.
Round 4: RHP Carlson Reed
1-2, 2.57 ERA, 2er/7.0ip, seven hits, three walks, six strikeouts, four appearances/two starts
Selected out of West Virginia University, Reed has been pitching in the FCL and has been getting some pretty good results so far.
Round 5: RHP Patrick Reilly
1-0, 7.71 ERA, 4er/4.2ip, two hits, four walks, eight strikeouts, four appearances
While he's struggled with control, Reilly has also been striking out batters at a high clip. All four of his appearances have come with Bradenton.
Round 7: LHP Jaden Woods
0-0, 0.00 ERA, 0er/7.0ip, one hit, one walk, 10 strikeouts, four appearances
Woods' career could not have started much better with the Marauders. He's been just about untouchable and has shown he's capable of missing bats.
Round 9: RHP Danny Carrion
0-0, 27.00 ERA, 3er/1.0ip, two hits, two walks, one strikeout, one appearance
Carrion has made just one appearance with Bradenton so far. It didn't go well.
Round 10: RHP Landon Tompkins
0-1, 5.87 ERA (5er/7.2ip), 11 hits, six walks, three strikeouts, six appearances
It was been a struggle for Tompkins so far pitching for the Marauders.
Round 11: LHP Magdiel Cotto
0-0, 0.00 ERA, 0er/1.0ip, one hit, no walks, two strikeouts, one appearance
Cotto has one scoreless inning with the FCL Pirates under his belt.
Round 13: INF Charles McAdoo
.367/.466/.612, one double, one triple, three home runs, 16 RBIs, two steals, 13 games
McAdoo, drafted out of San Jose State University, has opened some eyes with his excellent start while with the Bradenton Marauders. He's done a little bit of everything at the plate so far.
Round 14: RHP Garrett McMillan
0-0, 54.00 ERA, 2er/0.1ip, three hits, no walks, no strikeouts, one appearance
McMillan is currently on the 7-day injured list with after making one appearance.
Round 15: C John Lopez
.000/.000/.000, two games
Lopez has gone hitless so far through two games in the FCL.
Round 16: C Justin Miknis
.136/.345/.136, two RBIs, eight games
Miknis is 3 for 22 to begin his professional career and he has seven walks in 29 plate appearances with Bradenton.
Round 18: INF Kalae Harrison
.286/.375/.500, one home run, one RBI, six games
Harrison has been playing with the Marauders and recently hit his first-career home run.
Round 19: RHP Tyler Kennedy 
0-1, 12.00 ERA, 4er/3.0ip, four hits, seven walks, seven strikeouts, four appearances
Kennedy has struggled so far with the FCL Pirates.
Round 20: RHP Peyton Stumbo
0-0, 2.08 ERA, 1er/4.1ip, two hits, no walks, two strikeouts, four appearances
And finally, Stumbo has pitched pretty well in the FCL.