Pirates 2022 MLB Draft Tracker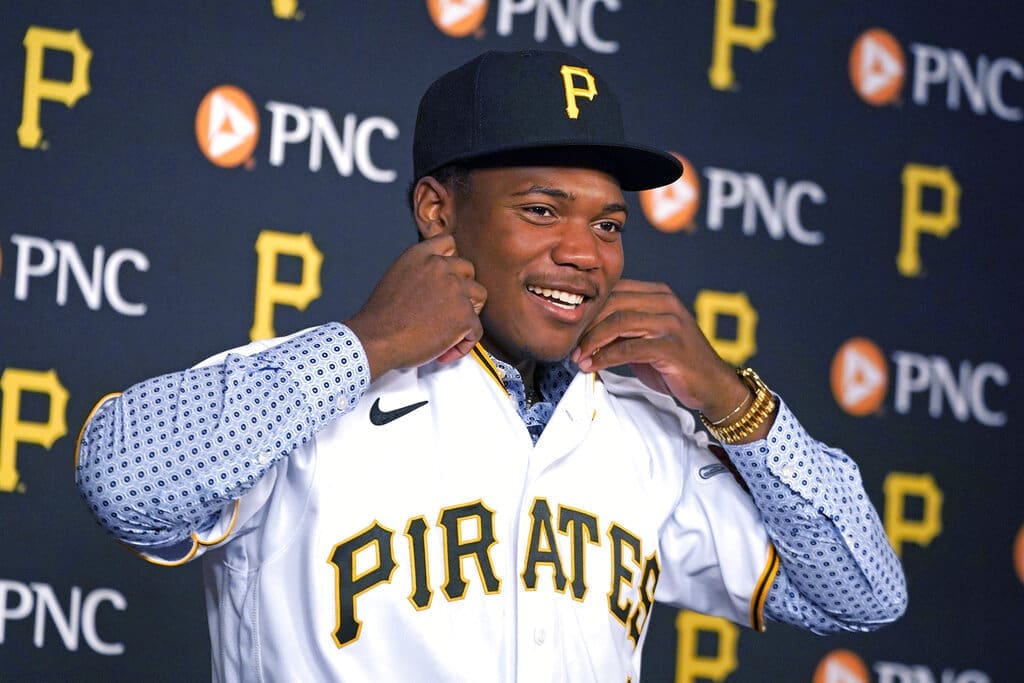 The complete list of the Pittsburgh Pirates selections in the 2022 MLB Draft. The Pirates had $13,741,300 dollars in their draft pool and spent $13,596,300 according to Spotrac.
With 15 pitchers drafted out of the 20 total picks, the Pirates invested heavily in their rotation. The team's first first selection at number four overall was high school second baseman Termarr Johnson. With their competitive balance pick in the first round, 36th overall, the Buccos went with Campbell Camels pitcher Thomas Harrington.
The Pirates signed 18 of the 20 picks before the August 1st deadline with only pitchers K.C. Hunt and Yoel Tejeda holding out.
Pirates 2022 MLB Draft Selections
Round 1 (4): Termarr Johnson – 2B – Mays HS (GA)
The Pirates drafted the 18-year-old high school second baseman out of Mays HS in Georgia fourth overall. Johnson signed with the Pirates for $7,219,000, a $213,000 difference over slotted bonus.
Johnson has exceptional bat-to-ball skills and possesses a strong understanding of the strike zone. Johnson, who isn't the biggest player physically, possesses impressive power potential. In the summer of 2021, Johnson won the Perfect Game All-American Home Run Derby. Scouts believe he is capable of hitting 25-30 home runs as a professional.
In the field, Johnson is a capable defender and projects to play second base at the next level. According to Fangraphs, Johnson would rank as the 27th-best prospect on their Top 100 list.
The Buccos second pick in the first round, Harrington was a competitive balance selection at number 36 overall. The 21-year-old pitcher from Campbell signed with the Pirates for $2,050,000 dollars, $100,300 under the slot allotment. Harrington has got quite the story.
Harrington has limited experience at the collegiate level, but he offers a four-seam (55 grade), slider (55 grade), changeup (60 grade), and curveball (50 grade) to his pitching repertoire. Harrington's fastball has touched mid-90s but sticks right in the low-90s for the majority. His changeup is his go-to off-speed pitch and has been known to generate swing and miss ability. 
The 6-foot-2 190 pound North Carolina native put together a very impressive season in 2022. In 92.2 innings pitched, Harrington put up a 2.53 ERA, struck out 111, walked just 18, and allowed one homer. The biggest upside that we have heard with Harrington is his control, and looking at his walk numbers, it seems to be the case. 
"Harrington's heater will range from 90-93 mph on some days and 93-96 on others, but it regularly misses bats with its run and carry." said MLB Pipeline. "His best offering is a mid-80s changeup with tumble that elicits swings-and-misses in and out of the strike zone."
Round 2 (44): Hunter Barco – SP – Florida
Pirates second round selection Hunter Barco stands 6-foot-4 and was named a Freshman All-American after his freshman year in 2020. Barco was also named to the 2021 SEC All-Newcomer Team and was the SEC Pitcher of the Week for Feb. 21 this year. D1Baseball named him the number one collegiate pitcher at the end of March.
The southpaw features a three-pitch mix, led by his plus-slider which sits in the low-80s. Harrington features a low-90s fastball that creeps up to 95 at times and an above-average changeup. Barco's deceptive delivery adds to his appeal on the mound. He projects as a middle-of-the-rotation arm.
Barco signed for $251,000 dollars under his slot value.
Round 3 (83): Jack Brannigan – 3B – Notre Dame
The Pirates third round draft pick out of Notre Dame, Brannigan has only pitched in 23.1 innings in his three years at Notre Dame, but his fastball can sit anywhere between 95-97 MPH and has been known to touch 100 on occasion. Brannigan likes to hit and has played the majority of the time at third base with the Fighting Irish, and according to MLB Pipeline, he has decent contact with average to limited power.
During the Cape Cod League in 2021, Brannigan slashed .282.387/.372 with an OPS of .759. They are not the ideal power numbers you'd like to see with a third baseman. National sites are mentioning that Brannigan could become a starter with a three-pitch mix, but wouldn't be surprised if he stuck in the bullpen.
According to MLB Pipeline, Brannigan has a fastball (70 grade), slider (60 grade), and changeup (50 grade). Brannigan's control is a big question mark with a 45 grade, and has walked 14 in his 23.1 innings pitched in college.
Brannigan signed for his slot value of $770,700.
Round 4 (110): Michael Kennedy – SP – Troy HS (NY)
High School pitcher Michael Kennedy is rated as MLB Pipeline's 89th best prospect in this year's draft. Kennedy is young as he doesn't turn 18 until November, so the Pirates are getting one of the youngest players available this year. The 6-foot-1 lefty is from New York and is committed to play college ball at LSU.
He features a three-pitch mix, led by an above-average fastball and slide, which both are rated as a 55-grade on the 20-80 scouting scale. Kennedy also features a pretty good changeup and has strong control, especially for his age.
Kennedy signed for $1,000,000, which was well over his slot value of $554,800.
Round 5 (140): Tres Gonzales – LF – Georgia Tech
The Pirates first outfielder drafted in 2022, Gonzalez is a pure hitter as seen by his .339 batting average with the Yellow Jackets this season. The left-handed hitting Gonzalez posted a .458 on-base percentage with 14 doubles, one triple, five homers and 57 RBIs. He only struck out 27 times in 290 plate appearances (9.3% strikeout rate).
In the Cape Cod League last summer, Gonzalez hit .331 with eight steals in 32 games. Since taking over as Pirates general manager, Ben Cherington has been attracted to players who perform well in the CCL, and Gonzalez impressed.
Gonzalez is more hit over power, but possess some of the bat-to-ball skills in this year's class according to Pipeline. He's a plus-runner and an above-average defender, but has a below-average arm.
Gonzalez signed with the Pirates for $347,500.
Round 6 (170): Derek Diamond – P – Ole Miss
Diamond went 4-4 with a 6.89 ERA in 16 games/14 starts for the Rebels this season. Features a mid-90s fastball and a slider. He was not ranked on MLB Pipeline's Top 250 draft prospects, but came in at No. 210 by Baseball America.
Round 7 (200): J.P. Massey – P – Minnesota
The Chicago-native posted a 6.52 ERA in 14 games/12 starts for Minnesota this season. 6-foot-5 right-hander who can touch the upper-90s with his fastball. He struck out 63 batters in 59.1 innings, but walked 39 — needs to improve command. He is not ranked by Pipeline.
Round 8 (230): Cy Nielson – P – Brigham Young
Nielson, a reliever in 2022 with BYU, posted a 3.21 ERA with 45 strikeouts and just seven walks in 33.2 innings for the Cougars. He pitched in the Cape Cod League this summer and shined in four appearances (three starts). He pitched to a 1.98 ERA with 17 strikeouts and just eight hits against in 13.2 innings in the Cape. His big slider is a big reason for those strikeouts.
Round 9 (260): Mike Walsh – P – Yale
The Bucs selected another college arm in Walsh, who posted a 5.68 ERA in 11 starts for Yale this past season. He put up big strikeout totals with 80 punch outs in 65 innings. Noticing a theme here? — Walsh opened some eyes in the Cape Cod League this summer with a 2.38 ERA and 23 strikeouts in 11.1 innings.
Round 10 (290): Tanner Tredaway – OF – Oklahoma
The outfielder had a big year for the Sooners, finishing third in the NCAA with 105 hits on the season. He slashed .370/.414/.549 with 18 doubles, three triples, nine homers, 66 RBIs and 24 steals in 28 attempts. He earned Second-Team All-Big 12 Honors.
Round 11 (320): Dominic Perachi – P – Salve Regina
Perachi is a 21-year-old starting pitcher with an impressive strikeout rate over his two years in college, with 160 strikeouts in 100.2 innings. If you take Perachi's Summer League numbers into account, too, we're talking another 79 strikeouts in just 59.1 innings pitched.
Round 12 (350): K.C. Hunt – P – Mississippi State
Hunt didn't have the greatest of numbers at Mississippi State with a 6.86 ERA in 42.0 innings pitched in his three years, but looking at his Summer League stats, they look much better. In 40.2 innings, Hunt put up a 3.32 ERA, struck out 53, and walked 14 batters. Hunt is 22 years old. Seems like yet another Summer League producer for Pirates' general manager Ben Cherington.
Round 13 (380): Miguel Fulgencio – P – Cowley County JC (KS)
Fulgencio is a 23-year-old who hails from the Dominican Republic, and from the numbers we can see during his summer league play in 21′ and 22′, he pitched a combined 20.1 innings, struck out 30, walked six, and had a WHIP of 1.131. Fulgencio stands 6 foot 1 and weighs 205 pounds.
Round 14 (410): Julian Bosnic – P – South Carolina
The Pirates went for the Pittsburgh native with their 14th round pick of Julian Bosnic. Bosnic pitched two years in college and put up a fairly decent ERA of 2.51 in 57.1 innings pitched. Another fairly high strikeout guy, Bosnic, has struck out 85 during his time in South Carolina while walking 33. Bosnic now joins Justin Meis in 21′ as a Pirates' draft pick from the Pittsburgh area.
Round 15 (440): Josiah Sightler – 1B – South Carolina
Sightler has the honor of being the Pirates' first position player drafted on day three. Sightler had a very good 2022 with the Gamecocks and slashed .300/.408/.629 with an OPS of 1.037. Sightler hit 15 homers and drove in 31 runs, with 11 doubles in 201 plate appearances. Sightler is a big 22-year-old weighing 234 pounds and stands 6 foot 5.
Round 16 (470): Nick Cimillo – C – Rutgers
In 254 plate appearances, Cimillo slashed .385/.492/.707 for the Scarlet Knights and drove in a hefty 52 runs. Cimillo has shown some pop as well, with 16 homers and 18 doubles. During his entire time in college (four years), Cimillo has put up a 342 batting average with an OPS of .999
Round 17 (500): Jaycob Deese – P – Houston
Deese is a 22-year-old pitcher from Houston, Texas, and is another classic example of the Pirates looking at Summer League stats. During his time in Houston, Deese posted a 4.87 ERA in 151.2 innings. Deese, in the Summer League, pitched in 9.1 innings with a 3.86 ERA. Not a high strikeout guy with just 114 in college.
Birdsong is a 22-year-old California native who stands 6-foot-2 and weighs in at 200 pounds. Birdsong was primarily used as a reliever at Pacific until 2022. During his time at Pacific, Birdsong pitched in 71.1 innings and posted an ERA of 6.06. Birdsong finished third on the team with 55 strikeouts in 2022.
Round 19 (560): Yoel Tejada – P – North Broward Prep HS (FL)
Ranked 217th overall in the draft, Tejada stands 6-foot-7 and weighs 210 pounds at just 19 years old. Tejada is already throwing 94 mph according to Perfect Game and is ranked 12th overall in the state of Florida. Pirates fans have been waiting all day for a potential over slot pick with a prep kid and Tejada may be just that kid.
Round 20 (590): Joshua Loeschorn – P – Long Island University
The Pirates closed out the 2022 MLB draft with yet another college arm. Loeschorn posted an 11-3 record with a 3.06 ERA in 17 games/16 starts with Long Island. He racked up 104 punch outs in 97 innings. The 22-year-old stands 6-foot-3 and checks in at 215 lbs.