Top 30 Pirates Prospects No. 9: Braxton Ashcraft And His Career Resurgence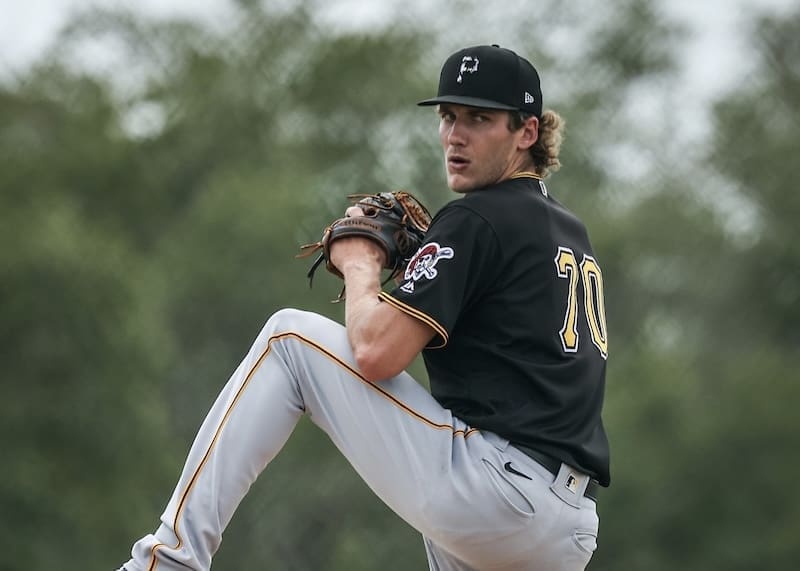 This is one in a series of stories breaking down PBN's Top 30 Pittsburgh Pirates prospects.
In the 2018 draft, the Pirates used their second-round selection on right-handed pitcher Braxton Ashcraft out of Robinson High School in Texas.
Ashcraft's career didn't get off to the start the Pirates would have wanted. In his first full season as a professional in 2018, Ashcraft went 1-9 with a 5.77 ERA in 11 starts. He only recorded 39 strikeouts and walked 22 in 53.0 innings.
With their being no minor league season in 2020 due to the pandemic, Ashcraft wasn't able to see game action again until 2021. That season, the right-hander again struggled, pitching to a 5.35 ERA in 10 starts.
On top of the subpar numbers, his season was cut short after he underwent the dreaded Tommy John surgery. The procedure sidelined him for the rest of 2021 and all of 2022.
With his prospect status in question after a disappointing begin to his career, combined with the unknown of the recovery process from his elbow surgery, Ashcraft finally worked his way back to the mound in 2023.
Ashcraft put the question marks surrounding him to bed and pitched brilliantly across three levels in the Pirates' minor league system.
In a total of 19 starts, Ashcraft finished the season with a 2.39 ERA. The Pirates were understandably cautions with him as the now 24-year-old totaled 52.2 innings. In that body of work though, Ashcraft sure was impressive. He struck out 63 batters against only 11 walks.
Ashcraft was particularly good in Double-A Altoona, where he posted a 1.80 ERA (3er/20.0ip) across nine starts.
In addition to his much-improved stats, there's plenty more to like about Ashcraft. His fastball can touch the upper-90s and comes with good life. He also has the ability to command the pitch as evident by his low walk totals in 2023.
While his fastball is likely his best pitch, Ashcraft also has a slider, curveball and changeup in his arsenal. Of all the off-speed pitches, his upper-80s slider is the most advanced.
Moving forward, there are still some red flags with Ashcraft, mainly his health. He has spent a good amount of time on the injured list with his Tommy John surgery and other ailments throughout his career. He'll also need to continue to develop his off-speed pitches to complement the fastball.
With that being said, if 2023 was a sign of what he's capable of becoming, the Pirates could be counting on him to anchor a rotation spot in the big leagues when he's ready to debut.