Top 30 Pirates Prospects No. 10: How Will Mitch Jebb Handle First Full Season?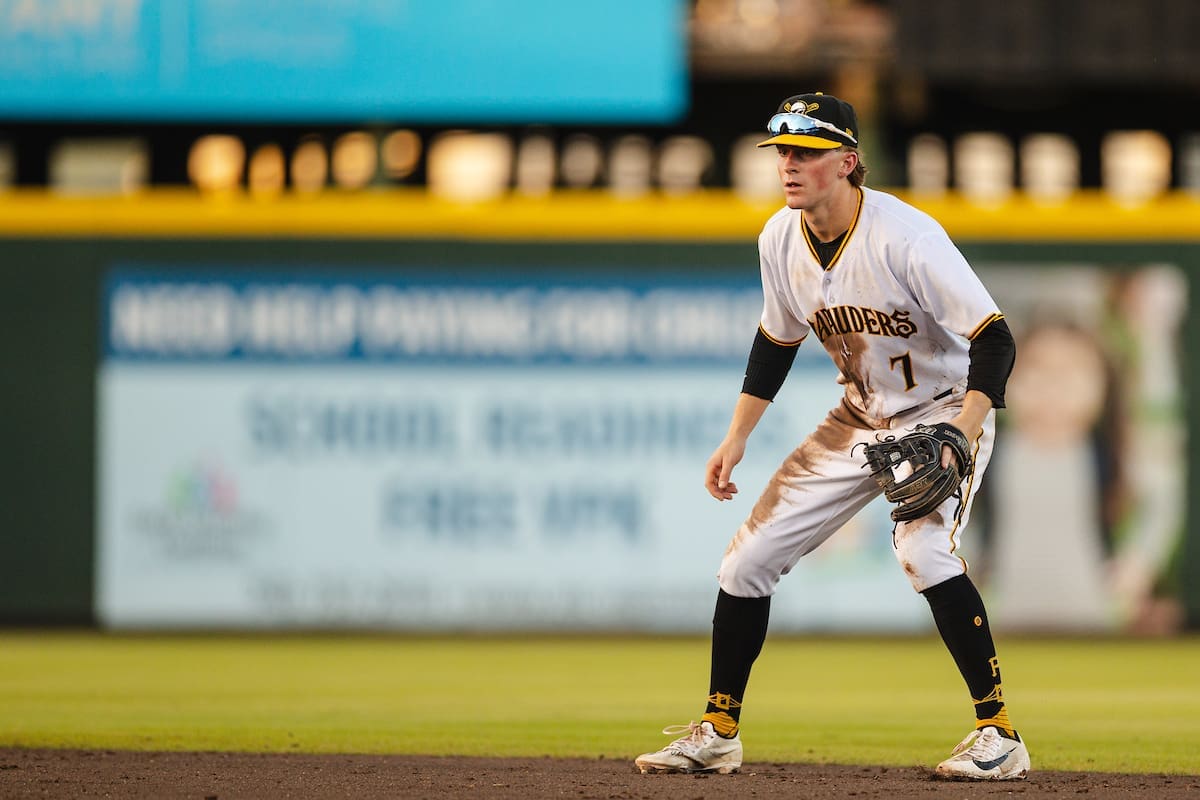 This is one in a series of stories breaking down PBN's Top 30 Pittsburgh Pirates prospects.
In the second round of the 2023 draft, the Pittsburgh Pirates selected infielder Mitch Jebb out of Michigan State. In addition, the Pirates signed Jebb to a $1.65 million contract, which was slightly $400k under slot. 
Jebb became the highest-picked Spartan since 1998 when Mark Mulder was drafted second overall.
Pirates general manager Ben Cherington has a history of falling in love with Cape Cod League darlings, and Jebb is another classic example. 
In 2022, the lefty slashed .356/.429/.490 in the Cape Cod League. In addition, the Michigan-native drove in 22 runs, stole 26 bases, and had an OPS of .919 in 149 at-bats (38 games). In all of the Cape Cod league, Jebb finished second in average, OPS, runs (40), hits (53), RBIs (22), and steals (26).
54 games before the Cape Cod League, Jebb recorded his best season at Michigan State. In 219 at-bats, Jebb slashed .356/.448/.511 with an OPS of .959. 
During his last season with MSU in 2023, Jebb nearly matched his '22 numbers but dealt with a nagging injury. In 50 games, Jebb slashed .337/.438/.495 with an OPS of .953. Jebb ranked 11th in the BIG Ten on average and 16th in OBP.  
Looking through Jebb's overall profile, he fits into the classic on-base guy with a high contact rate and average power. He fits atop a lineup and would perform his best at second base. 
One area where the lefty could thrive is on the base paths. With a graded run tool of 65 by MLB Pipeline, Jebb fits the profile of a "Pittsburgh Pirates guy."
In just 34 games with the Bradenton Marauders, Jebb swiped 11 bags. If you add his '23 numbers with MSU, Jebb stole 25 bags. 
In addition, the funky swing produced a .297/.382/.398 with an OPS of .780 in 128 at-bats in Bradenton. To go along with that slash line, Jebb drove in 13 runs, and his only homer was an inside-the-parker.
The Pirates are clearly moving towards a fast/athletic game with their lack of power. Jebb fits this narrative perfectly. With the 2024 season approaching, Jebb will have his first full professional season. 
Can he make the most of it and continue his high contact rate?