Pirates Preview: Can Oviedo Figure it Out in San Diego?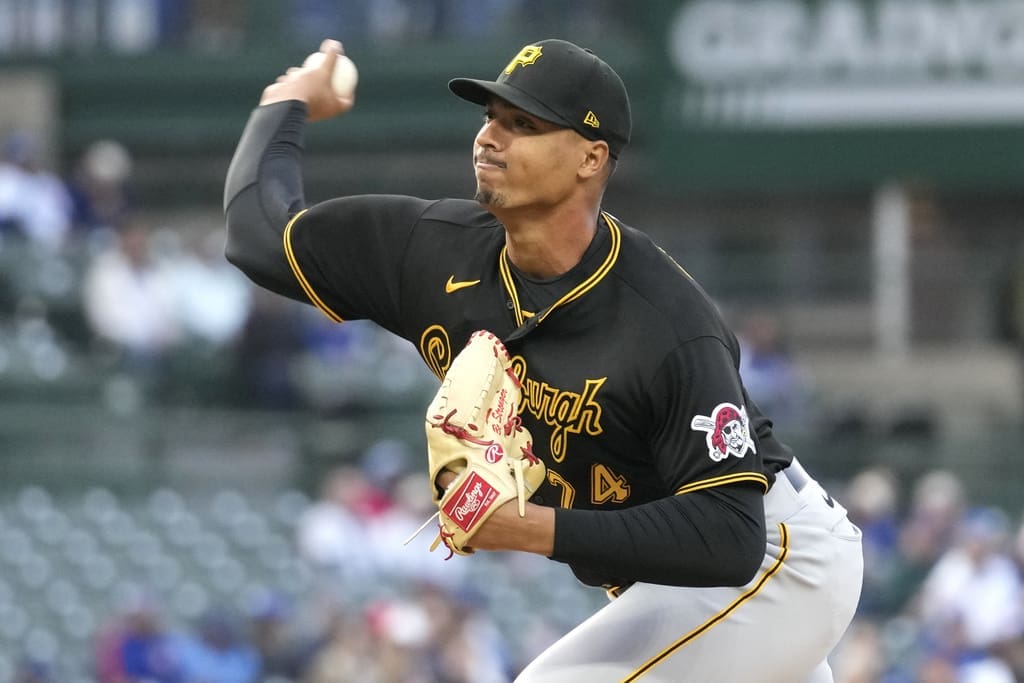 The Pittsburgh Pirates (44-57) had no answer for Blake Snell and were defeated 5-1 by the San Diego Padres (49-53) on Tuesday night at Petco Park.
Snell, who has been on a roll over his last dozen starts, held the Pirates to just a single run across six innings pitched. While he walked five batters, he only yielded a pair hits.
Pirates' pitchers surrendered three homers to the Padres in the loss and the Bucs were outhit by San Diego 11-3.
The Pirates will try and clinch their first series victory since sweeping the Padres at PNC Park almost exactly a month ago.
The game kicks off at 4:10 ET and will be aired on AT&T SportsNet and 93.7 The Fan
Weather
Sunny skies and beautiful temperatures are expected for Wednesday afternoon's tilt. Temperatures will range from 86-82 degrees throughout the game and will have an 8-9 mph breeze blowing northwest.
The Pirates will send out RHP Johan Oviedo (3-11, 4.77 ERA)
After a sensational start on July 15, Oviedo had a newfound confidence heading into his last start on July 21 against the Angels.
That confidence didn't last long, though, as the Angels roughed Oviedo up in four innings. Oviedo was forced to throw 75 pitches (44 for strikes) and he gave up five earned runs on three walks, three hits, and four strikeouts.
However, Oviedo induced a ton of swings and misses (15) during his brief outing, but the issue as always was his four-seam. Angels' hitters placed six four-seam's in play and hit it to a tune of 93.7 mph in average exit velocity.
Oviedo has faced the Padres once (one start) and holds an 0-1 record with an ERA of 13.50 in two innings pitched.
The Padres will send out RHP Seth Lugo (4-4, 3.72 ERA)
In two out of his last three starts, Lugo has been really good.
In two of those starts, Lugo has pitched a combined 12 innings, while giving up 11 hits, three earned runs, four walks, and struck out 13.
Sandwiched in between those two outings was a stinker of a start. On July 16 against the Phillies, Lugo allowed five earned runs in 5.1 innings pitched on seven hits.
For the month of July, Lugo holds an ERA of 4.15 in 17.1 innings pitched.
Lugo has faced the Pirates 11 times (one start) and holds an 0-1 record with an ERA of 4.58 in 17.2 innings pitched.
Padres Hitters vs. Oviedo
Trent Grisham: 1-2
Manny Machado: 1-1 with a double, RBI, and walk
Pirates Hitters vs. Lugo
Andrew McCutchen: 2-11 with a walk and four strikeouts
Austin Hedges: 2-3 with a double and three RBIs
Tidbits
Alika Williams became the 11th Pirates' player this season to make his major league debut after he entered the game as a defensive replacement in the seventh inning. Only the Cincinnati Reds (12) have had more debuts this season. In his first-career plate appearance, Williams drew an 11-pitch walk against Josh Hader.
Prior to Tuesday's game, the Pirates since 2019 have gone 15-9 against the Padres which is the highest winning percentage against any NL team during that span.
McCutchen is now the third Pirates player to record at least a ten homer and ten stolen base season at 36 or older, The last Pirate to do this was Lee Lacy in 1984.
Links
Ke'Bryan Hayes Begins Triple-A Rehab Assignment Tuesday
Perrotto: Pirates Face Tough Decision With David Bednar
Demilio: Concern With Luis Ortiz Goes Beyond MLB Struggles (+)
WATCH: Ex-Bucco Jung Ho Kang Catches Foul Ball at Pirates/Padres Game
Report: Pirates Willing to Listen on All-Star David Bednar
Pirates Trade Deadline Preview: Who Could Get Dealt?
Around The Network
Pittsburgh Hockey Now: These Guys Might Deserve a Look As Training-Camp Tryouts
Steelers Now: Steelers WR Calvin Austin III Earns Percy Harvin Comparison
Pittsburgh Sports Now: The Mount Rushmore of Pitt Football