Move Across Diamond Doesn't Prove Too Challenging For Sure-Handed Triolo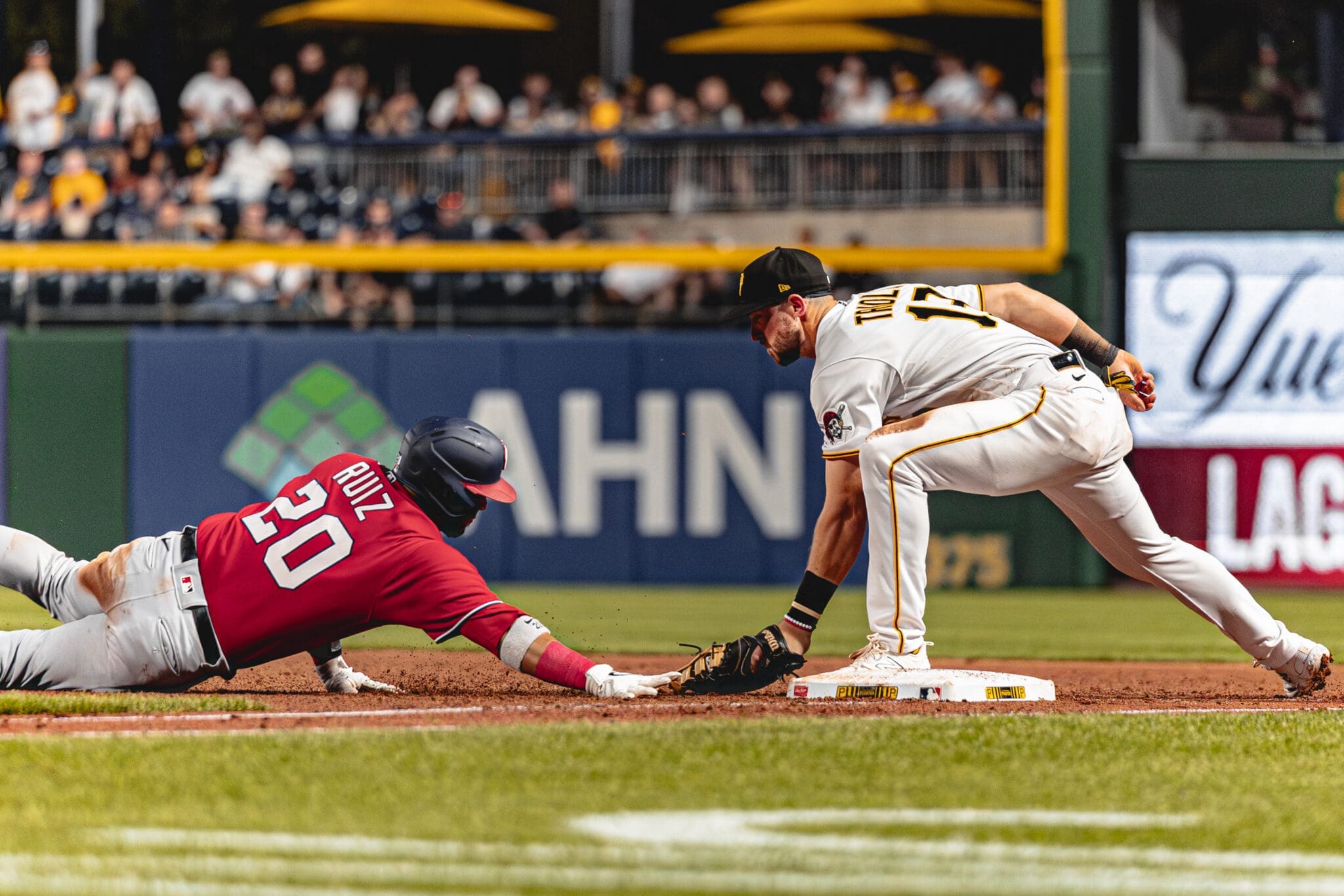 PITTSBURGH — As he worked his way through the minor league ranks, Jared Triolo was one of the best fielders the Pittsburgh Pirates had in their organization.
Triolo was the recipient of a minor league Gold Glove in 2021 and was twice named the Pirates' Bill Mazeroski Defender of the Year.
The problem? Triolo's primary position is at third base. Of course, the Pirates have a pretty good third baseman already on the big league roster in the seemingly Gold Glove frontrunner Ke'Bryan Hayes.
Though the majority of his time has come at the hot corner, Triolo is capable of playing other positions. In addition to third, he's played seven games at second base with the Pirates this season.
He's also spent time in the minor leagues at shortstop, first base and in center field.
On Monday night against the Washington Nationals at PNC Park, Triolo appeared at first base for the first time in the big leagues after manager Derek Shelton tabbed him the starter there in the Pirates' lineup.
Triolo passed his first inspection at the position with flying colors.
"He did a nice job. Made a pick on the one ball, the one double play we didn't turn, and had three or four other plays," Shelton said. "He had a tricky hop in the first and he didn't blink on it, so overall, I think he did a nice job over there today."
It shouldn't really come as a surprise that Triolo fared well in his first time playing a new position, given his defensive reputation.
There's a scene from the movie Moneyball, in which Oakland A's general manager Billy Beane (played by Brad Pitt) is discussing playing first base with Scott Hatteberg (Chris Pratt) alongside Ron Washington (Brent Jennings).
Beane's character tells Washington's character to tell Hatteberg that playing first base isn't all that hard, to which Washington replies, "It's incredibly hard."
It didn't look incredibly hard for Triolo, or even a little bit hard, for that matter.
"I think after the first ground ball, it was like well, I'm still fielding ground balls and getting hops," Triolo said. "Then, being in the right position, working with the guys in the dugout to get me there, it was definitely beneficial."
Triolo, the owner of four different gloves, doesn't get a chance to breakout the first baseman's mitt too often.
Entering play, Triolo played only three games in the minor leagues at first base, all of which came this season. Though it's different, Triolo seems to like it all the same.
"It's pretty cool, the thought that they have a lot of confidence in me over there. The glove felt good," he said.
Whether Triolo will ever hit enough to man first base on a more-regular basis is up in the air. After finishing 1 for 3 with a walk in the loss on Monday, Triolo is slashing .262/.345/.300 through his first 39 games as a big leaguer.
Triolo has never been a big home run guy. He's only recorded double-digit home runs in a season once as a professional when he clubbed 15 long balls with High-A Greensboro in 2021.
He does, however, have some gap power, as evident by his 88 doubles and 15 triples in 337 career minor league contests. That kind of power potential hasn't yet translated to the big leagues.
Still, the Pirates have to feel good knowing that they have a guy who looks like he can be an above-average defender at multiple spots when needed.