Perrotto: Five Reasons to Watch Pirates in Second Half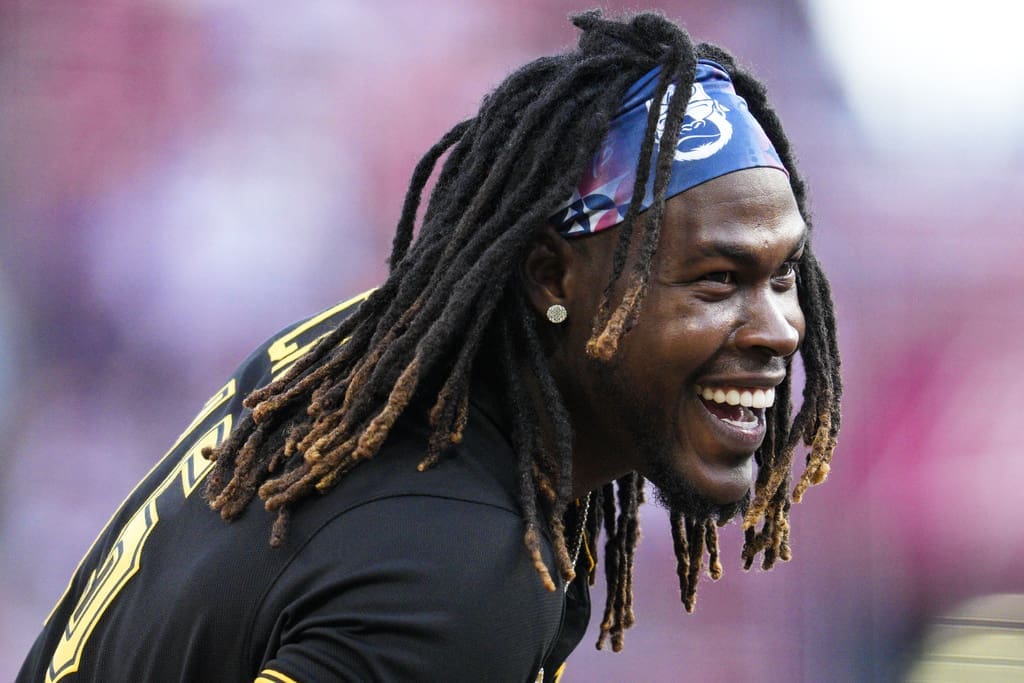 The unofficial second half of the Pittsburgh Pirates' season begins Friday night and those pennant race dreams of not-so-long ago are all but dead.
The Pirates find themselves 8.5 games off the pace of the first-place Cincinnati Reds going into their matchup against the San Francisco Giants that opens a three-game series at PNC Park. Less than a month ago, on June 15, the Pirates were in first place.
That the Pirates will almost certainly not being playing important games in September – or maybe even August – is disappointing after their 20-8 start. The Pirates (41-49) have won just 21 of 62 games since then.
Nevertheless, there are still things to look forward to over the Pirates' final 72 games of 2023. Here is a look at some of them:
TRADE DEADLINE
Major League Baseball's trade deadline is Aug. 1, less than three weeks away.
The Pirates certainly won't be buyers unless they quickly get on a hot streak. Yet they also don't figure to be major sellers.
Outfielder/designated hitter Andrew McCutchen isn't going to be dealt. He does not want to leave Pittsburgh a second time and owner Bob Nutting's vision is to keep the 36-year-old McCutchen in a Pirates' uniform as long as he wants to keep playing.
The most likely player to go is left-hander Rich Hill. The 43-year-old would be a depth starter for a contender.
There doesn't seem to be much of a market for catcher Austin Hedges and first baseman Carlos Santana, though.
Closer David Bednar would be an interesting trade chip for general manager Ben Cherington. However, the Pirates believe they can contend next season and want the two-time All-Star anchoring their bullpen in 2024.
ONEIL CRUZ'S RETURN
Shortstop Oneil Cruz suffered a broken left ankle on April 9 while sliding into home plate in a game against the Chicago White Sox. He hasn't played since but is no longer in a walking boot and remains on track to return sometime in the middle August.
The Pirates have clearly missed Cruz, especially his power. Jack Suwinski (19) and McCutchen (10) are the only players who have double-digit home runs. Cruz went deep 17 times in 87 games last season as a rookie.
It will be interesting to see if the injury has caused Cruz to lose any speed or range. The Pirates are optimistic publicly – and privately – he can eventually make a 100% recovery.
It would be cool if Cruz was off the injured list by Aug. 11, the day the Cincinnati Reds come to PNC Park for the start of a three-game series. Cruz versus Reds electrifying rookie third baseman Elly De La Cruz would be a fun matchup between two of the most-talented players in baseball.
MORE MLB DEBUTS
In the last month, right-hander Osvaldo Bido, third baseman Jared Triolo, middle infielder Nick Gonzales and right fielder Henry Davis have been called up from Triple-A Indianapolis to make their major-league debuts. All have had some good moments and one doesn't have to squint to see at least some of them factoring into the Pirates' long-range plans.
Three intriguing prospects remain at Indianapolis that have yet to reach the major leagues. Catcher Endy Rodriguez heads that list that includes right-handers Quinn Priester and Jared Jones.
Baseball America rates Rodriguez as the Pirates' top prospect. Jones is No. 5 and Priester is right behind at No. 6.
Bringing all three to Pittsburgh at some point in the second half would generate a little extra interest.
PAUL SKENES' PRO DEBUT
The Pirates used the first overall pick to select LSU right-hander Paul Skenes in Major League Baseball's amateur draft on Sunday. Many talent evaluators around the league believe Skenes possesses the talent and maturity to pitch in the major leagues now.
However, the Pirates almost certainly won't start Skenes' pro career in the big leagues. It will be interesting to see which farm club he is assigned to, though.
Regardless of where Skenes pitches, the Pirates are likely to keep a tight rein on his innings pitched. The 21-year-old threw 122.1 innings this year in helping LSU win the College World Series.
MITCH KELLER'S FUTURE
Right-hander Mitch Keller broke out over the final four months of last season and has built on that success this year. The commissioner's office noticed as it placed him on the National League squad for the All-Star Game that was played Tuesday in Seattle.
The Pirates and Keller's representatives had cursory talks about a potential contract extension earlier this year. Keller can't become a free agent until 2025 but perhaps negotiations will be revisited late in the season before his price tag potentially exceeds the Pirates' spending level.