Perrotto: Pirates Had Only One Real Choice With Oneil Cruz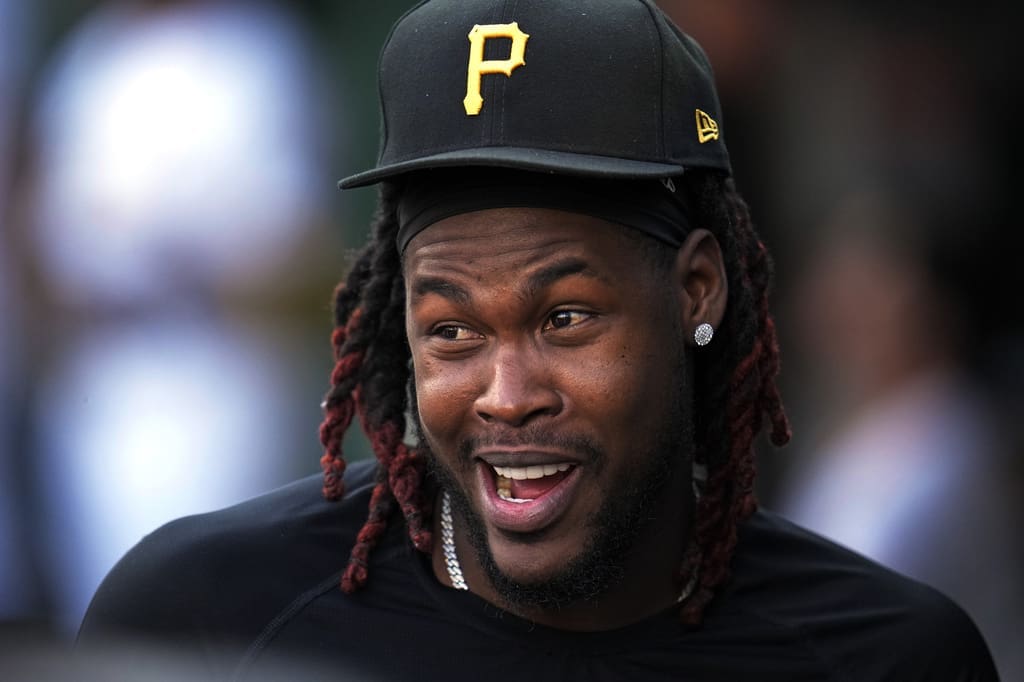 In a perfect world, Oneil Cruz would be salvaging something from has been basically a long season.
That was the original plan when the Pittsburgh Pirates shortstop broke his left ankle while sliding into home plate on April 9 in a game against the Chicago White Sox. The Pirates originally expected Cruz to miss four months, which would have had him returning to action in mid-August.
However, as has been well-documented, Cruz's rehab from the injury did not always go smoothly and the Pirates decided last week that he would not play again this season.
A case can be made either way about whether Cruz should have been allowed to return in 2023.
On one hand, playing in a game before going home to the Dominican Republic for the winter could have given Cruz some peace of mind that his recovery was complete. On the other hand, the Pirates might have risked Cruz reinjuring his ankle after the original timetable for return proved to be off the mark.
I'll take the cautious side.
Cruz is the Pirates' most-talented player and seemingly the primary building block as the franchise tries to turn things around following what will be a sixth straight losing season. There was no reason to have Cruz play in any more games in 2023 when the franchise should be looking to 2024 and beyond.
I am certainly not a doctor, but it always seemed to me that Cruz's return to action this season was a stretch.
Now, I did not review any of Cruz's MRIs or X-rays. And I surely would not have known what I was looking at if I was privy to such information.
However, I do know what I saw late afternoon on Easter, the day Cruz was injured, and it didn't look good.
Cruz was clearly in great pain as he was driven by a cart in the tunnelway that leads from the Pirates' clubhouse to the stadium exit at PNC Park. The always-upbeat Todd Tomczyk, the team's director of sports medicine, had a distraught look as he accompanied Cruz.
It was clear to me right then that it was unlikely that Cruz was going to play again in 2023, not that I was hoping to be proven right about someone's misfortune.
Now, the focus turns to Cruz preparing for next season. The Pirates have some options as far as getting Cruz some game action before Grapefruit League play begins on Feb. 24.
They could have him play in games in extended spring training in Bradenton, Fla., once the minor-league season ends this weekend. A more likely possibility is having Cruz play a limited slate of winter league games in his native Dominican Republic.
"It's really more for his mindset going into the bigger part of his training in the offseason," Pirates general manager Ben Cherington said of the significance of Cruz playing somewhere during the offseason. "Just to be able to move around on a baseball field the way you have to in a game, get that feedback.
"At this point, it wouldn't be about a number of at-bats or anything like that because we're not going to replicate a full season in any way close. It would be more about him getting the feedback that his body is in a good position to have a good offseason and train the way he needs to train going into 2024. We'll explore what those options are. There are different ways to do it. As he gets deeper into the baseball skill progression, we'll figure that out with him."
The most significant news concerning Cruz with the season having just 1.5 weeks left is that the Pirates have zero worry that he will be limited in any way when spring training begins. They do not consider Cruz being unable to be activated from the injured list to be a significant development.
"He's worked really hard, just ran out of time to get it done during the major league regular season," Cherington said. "But he's making progress, confident in what the future holds for him. It was a significant injury that he's worked really hard to come back from. Again, confident he will fully come from it. We'll pour as much as we can into him this offseason and help him be ready for a really strong 2024."
Which is extremely more important than a late-season cameo in 2023.