Pirates Prospect Watch: Mlodzinski Makes First Rehab Appearance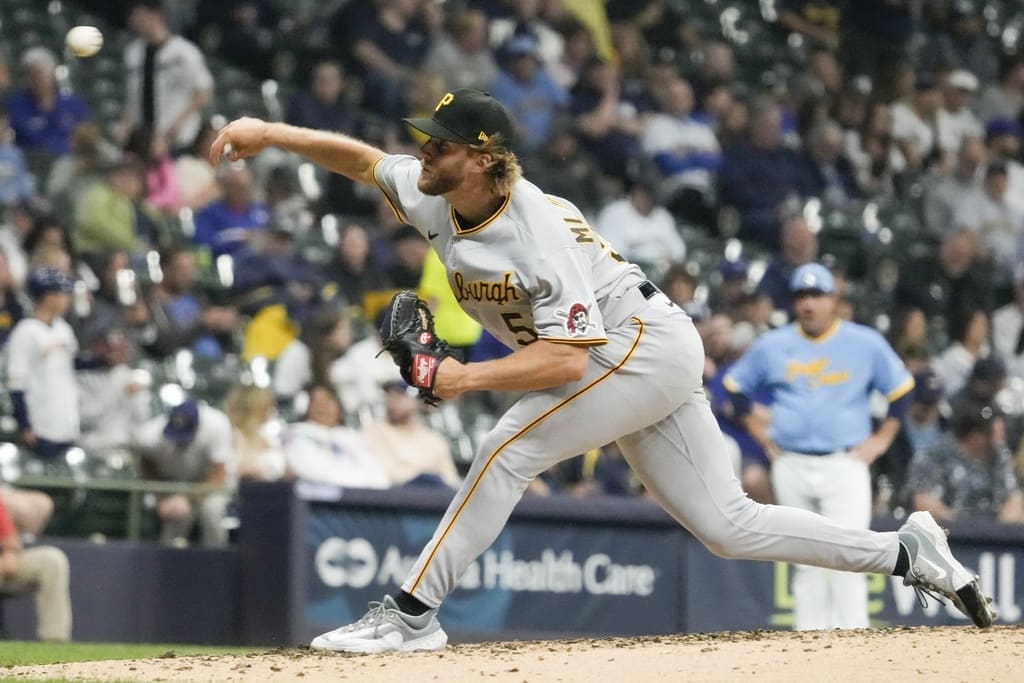 As the minor league season nears it's end, we're starting to see some surprising Pittsburgh Pirates prospects make a push for recognition.
Jase Bowen blasted his league leading 23rd homer on Tuesday with Greensboro, Aaron Shortridge picked up his fifth win in a row for Altoona, and Travis MacGregor pitched two perfect innings for Indianapolis.
Let's take a look at the Pirates farm, and see if anyone else stood out on Tuesday night.
Indianapolis (59-66)
RHP Travis MacGregor
Game stats: 2.0 IP, no hits, no runs, no walks, and two strikeouts
Season stats: 5-1, 3.31 ERA, 68.0 IP, 28 walks, and 76 strikeouts in 35 games (three starts)
RHP Cam Alldred
Game stats: 5.0 IP, four hits, one earned run, two walks, and four strikeouts
Season stats: 7-7, 5.13 ERA, 98.1 IP, 39 walks, and 90 strikeouts in 28 games (16 starts)
Carmen Mlodzinski made his first rehab appearance with the Indians on Tuesday night. In one inning of work, Mlodzinski had one unearned run on two hits, one walk, and one strikeout.
In addition, Cam Alldred went five full innings and allowed only one earned run on four hits and two walks. The Indians fell to Buffalo 2-0 as their offense couldn't manage a single run.
Altoona (57-61)
RHP Aaron Shortridge
Game stats: 7.0 IP, six hits, three runs (two earned), two walks, and four strikeouts
Season stats: 10-7, 4.45 ERA, 127.1 IP, 44 walks, and 104 strikeouts in 26 games (24 starts)
3B Joe Perez
Game stats: 1-2, a double, two walks, and three RBIs
Season stats: .271/.351/.453, 16 homers, two triples, 15 doubles, and 61 RBIs (369 at-bats, or 101 games between Triple-A and Double-A)
The Curve kicked off a six-game set against the Erie Seawolves in winning fashion.  Matt Gorski blasted his 17th homer on the season along with Carter Bins and Perez chipping in for five RBIs between the two.
In addition, Aaron Shortridge pitched another impressive game in the month of August as he picked up his fifth win in as many starts this month.
The Curve defeated the Sea Wolves 7-5.
Greensboro (63-55)
CF Jase Bowen
Game stats: 3-5, one homer, one double one run scored, and one RBI
Season stats: .260/.333/.476, 23 homers, four triples, 14 doubles, 23 stolen bases, and 88 RBIs (420 at-bats, or 106 games)
RHP Derek Diamond
Game stats: 6.0 IP, seven hits, two runs, one walk, and four strikeouts
Season stats: 10-3, 4.11 ERA, 111.0 IP, 25 walks, and 91 strikeouts in 22 games (19 starts)
Despite Hickory winning 11-3 over Greensboro, the game was much closer throughout the contest. 2022 sixth round pick Derek Diamond tossed six strong innings.
Hickory put up an eight-spot in the eighth inning off of Valentin Linarez and Eddy Yean. In addition, Jase Bowen blasted his 23rd homer of the season.
Bradenton (67-52)
DNP- Games will resume on Thursday Aug. 31