Paul Skenes' Past Year: Staying Grounded Despite Meteoric Rise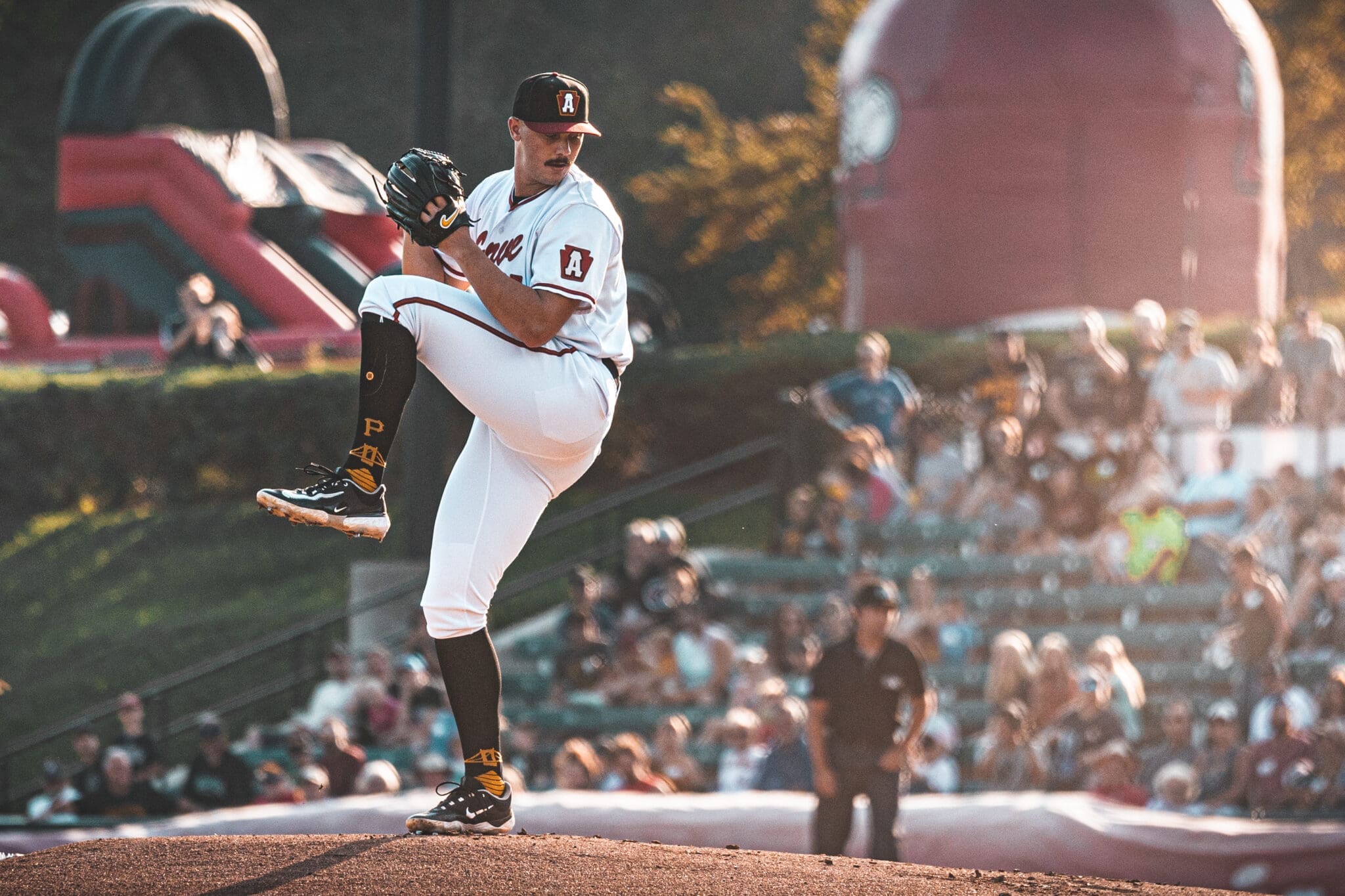 One year ago, Paul Skenes was coming off an excellent season at the Air Force Academy. He'd posted a 2.73 ERA in 85.2 innings pitched. He also added 13 home runs and an OPS north of 1.000 at the plate.
After transferring to LSU, Skenes talked about the jump he needed to make, the pressure to succeed in a region where sports are a way—the way—of life. 
"The first time I pitched at LSU there were definitely nerves," Skenes said. "Pitching with that brand and trying to win a seventh national championship, that's a huge opportunity, and there's pressure just inherently there."
One year later, Skenes posted a sparkling 1.69 ERA and 209 strikeouts in 122.2 innings as he led the Tigers to a national championship. Less than two weeks after that, the Pirates selected him with the first overall pick in the draft. Now he's playing Double-A baseball.
Day By Day
Skenes said he looks at the step-by-step process that brought him to this point rather than the overarching rise to prominence.
"It was the goal to go there [LSU] and get better and win a championship," Skenes said. "But I think, looking back a year ago, I wasn't thinking about having this opportunity. I wasn't thinking about what was going to happen in the draft…looking back, everything proceeded very logically."
Skenes said he tries to stay grounded in the moment, tuning out the outside noise. 
"I think the biggest thing is just staying present, taking it one day at a time. That's been the biggest thing for me over this last year," Skenes said. "I don't know where I'm gonna be a year from now either."
When talking with him, Paul Skenes' calm, confident demeanor leaps out. He explained what helps him stay assured. 
"No matter who you are, you're going to have that little voice that's telling you that you're not going to win, you're not going to succeed," Skenes said. "The way I see it, there's no reason to entertain that, because there's a reason I'm pitching out there. Someone else believes in me, so why shouldn't I believe in myself?"
SEC Made
Skenes kept coming back to how his experience at LSU helped shape him. He mentioned his pitching coach there, Wes Johnson, who previously spent time coaching in MLB with the Twins. Skenes said that Johnson's experience and method of coaching didn't just prepare him for winning games in college, it also prepared him for success moving forward in life and in MLB. 
"Having a pitching coach that came from the big leagues is an unbelievable opportunity," Skenes said. "As I've been in professional baseball, I've seen more and more how right he is."
Skenes said that pitching in front of massive SEC crowds during his time in Baton Rouge helped him deal with the fanfare surrounding his Double-A debut, which had more than 10,000 fans in attendance, smashing the previous record for the Altoona Curve.
"Everything else [taking place off the field] is just noise…that was something that I learned—I won't say I have it mastered—but that's something that I definitely learned about being at LSU," Skenes said. "It wasn't a huge shock for me."
Skenes said that the advice of an LSU teammate has helped him stay grounded throughout the past year.
"Identify as Paul Skenes who plays baseball, not Paul Skenes the baseball player…It's very easy to get caught up in [the media], the fans, the autographs, all that. It's easy to get caught up in that," Skenes said. "For me, it's kinda realizing that baseball is part of my life, but it's not everything… Having relationships with people that are important to me and things that I can fall back on outside of baseball—because there are going to be hard times… Doing that kind of thing helps you stay the course and not get caught up in failures or successes."