Possible Pirates Targets Amongst Non-Tendered Free Agents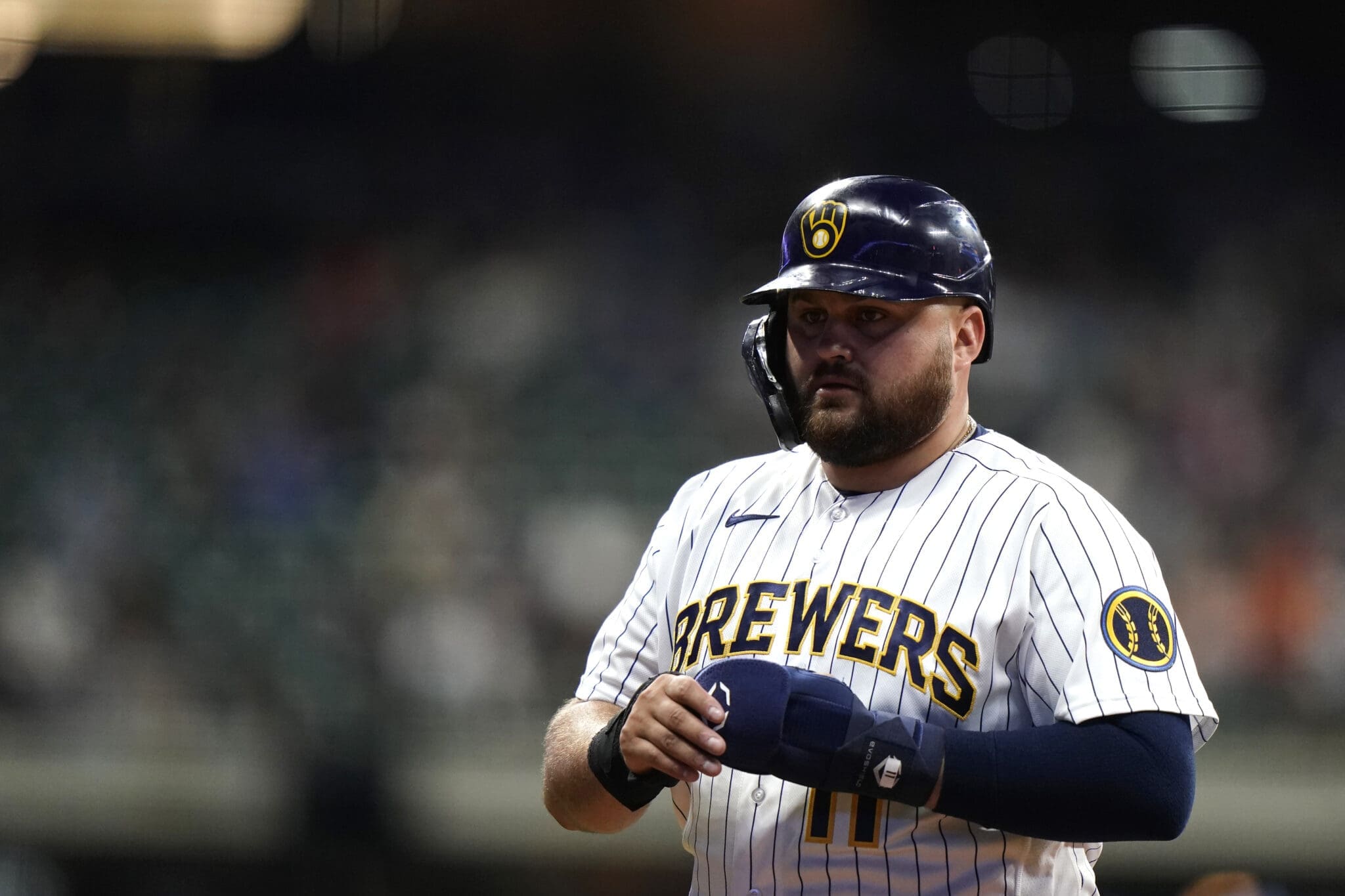 As the non-tender deadline came and went on Friday night, a new slate of free agents reached the open market.
Teams across the league had to decide whether or not to tender contracts to players on their 40-man roster — whether they were arbitration-eligible or pre-arbitration. Those players who were non-tendered immediately hit free agency.
A handful of those players fit what the Pittsburgh Pirates are looking for this winter. These names won't be the flashiest. After all, they were non-tendered for a reason.
However, there are several new names available who could help fill the Pirates' biggest needs in the starting rotation and at first base. Plus, these new free agents would fit Pittsburgh's reserved spending approach.
Rowdy Tellez
Tellez was non-tendered by the Milwaukee Brewers after a disappointing 2023 season. With the Brewers this past year, the 28-year old hit a lowly .215 with a .667 OPS in 105 games. His power numbers took a big dip as he managed only 13 home runs and a .161 ISO.
Those numbers represented a sharp decline from what he showed in 2022, when he slugged 35 home runs, drove in 89 RBIs and managed a steady .767 OPS (110 wRC+).
While his offense took a big step back, his defense improved both in terms of defensive runs saved and outs above average.
Tellez was with the Toronto Blue Jays' organization while Pirates general manager Ben Cherington and assistant GM Steve Sanders worked in the front office. Maybe their ties from those days could spark interest.
Dominic Smith
Smith is another first baseman now free to sign with any of the 30 teams across the league. He was designated for assignment earlier this week and non-tendered Friday.
As a New York Mets' prospect, Smith had high status, though he hasn't fully lived up to the hype. Still 28 years old, the Pirates may consider giving Smith a shot in Pittsburgh to see is he can realize his potential.
For his career, Smith has slashed .248/.313/.407 with 58 home runs and 225 RBIs in 600 games. He's shown flashes at times. In 139 games from 2019-20, he slashed .299/.366/.571 with 31 doubles, 21 home runs and 67 RBIs. Smith's also really struggled at times. From 2021-22, his numbers dropped drastically to a .233/.298/.345 batting line with 30 doubles and 11 home runs in 203 games.
He experienced somewhat of a rebound season at the plate with the Nationals in 2023. Smith finished the season with a .254 batting average with a 21 doubles, a dozen home runs, 46 RBIs and a 90 wRC+.
Dakota Hudson
The Pirates have seen plenty of Hudson, who pitched for the Cardinals for the last six seasons. For his career, Hudson is 38-20 with a 3.84 ERA/4.63 FIP.
Hudson pitched brilliantly over the first four seasons of his career. From 2018-21, the right-hander compiled a 24-10 record with a 3.14 ERA in 69 appearances/41 starts. His 4.66 FIP, however, indicated he was due for some regression. That regression came to fruition over the last two seasons, where he combined for a 14-10 record with a 4.64 ERA.
Considering the Pirates' desperate need for starting pitching help this winter, Hudson could be a relatively inexpensive option to try and round out the rotation.
Spencer Turnbull
Turnbull returned to the mound from Tommy John surgery in 2023 with the Detroit Tigers. He made seven starts at the big league level but didn't have much success. He finished the year 1-4 with an ERA north of seven.
Prior to his surgery, Turnbull fared much better. From 2018-21 the right-hander made 54 appearances, 53 of which were starts. He totaled a 4.25 ERA over that span and owned an even more impressive 3.63 FIP.
If the Pirates are confident he can regain his pre-Tommy John form, he could be worth a gamble.
Brandon Woodruff
I'll include Woodruff on this list, though it's a long shot. Woodruff is likely out for all of 2024 after shoulder surgery, so he should be in line to receive a backloaded two-year deal or a one-year deal plus an option.
Woodruff wouldn't help fill the Pirates' rotation need in 2024, but he could be a frontline starter in 2025 if they chose to explore this route. Of course, the Pirates would be competing with 29 other teams for his services.
When healthy, he is one of the better pitchers in the league. For his career, the seven-year veteran is 46-26 with a 3.10 ERA and 788 strikeouts in 680.1 innings pitched. He has two All-Star selections on his résumé and finished fifth in the Cy Young race in 2021.
Parting Thoughts
With as many holes as the Pittsburgh Pirates have to fill, they will likely be bargain hunting in some areas as they've done in the past. Though the need to spend is apparent, these names could help allocate more funds to other areas deemed more necessary.