Pirates Preview: Battle of Southpaws in Sunny San Diego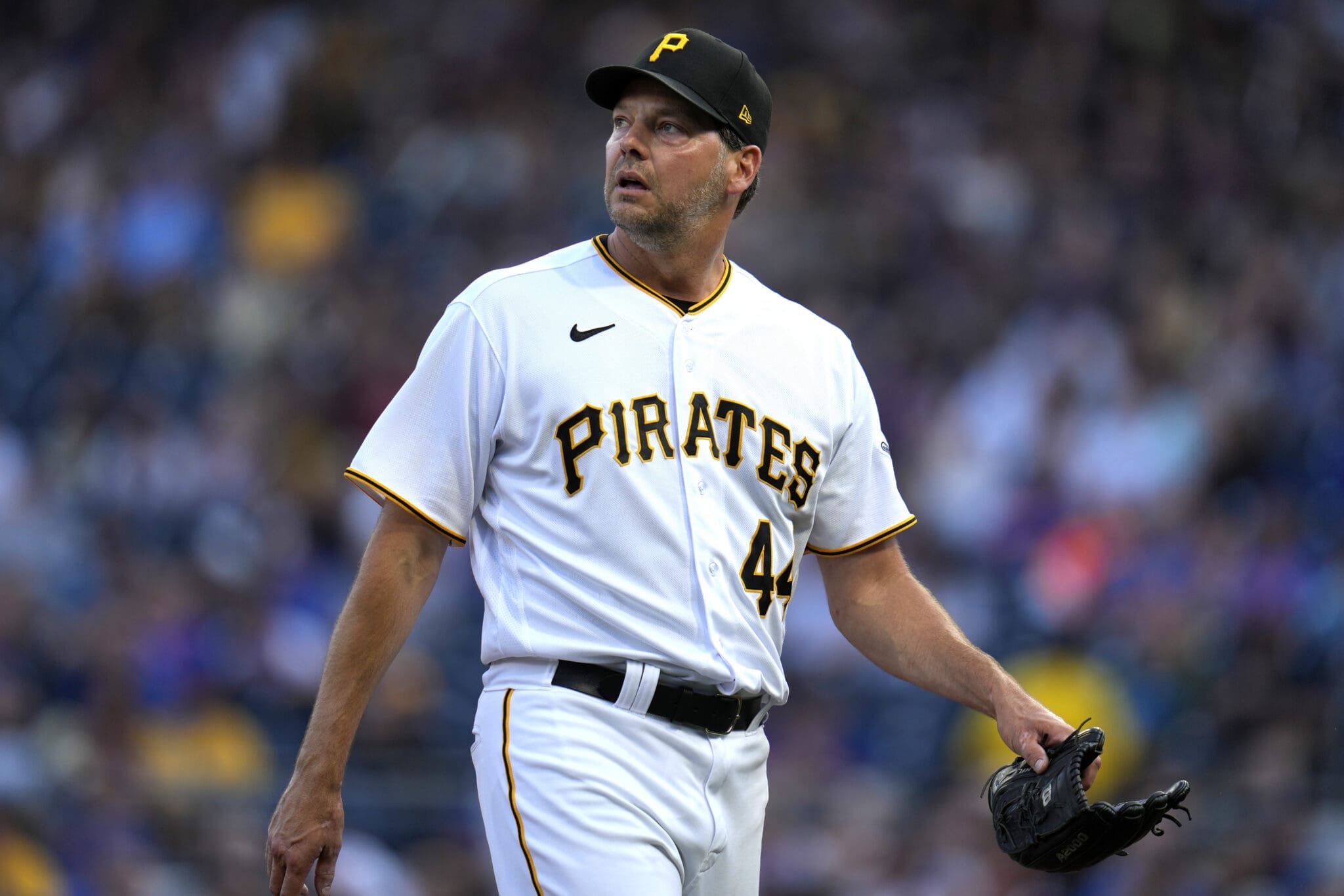 The Pittsburgh Pirates (44-56) defeated the San Diego Padres (48-53) for the fourth time in four attempts this season after an 8-4 victory on Monday night.
Quinn Priester notched his first-career big league win and the Pirates slugged four home runs in the victory. Carlos Santana hit a pair of two-run shots and Jack Suwinski hit a solo homer.
Liover Peguero snuck one over the left-field wall for the first round tripper of his major league career and drove in a pair of runs for the Pirates.
The Pirates have a chance to earn their first series win since sweeping the Padres in a three-game set at PNC Park at the end of June.
The game kicks off at 9:40 ET and will be aired on AT&T SportsNet.
Weather
It'll be another beautiful day in San Diego with sunshine and temperatures in the mid-70s for first pitch.
The Pirates will send out LHP Rich Hill (7-9, 4.84)
The last time Hill earned the win on the mound was when he faced the Padres at PNC Park back on June 27. In that game, Hill allowed four runs in six innings with the Pirates winning the game 9-4.
Hill has allowed three runs or more in each of his last seven starts. In those seven games, Hill has a 6.03 ERA (25er/37.1ip), though it is backed by a much better 4.22 FIP.
This will be the 15th start in Hill's career against the Padres. In his first 14 outings, the veteran left-hander is 7-4 with a 3.26 ERA.
The Padres will send out LHP Blake Snell (6-8, 2.67)
Though he took the loss against the Pirates earlier this year, Snell was dominant in that game. He held the Pirates to two runs on three hits in six innings while striking out 10 batters.
Snell has been rolling of late for San Diego. In his last 11 games, the lefty is 5-2 with a sparkling 0.71 ERA and a .488 opponent OPS with 95 strikeouts across 63.0 innings pitched.
Snell has worked at least 5.0 innings in each of those 11 starts and has only allowed as many as two runs the one time against the Pirates. In seven of those 11 outings, he has blanked his opposition.
It's been quite a turnaround for Snell, who was 1-6 with a 5.40 ERA in his first nine starts of the season.
Padres Hitters vs. Hill
Manny Machado: 5 for 12, two doubles, two home runs, two RBIs, one walk, one strikeout
Juan Soto: 2 for 12, one home run, three RBIs, two walks, three strikeouts
Gary Sanchez: 2 for 9, one RBI, one walk, two strikeouts
Xander Bogaerts: 2 for 4, one double, one RBI, two walks, one strikeout
Ha-Seong Kim: 2 for 3, two RBIs, one strikeout
Pirates Hitters vs. Snell
Carlos Santana: 2 for 13, one home run, two RBIs, two strikeouts
Connor Joe: 1 for 10, one RBI, three walks, six strikeouts
Andrew McCutchen: 0 for 9, four walks, one strikeout
Tidbits
Monday's game marked the first time in Pirates' history that a player 22 years old or younger earned their first-career win and a player 22 or younger hit their first-career homer in the same game.
Monday night's game was the Pirates 100th of the season and their 44th win. At the century mark last year, the Pirates were 40-60 and they owned a 38-62 record through 100 games in 2021.
Hill's seven career wins against the Padres are the second-most he has against one team, trailing only eight wins he has against the San Francisco Giants.
Links
WATCH: Ex-Bucco Jung Ho Kang Catches Foul Ball at Pirates/Padres Game
Report: Pirates Willing to Listen on All-Star David Bednar
Pirates Trade Deadline Preview: Who Could Get Dealt?
Pirates Rule 5 Gains: Jose Hernandez and the Rest
Potential Draft Sleeper: WVU-Product Carlson Reed
Perrotto: Pirates Give Old Familiar Formula Yet Another Shot
Around The Network
Pittsburgh Hockey Now: These Guys Might Deserve a Look As Training-Camp Tryouts
Steelers Now: Steelers WR Calvin Austin III Earns Percy Harvin Comparison
Pittsburgh Sports Now: The Mount Rushmore of Pitt Football