'I Hated it at First': Bubba Chandler Adjusts to Life After Hitting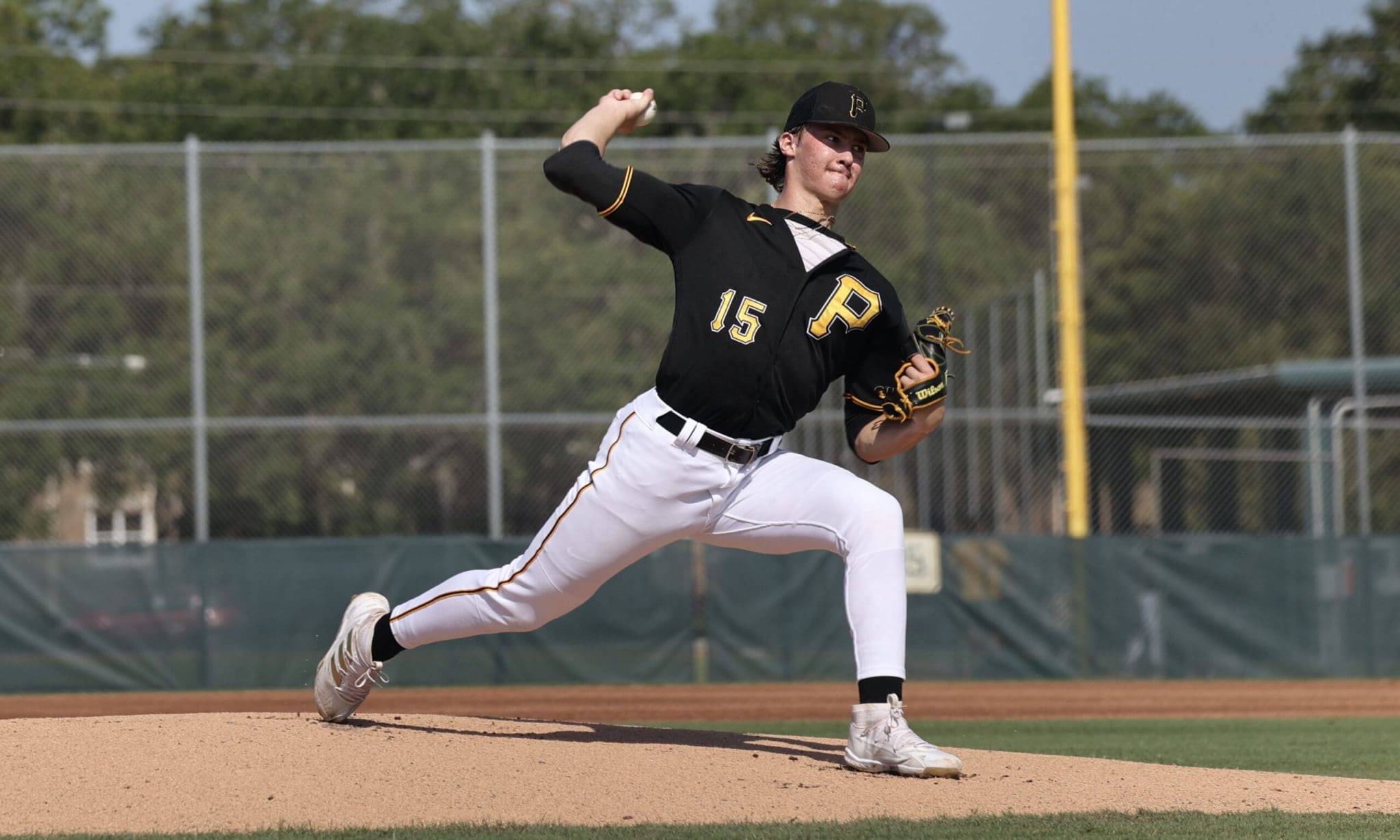 The Pirates drafted right-handed pitcher Bubba Chandler as a two-way player, giving him the opportunity to take the mound and play shortstop with the Bradenton Marauders last season. 
After entering the 2023 season as one of the Pirates' most highly touted prospects because of that intriguing ability, Chandler saw his year begin in nightmarish fashion. 
The two-way experiment came to an unceremonious close in spring training, with the Pirates directing him to put down his bat and focus on pitching alone. 
The decision didn't sit well at all with Chandler.
"I mean, when you do something your whole life and then they tell you 'stop,' it kinda gets you at first…I hated it at first, to be honest. I thought it was dumb. But looking back at it now, probably the smartest thing to do," Chandler said. "The first few months I was kinda mad at it, was pissed off at pretty much everyone, and I wasn't performing well on the mound either, so that didn't help."
Chandler pitched to a 6.81 ERA in 62.1 innings for the High-A Greensboro Grasshoppers before the All-Star Break. While he said he accepts the change in focus now, Chandler explained how it impacted him during the early months of the season. 
Finding an Escape
Earlier in his career, Bubba Chandler said he turned to hitting as an escape when he struggled on the mound. He had to scramble to fill that sudden void.
"I found my outlet because my outlet was hitting: if I pitched bad, I could hit good. If I hit bad, I could pitch, those were kinda like my outlets. Didn't really have one at the beginning of the year. I found one to get away from the game, rather than just solely focusing on one thing, and that's helped a lot," Chandler said.
"So, continuing to build off that, take it day by day still. I like golf, love video games, just walk around the ballpark whenever I'm here and I'm not doing any baseball activities. Just kinda chill out and take in the moment, thank God for putting me here."
The adjustment worked: he's pitched to a 2.27 ERA in 31.2 innings since the break.

A New Routine
Bubba Chandler said that part of his improvement comes from adjusting to the new routine, finding a way to manage having a week between game action. 
"I never looked at it as a burden, but when I stopped hitting [I realized that] watching the game every day gets kind of boring," Chandler said. "I kinda had to find a new joy, a different way to look at the sport."
He's placed an extra focus on how his teammates pitch, planning how to attack hitters ahead of time. Chandler described what he learns from his teammates.
"Me and Po-Yu [Chen] don't really throw the same: we have the same pitches but they're a lot different profiles, but I can watch him and see how he sequences guys," he said.
"Anthony [Solometo] always pitched in front of me when he was here. It was kinda hard because he's a three-quarters lefty, so I couldn't really pick up on a lot of the stuff he can do…If he was throwing sliders to lefties and they're having a tough time with them, that just means I need to throw my changeup to lefties. If he was throwing changeups to righties, that just means I need to throw my slider."
It's all part of learning how to succeed as a professional, and Grasshoppers manager Robby Hammock explained how he and pitching coach Fernando Nieve helped the young pitcher work through his emotions.
Outside Perspective
"I mean, it was just patience. He was definitely not necessarily happy with the move. [I] talked to him about it, listened to him, just was patient about it," Hammock said. "Slowly but surely talked to him about pitching-only stuff, how to start changing the focus, changing the routine…spent a lot of time with him, just kinda listening and having patience, letting him start to figure it out himself. [We] tried to flip up the guardrails and give him some things."
Hammock also said that encouraging Chandler to take a measured approach to the game helped him make the switch. Rather than relying on his velocity and trying to overpower batters, Chandler needed to learn how to use finesse.

"It was a mental struggle that he was fighting through. He just had to channel his energy and his focus," Hammock said. "He was a guy that just… if things weren't going right, he would go hard, harder and hardest…he started figuring out that he would need to pitch instead of just throwing."
Hammock said that the young pitcher's change in approach leapt out at him during the recent hot streak.

"I give him all the credit because he has come on strong lately, his focus has changed, everything has started to really be directed toward pitching prep," Hammock said. 
"He does a really good job of watching guys as well. He follows the game, especially the nights before he pitches. I have nothing but respect for how far he's come…he's done a really good job with it, I'm excited about where he's at right now and where he's headed…he's starting to find the joy in pitching, in the competitiveness that's still there on the pitching side of things."
The Weight of Expectations
Chandler said he learned in high school not to put too much stock in outside noise. He didn't let the expectations of signing for $3 million—nearly four times the slot value of a third round pick—to become a potential two-way star get to him.
Growing up an athletic phenomenon in Georgia, where high school sports are king, he had to learn to keep a level head.
"I was blessed enough to be able to be good at football, and to be good at football in the South is kind of a big deal. I got bombarded with a lot of people and a lot of expectations when I was in high school as a football player," Chandler said. "This is kinda just a smaller scale of it. It doesn't really affect me, I guess…pressure is awesome. I kinda look forward to big time moments—like any competitive athlete does."
A Fun Chapter
As he moves on from his time as a position player, Bubba Chandler is learning to look back with appreciation, not anger. In the era of Shohei Ohtani—where two-way play is all the rage—Chandler said he enjoyed those moments, however fleeting.
"It was cool getting comparisons to Shohei. I mean, I had a long way to go if I wanted to be anywhere near him, but the little short season I had last year, if I'd like hit a homer or I'd strike out however many guys in the game, see on Twitter that 'oh, there may be a Shohei chilling in Bradenton, Florida right now,' that was kinda cool to look at," Chandler said. "I'm not gonna lie, I have some stuff screenshotted that I'll occasionally look at and be like 'damn, that was awesome for the little time I could do that.'"