Former Pirate A. J. Burnett Recounts Big Leaguing Bob Nutting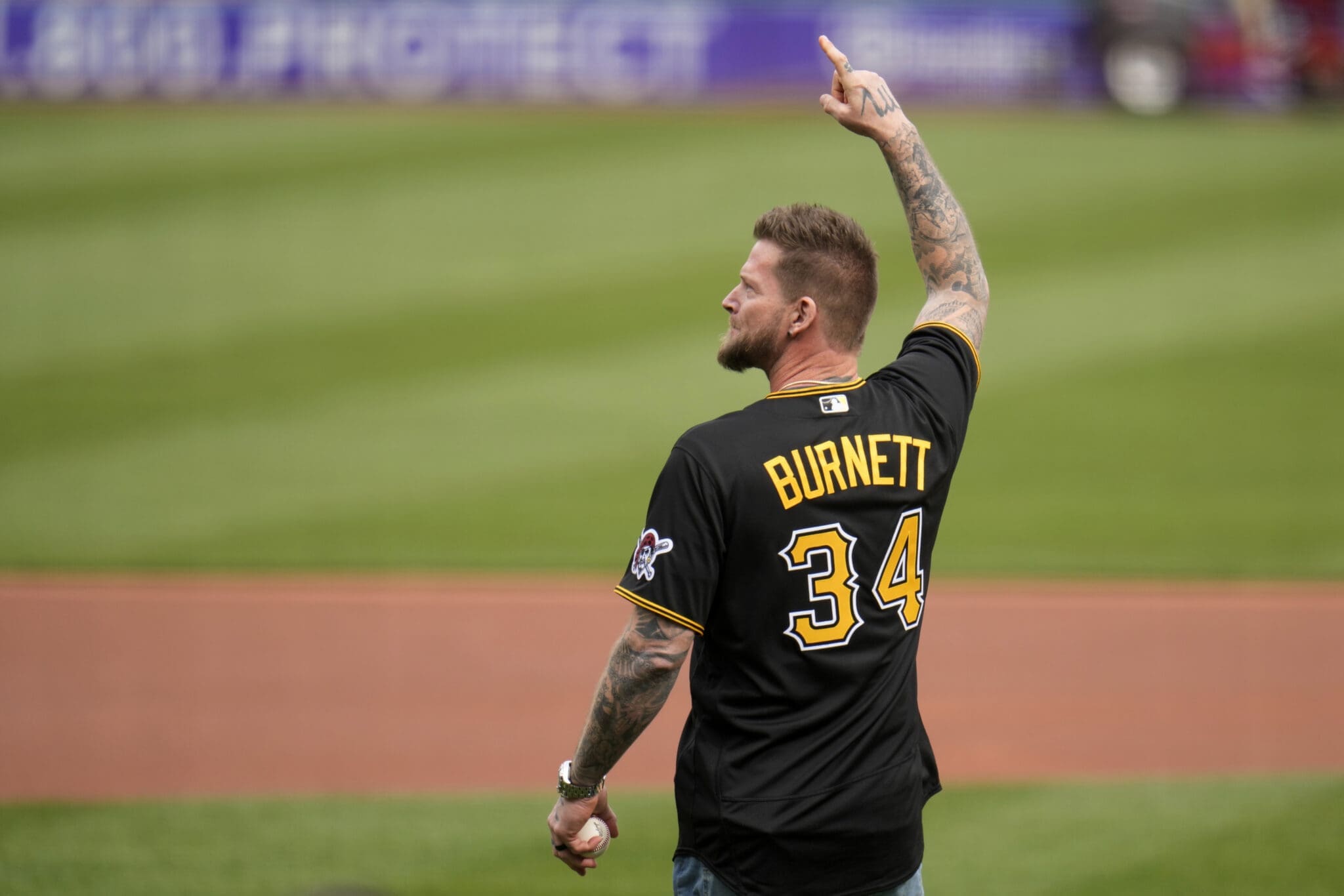 Former Pirates' pitcher A. J. Burnett appeared on an episode of  baseball-focused YouTube show Foul Territory on Thursday, telling a story about when he butted heads with team owner Bob Nutting over a parking space… then doubled down on the slight by big leaguing him.
Burnett, a member of some of the best Pirates teams of the past three decades, pitched for the Buccos in 2012, 2013 and 2015, compiling a 3.34 ERA in 557.1 innings. He became a fan favorite for his emphatic strikeout of slugging shortstop Hanley Ramírez—and his choice words thereafter, caught on camera—which helped spawn the 'sit the f*** down' t-shirt line.
Known for his fiery personality, perhaps it's no surprise that Burnett pushed the rules when off the field too.
Strike One: A.J. Burnett Takes Bob Nutting's Parking Spot
A.J. Burnett said that on the days he started a game, he would arrive at PNC Park later than most of the other gameday employees. This became a problem when it came to finding a parking spot. Save a few, all the spaces in the garage he used were already accounted for.
"These first four spots are always open. I'm like 'I'm gonna park in this sumb***h, ain't nobody ever parked there," Burnett said.
The gambit went off without a hitch initially. It turned out that those four spots were left open throughout the year for a reason, though. 
"I'm getting ready for my start at 5:30, and somebody comes in, is like 'A. J., we need your keys… you're parking in the owner's spot,'" Burnett said. 
Busy while preparing for the game, Burnett told the attendant where his keys were, saying he could move the vehicle for him if Nutting showed up.
Strike Two and Strike Three: Big Leaguing Bob Nutting
A. J. Burnett said that Bob Nutting didn't end up showing up for the game. Undeterred, Burnett decided to use the open spot again when arriving for his next start at PNC Park. 
"I come back like five days later, pitch, and it's roped off with a caution, like yellow caution tape," Burnett said. "So old A. J. comes out and he cuts the caution tape, backs his car in there, and then ties the tape back."
Once again, Burnett didn't get away with the move for long. In fact, his next actions in the saga—moments before he made his start—might've made things worse. 
"I'm coming in at 7:02, you know, I've got smoke out the ears, I'm just locked in, ready to go. And there was this dude at the end of the dugout just standing there," Burnett said, imitating the man's smile. 
Burnett said he didn't recognize the man—who was, of course, Bob Nutting. With the game set to begin in a matter of moments, he rebuffed Nutting's attempt at a handshake. 
"He holds his hand out, and like, big old grin… I just walk right down by him," Burnett said. "I'm like 'pfft, f**k's this guy doing? I've gotta go pitch!"
Burnett said his teammates were quick to fill him in on what happened once he was back in the dugout.
"Everybody just, they loved it. I'm like… what's so funny?" Burnett said. "They're talking about how 'you big leagued the owner.' I was like 'what… get out!"
While Burnett didn't divulge the eventual consequences of his three missteps, he said that Nutting alluded to his actions surrounding the parking spot when they finally, formally shook hands.
"As I'm walking up the steps to go out to pitch, he's back there again like 'we'll talk about this parking lot situation later,'" Burnett said.