Pirates Prospects Watch: Roansy Contreras Introduces Two New Pitches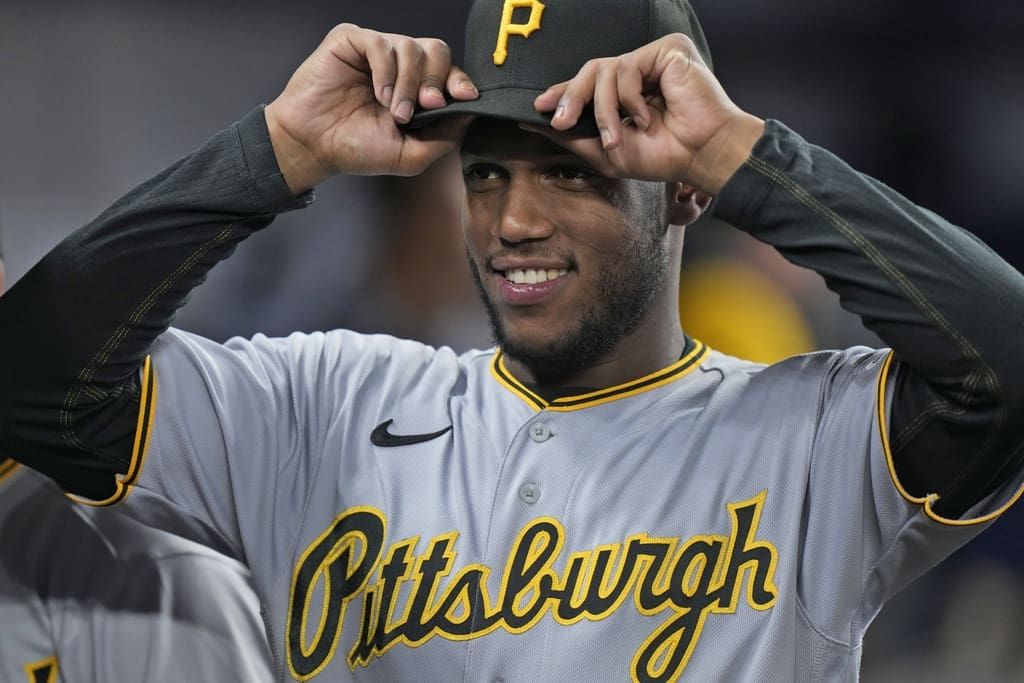 Thursday night, all eyes were on the Indianapolis Indians and Roansy Contreras, for his first start in Triple-A since getting transferred on Aug. 8.
Contreras has added a few new pitches to his arsenal with a cutter and a sinker.
The young righty used his sinker 19% of the time and his cutter 3% of the time. Although encouraging, some old problems popped up, including his low velocity.
Contreras was one of many players worth mentioning. Let's look at some Pittsburgh Pirates' prospects, minor leaguers and how each farm team performed.
Indianapolis (50-59)
RHP Roansy Contreras
Game stats: 3.0 IP, one hit, no runs, two walks, and two strikeouts
Season stats: 0-0, 0.00 ERA, 5.0 IP, two walks, and four strikeouts in two games (two starts)
1B Mason Martin
Game stats: 1-3 with a double
Season stats: .213/.368/.449, 16 homers, one triple, 10 doubles, and 56 RBIs (254 at-bats, or 77 games between Double-A and Triple-A)
The Indians had to play a doubleheader after Wednesday's game was rained out. Contreras made his first start since getting sent up to Triple-A, and he put together an interesting start, despite the Indians falling 8-0 in game one.
Other than adding two new pitches (cutter, sinker), Contreras used his four-seam 39% of the time, but there's still a significant decrease in his velocity. Contreras' velocity on the four-seamer averaged 92.8.
In game two, the Indians got hammered and lost by a score of 7-1. In addition, Jared Jones pitched in game two and worked on his changeup/four-seam combination.
Altoona (49-53)
RHP Braxton Ashcraft
Game stats: 3.0 IP, one hit, no runs, no walks, and three strikeouts
Season stats: 0-3, 2.39 ERA, 52.2 IP, 11 walks, and 63 strikeouts in 19 games (19 starts)
CF Chavez Young
Game stats: 1-3 with a double
Season stats: .207/.334/.311, four homers, two triples, nine doubles, and 28 RBIs (241 at-bats, or 83 games between Triple-A and Double-A)
Altoona's bats couldn't get going Thursday night. The Erie Seawolves defeated the Curve by a score of 2-0. The encouraging thing for the Curve has got to be Ashcraft's performance.
Coming off of a rough injury, the Pirates are easing Ashcraft back into things, but his breaking stuff is playing, and advanced hitters are having a tough time picking his pitches up.
Greensboro (55-47)
C Shawn Ross
Game stats: 3-5, two homers, and three RBIs
Season stats: .205/.329/.455, ten homers, three doubles, and 27 RBIs (132 at-bats, or 41 games)
SS Jack Brannigan
Game stats: 1-4, one homer, and three RBIs
Season stats: .274/.396/.534, 14 homers, three triples, ten RBIs, 21 stolen bases, and 36 RBIs (223 at-bats, or 65 games between Low-A and High-A)
The Grasshoppers needed extra-innings, but they pulled off an 8-7 victory after Jack Brannigan hit a sac-fly to score the game-winning run.
In addition, Brannigan homered again and now has a home run in four-straight games. Jase Bowen and Ross (twice) homered as well.
Bubba Chandler went 3.0 innings, allowed two earned runs (three total), walked three, and struck out four.
Bradenton (60-44)
CF Lonnie White Jr
Game stats: 3-4, double, and two RBIs
Season stats: .288/.420/.487, six homers, one triple, 11 doubles, 14 stolen bases, and 30 RBIs (156 at-bats, or 42 games between the FCL and Low-A)
C Geovanny Planchart
Game Stats: 2-4, one homer, one walk, and four RBIs
Season Stats: .237/.344/.349, three homers, one triple, 13 doubles, and 37 RBIs (215 at-bats, or 70 games)
Bradenton came storming back to pull off a barn burner of a victory over Fort Myers.
At one point, the Marauders were down 8-2, but then caught fire towards the end of the game with 13 total runs scored between the sixth, eighth, and ninth inning.
White kept hitting with three more RBIs, and Planchart blasted a three-run homer. This scoring finally led to an 18-5 victory for the Marauders.