Ke'Bryan Hayes Heating Up, Providing Veteran Voice for Rookies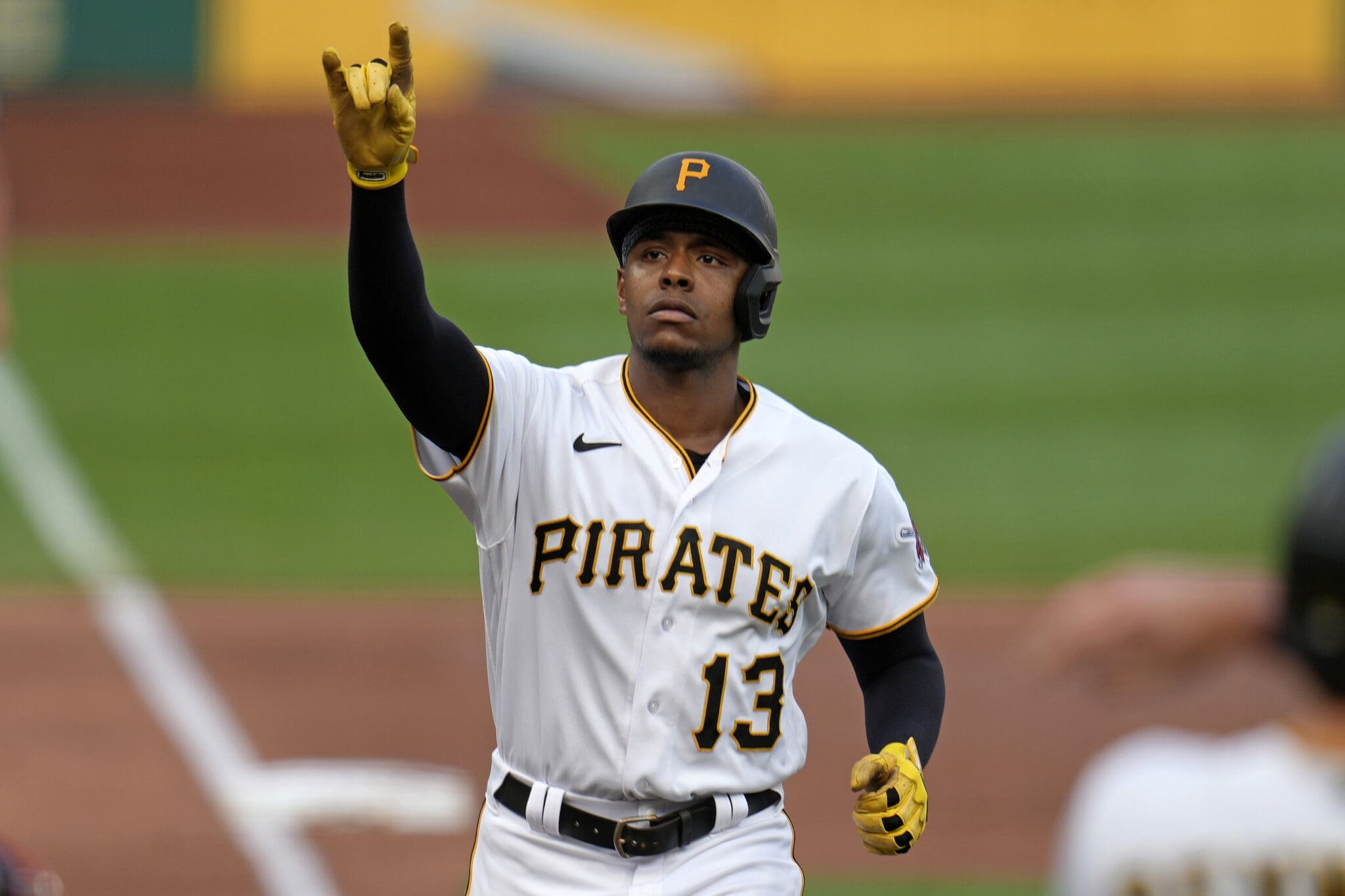 Ke'Bryan Hayes sputtered through a 1-for-15 stretch in his first four games back from a back injury that sidelined him for nearly a month. Since then, he's on a 7-for-13 tear, with the Pirates going blow for blow against the Atlanta Braves, MLB's best, in that time.
While Hayes was a key to Thursday's victory, his performance is part of a larger trend where the Pirates have split or won every series since July 24 in San Diego.
Concise Swing
Hayes provided insight on his hot streak following Thursday's game.
"[I've been] working a lot, just kind of figuring out a set up to make my movements as minimal as possible," Hayes said. "Ultimately, being in a good spot with my body, being behind the ball and being able to let the barrel work [up]."
Manager Derek Shelton took it a step further in breaking down Hayes' hot streak, praising his timing at the plate.
"I think he's on time. When we see Key on time, we see him have the ability to get the ball in the air and drive the ball and we saw that," Shelton said. "We've seen that over the last three days. It looks like he's on time, he's healthy, he's able to rotate so. Just really good at bats."
In a Pirates season defined by the youth movement, Hayes, just 26 years old himself, has quickly become a veteran presence. For a player who made his debut just four seasons ago, it's an interesting contrast.
Veteran Voice
"It's weird, cause really I'm still young, I'm still learning," Hayes said. "A lot of times, those guys are gonna look for us 'cause we've been up here a little bit…they're asking us like 'have you faced this guy,' 'what do you got on this or that?'"
While it may not be the situation he expected, Hayes said he's taken to the role, doing whatever he can to help the young Bucs grow, as has teammate Bryan Reynolds.
"Really, any time they've ever asked me anything… [I've] wanted to lead them in the best way possible," Hayes said. "Having that experience with certain situations, just trying to remind them of the little things… just being able to let those guys pick our brains because we have some of that experience, we've faced guys multiple times."
Learning to Win
While these successful series are an obviously small sample size across the course of a 162 game season, across the ups and downs of a career, the Pirates are brimming with hope.
"I mean, that series right there was playoff atmosphere baseball…there's a lot of good things that are happening," Hayes said. "Each and every week I feel like we're that close. We just have to keep going, finish this year out strong."
Not only are the Pirates' call-ups brimming with excitement: Hayes praised them for their attention to detail.
"We've been playing really good ball, playing really good teams. I like where we're at right now as far as how we're playing: playing hard, doing the little things, that's what it's gonna take to win games, to compete with the good teams," Hayes said. "They're hungry as you can see. Guys like [Peguero], Henry, Palacios, all these guys that have came up, they've contributed right away."
Promising Trends
After years where the Pirates have struggled with concentration toward the end of the season, both Ke'Bryan Hayes and Derek Shelton praised the team for staying focused, playing a full nine innings.
"I think the biggest thing they can take away from it is you have to play nine innings. You watch the Braves, you watch the Brewers, you watch the Phillies, good teams play nine innings. It even goes to last night, last night we gave ourselves a chance to win the game. We were a base hit, a ball in the gap away from winning and I think that's the thing that stands out. We played four really good games this series against the best team in baseball and I think that's what they take away," Shelton said. "I mean it's fun because you have to match up throughout and there is no let off at any point and being able to mix and match with what we're going to do and how we're going to attack that lineup, it's fun."
As anyone who's followed the Pirates for any amount of time knows, that's a major step in the right direction.