Top 30 Pirates Prospects No. 6: Can Harrington Handle Double-A?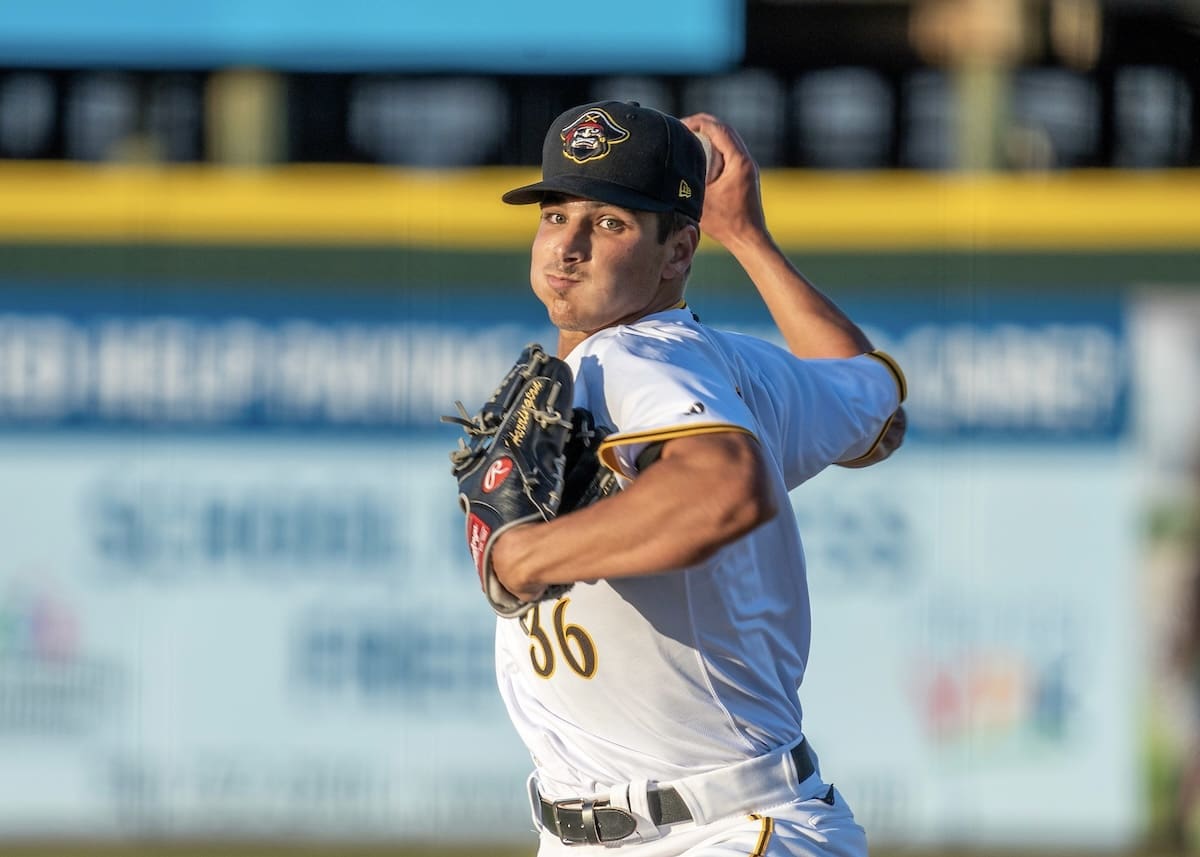 This is one in a series of stories breaking down PBN's Top 30 Pittsburgh Pirates prospects.
During the 2022 MLB Amateur Draft, the Pittsburgh Pirates selected RHP Thomas Harrington 36th overall. Harrington was the second player selected from Campbell University that year. 
The Los Angeles Angels selected INF Zach Neto, making both Harrington and Neto the highest-drafted players from Campbell University ever.
During the signing period, the Pirates got Harrington to sign on the dotted line with a bonus amount of $2.05 million. The slot value for Harrington's pick was $2,150,300. 
College Years
Harrington had himself quite the career at Campbell. In 2021, Harrington earned the Big South Freshman of the Year, Second-Team All Big South, and First-Team All-American by D1 Baseball. 
 During his Freshman season, Harrington posted a 6-3 record, a 3.45 ERA, 75 strikeouts, and a WHIP of 1.229 over 75.2 innings pitched. 
 After a big Freshman year, Harrington took a step forward in his Sophomore year. Harrington posted a 12-2 record, an ERA of 2.53, 111 strikeouts, and 18 walks. 
 Harrington was the only pitcher in '22 with 12 wins, which set a school record. In addition, the righty set a school record for strikeouts in a season. 
 Harrington received some national recognition as well. The 21-year-old was Golden Spikes semi-finalist, had the second lowest ERA in the country (min 90 innings), and won ten decisions in a row. 
In addition, Harrington finished with the Big South Pitcher of the Year, Big South First-Team All-American, and Big South Scholar Athlete of the Year. 
2023 Season
After the righty got drafted by the Pirates, he sat the rest of the '22 season out and geared up for the 2023 season. 
 Harrington started the '23 year with Single-A Bradenton, where he posted a 4-1 record, an ERA of 2.77, 40 strikeouts, and 12 walks in 39 innings pitched. 
 After an exceptional performance in Bradenton, the Pirates moved Harrington up to High-A Greensboro on June 1. Harrington hit a bit of a snag in Greensboro, but he posted some encouraging numbers. 
 In 88.1 innings pitched, Harrington posted a 3-5 record, an ERA of 3.87, 106 strikeouts, and 29 walks. Overall, Harrington held a 7-6 record, an ERA of 3.53, struck out 146, and walked 41. 
 According to FanGraphs, Harrington's best-rated pitch is his changeup, sitting at a 55/60 grade. In addition, Harrington's fastball has a 40/45 grade, and his slider sits at 40/50. 
 Harrington's strikeout ability is one of his better traits. If he can keep his BB/9 around the 2.5-2.9 range as he moves up levels, he should be a good candidate for a backend starter. 
 His biggest test yet should come in Double-A Altoona when the 2024 season comes around.