Pirates Prospect Watch: Chandler Near Perfect in Double-A Debut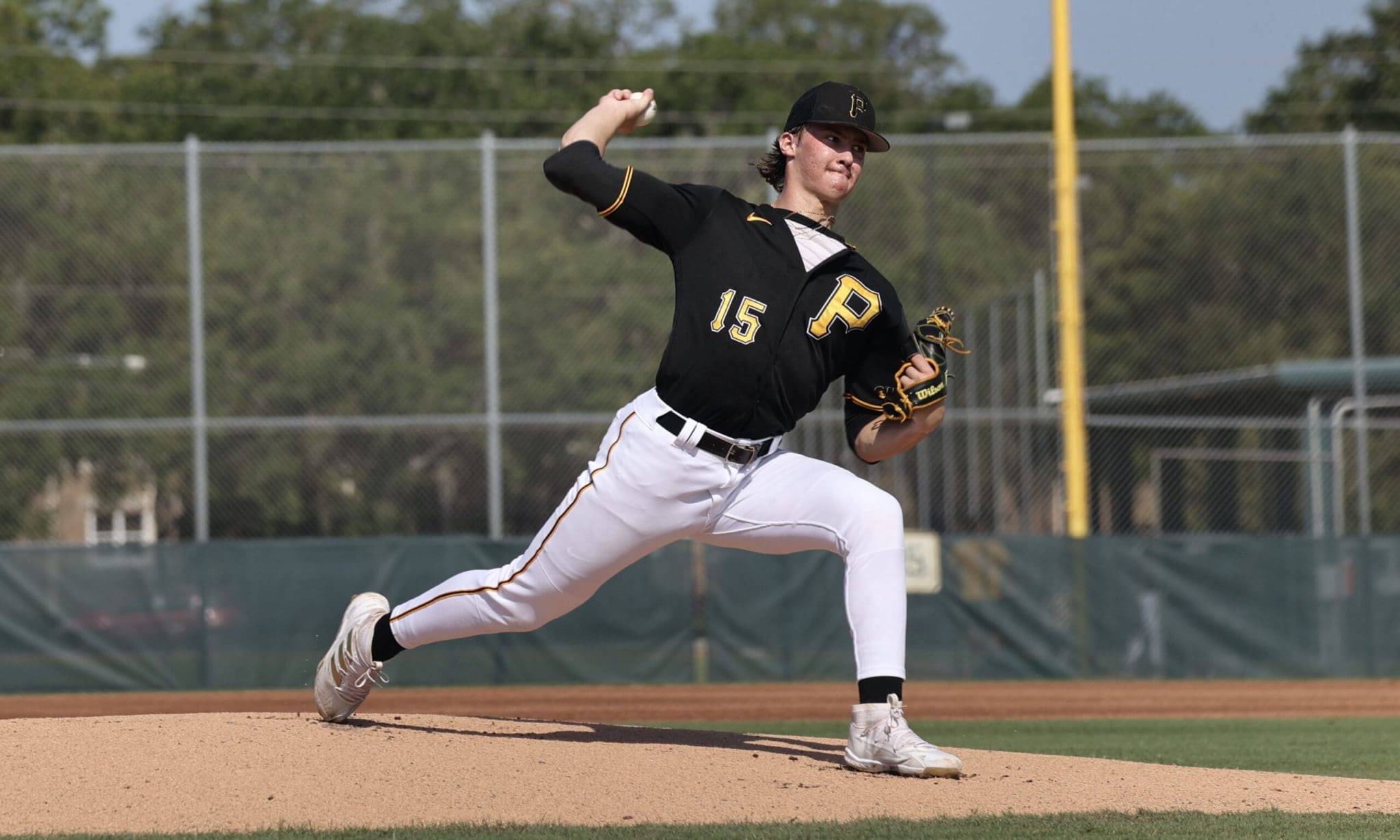 The much anticipated Double-A debut of Pittsburgh Pirates prospect Bubba Chandler could not have gone better for the Georgia native. 
Through five innings, Chandler mowed down the Harrisburg lineup and allowed only one hit, no runs, no walks, and struck out eight. 
At times, Chandler bumped his four-seam up to 97 mph. Although Chandler was the main story; there were plenty of stories to unfold from Friday night's action.
Let's go down on the farm and see how the Pirates' prospects faired.
Indianapolis (61-72)
RHP Jared Jones
Game stats: 7.0 IP, four hits, no runs, one walk, and four strikeouts
Season stats: 5-8, 4.05 ERA, 115.2 IP, 47 walks, and 132 strikeouts in 23 games (22 starts)
2B Nick Gonzales
Game stats: 1-3, a homer, run scored, and an RBI
Season stats: .272/.381/.478, 11 homers, six triples, 21 doubles, and 38 RBIs (320 at-bats, or 85 games at Triple-A)
Jared Jones sparkled in his 14th start for the Pittsburgh Pirates Triple-A squad. In seven complete innings, Jones allowed four hits, no runs, and walked just one.
Despite striking out only four, Jones had 17 whiffs and topped out at 99 mph on his four-seam. The only downside to Jones' outing was the average of 93.2 mph on average exit velocity with 21 balls put into play.
In addition, Nick Gonzales blasted his 11th Triple-A homer of the season, and Indianapolis won 2-0 over Toledo.
Altoona (61-66)
RHP Bubba Chandler
Game stats: 5.0 IP, one hit, no runs, no walks, and eight strikeouts
Season stats: 10-4, 4.54 ERA, 111.0 IP, 51 walks, and 128 strikeouts in 25 games (25 starts)
DH Connor Scott
Game stats: 2-4, a homer, one run scored, and two RBIs
Season stats: .189/.257/.313, three homers, four triples, 13 doubles, and 34 RBIs (243 at-bats, or 69 games)
As the opening paragraph stated, it was Bubba Chandler's night. Facing possibly the most talented Double-A lineup, Chandler had no problems and even struck out nine.
He gave up the lone hit in the fifth inning to Israel Pineda; it was a single. Connor Scott blasted a two-run homer in the fourth inning, and the Curve won 6-0
Greensboro (67-60)
CF Luke Brown
Game stats: 3-4, one walk, and one RBI
Season stats: .272/.368/.477, eight homers, two triples, 12 doubles, and 34 RBIs (195 at-bats, or 62 games)
SS Jack Brannigan
Game stats: 3-5, one homer, one run scored, and three RBIs
Season stats: .272/.389/.521, 19 homers, 22 doubles, 24 stolen bases, and 54 RBIs (305 at-bats, or 86 games between Low-A and High-A)
Greensboro put up double-digits again en route to their 11-2 victory over Bowling Green Friday night. It was a collective effort, but Jack Brannigan and Luke Brown stood out.
Termarr Johnson became the first teenager since 2005 to draw 100 walks in a minor league season.
Catcher Sean Ross drove in three runs while going 2-4 on the night. In addition, Josiah Sightler blasted a three-run homer in the ninth, giving him four RBIs on the night.
Bradenton (74-54)
LF Charles McAdoo
Game:

1-for-5, one run scored, and two RBIs

Season:

.300/.400/.511, five homers, one triple, two doubles, and 24 RBIs (90 at-bats, or 26 games)
1B Omar Alfonso
Game: 1-3, one run scored, one walk, and one RBI
Season:

.274/.409/.423, five homers, one triple, eight doubles, and 41 RBIs (168 at-bats, or 58 games between the FCL and Low-A)
The Pittsburgh Pirates Single-A affiliate in Bradenton was down 7-0 until the top of the fifth when they stormed back for five runs. Unfortunately for the Marauders, their comeback fell short to Fort Myers, and they fell 7-5.
Charles McAdoo, Omar Alfonso, Javier Rivas, and Kalae Harrison drove in Bradenton's runs. McAdoo drove in two out of the five.