Pirates Preview: Sunday Doubleheader With Cincinnati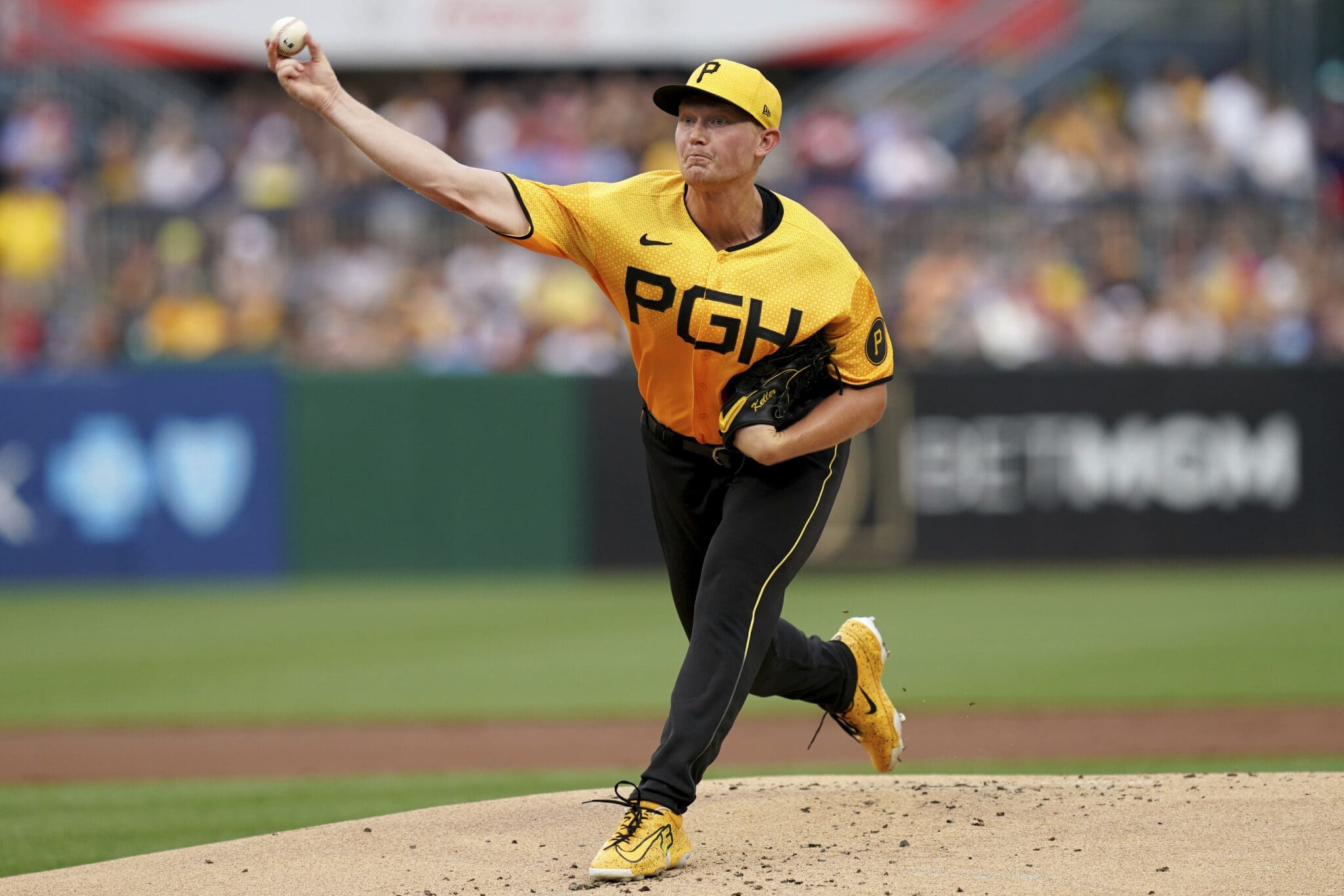 The Pittsburgh Pirates (52-64) fell to the rebuilt Reds 9-2 on Friday. Cincinnati left-hander Andrew Abbott allowed two runs across 5.2 innings while unicorn infielder Elly De La Cruz tripled and knocked in three runs.
The Reds (61-57) knocked around Pirates' starter Johan Oviedo to the tune of six earned runs in five innings while Pittsburgh's offense couldn't get anything going.
After rain forced a postponed game on Saturday night, the clubs will face off in a split doubleheader Sunday. Game 1 is set for 1:35pm, while Game 2 will begin at 6:05pm, with both broadcasts taking place on AT&T SportsNet.
Weather
Temperatures will sit in the low 80s during both games, with partly cloudy skies in the afternoon and cloudy skies in the evening. The wind is forecast for WNW at 8 mph during Game 1, dying down to WSW at 5 mph in Game 2.
Game 1
The Pirates will send out Mitch Keller (9-8, 4.39 ERA), while the Reds will counter with LHP Brandon Williamson (4-2, 4.54 ERA).
Williamson made his big league debut in May, so he hasn't faced the Pirates yet. He's a streaky starter, prone to blowups, but he's also shown flashes of greatness during his three months in the big leagues.
He gave up one run in 6.2 innings against the Marlins in his last appearance, but the Cubs shelled him for five runs in 4.1 innings the start before that.
Keller possesses a 6.54 ERA in 13 career games (59.2 innings) against the Reds. In two games (10.2 innings) this season, his ERA improves slightly to 5.29. He's struggled quite a bit since the All-Star break, giving up 27 earned runs in 26.2 innings in that span.
Sending out Keller for Game 1 makes a good deal of sense for the Pirates because it will give them an idea of who's available for a bullpen game in the nightcap with Jackson starting.
Reds Hitters vs Keller
Spencer Steer: 2-for-4 with a homer and two walks.

Joey Votto: 3-for-10 with a double and a walk.
Pirates Hitters vs Williamson
Game 2
The Pirates will send out RHP Andre Jackson (0-0, 5.16 ERA), with the Reds opting for right-hander Luke Weaver (2-4, 6.75 ERA).
While Jackson gave up 13 earned runs in 16.2 innings with the Dodgers, he has yet to surrender a run in five innings with Pittsburgh. This will be his first game as the starter for the Pirates, and he hasn't faced the Reds in his career.
Weaver has given up quite a few runs this year, but Cincinnati has also provided him excellent run support in many of those games: track meets are the rule, not the exception, with Weaver on the mound.
Reds Hitters vs Jackson: 
Pirates Hitters vs Weaver
Jack Suwinski: 1-for-2 with a home run.

Connor Joe: 1-for-4 with a home run.
Tidbits
The Pirates haven't dropped a series since losing two of three to the Los Angeles Angels from July 21-23. They need to sweep the doubleheader with Cincinnati to keep that streak alive.

Ke'Bryan Hayes has three home runs in his past four games, more than one-third of his season total (eight).

After collecting two more hits in four at-bats in Friday's loss, Bryan Reynolds is hitting .333 (27 for 81) over his last 20 games played.
Links
Making Learning Fun: Facilitating Education in the Pirates System
Perrotto: Perhaps Pirates Can Take a Lesson From Reds
Johan Oviedo Details Down Night For the Pirates
Potanko: Anthony Solometo is Wise Beyond His Years
Around the Network:
Pittsburgh Hockey Now: Does Karlsson Make the Penguins a Stanley Cup Contender?
Steelers Now: George Pickens: 'We Got More Stuff in Store' for Explosive Offense
Pittsburgh Sports Now: Pitt Star, Buffalo Bills S Damar Hamlin Makes His Return to the Football Field