Pirates Draft Tracker — Day 2 (Rounds 3-10)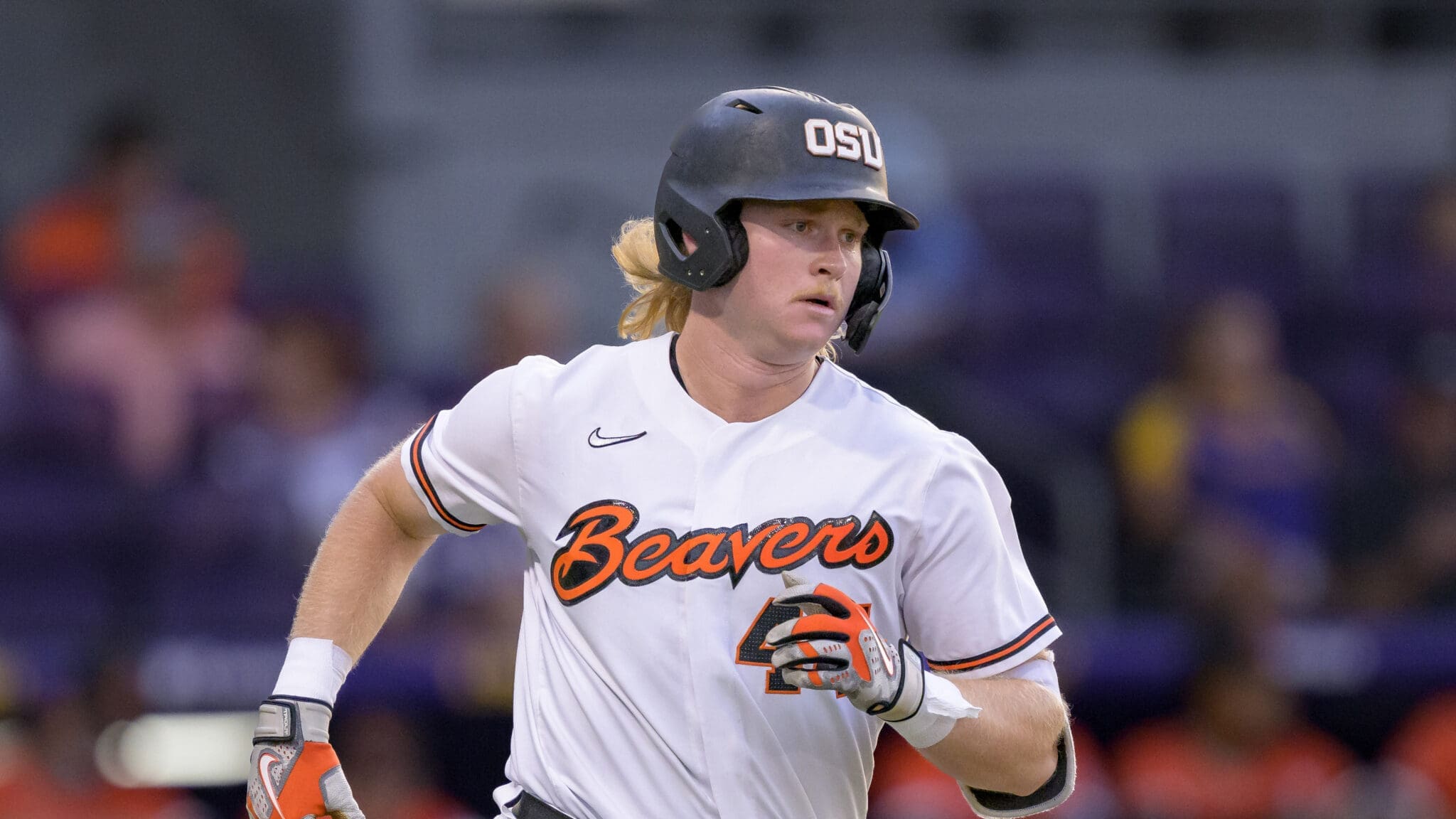 The Pittsburgh Pirates kicked off the 2023 MLB Draft by taking right-handed pitcher Paul Skenes out of LSU with the first overall pick.
On day one of the draft, the Pirates made two more selections — Michigan State shortstop Mitch Jebb with the 42nd pick and high school right-hander Zander Mueth with the 67th pick.
Day two of the draft will continue on Monday at 2 PM ET and will cover rounds three through 10. The Pirates will make eight picks on Monday beginning with No. 73 overall.
Follow along for updates on each of the Pirates' eight selections on the second day of the draft.
Round 3 Pick 73: Garret Forrester, 3B, Oregon State University 
The Pirates began the second day of the draft by going the college bat route in Forrester, considered the 116th-best draft prospect by MLB Pipeline. 
A natural first baseman, Forrester slashed .341/.485/.522 as a junior with the Beavers this past season. The 21-year-old hit 12 doubles with 10 home runs and 52 RBIs in 61 games.
Forrester's best tool is his hitting ability, rated as a '55' by Pipeline on the 20-80 scouting scale and he also has some pop. He projects to be at least an average defender at one of the corner infield spots.
Round 4 Pick 104: Carlson Reed, RHP, West Virginia University
The Pirates again dipped into the college ranks and again took a pitcher in Reed, a 6-foot-4 right-hander from WVU.
Reed has an above average fastball and slider (more of a sweeper) and his best pitch is a plus-changeup that sits in the mid-80s. His fastball has touched 98 in the past.
A native of Atlanta, Georgia, Reed spent last season in the Mountaineers' bullpen. He went 2-1 with a 2.61 ERA and seven saves in 25 appearances. Across 38.0 innings, he struck out an eye-opening 60 batters but also issued 25 free passes. He's rated as the 196th prospect.
Round 5 Pick 140: Patrick Reilly, RHP, Vanderbilt University
For the second time this draft, the Pirates dipped into the SEC ranks to take a right-handed pitcher. Pipeline has Reilly as the No. 219 prospect.
Reilly stands 6-foot-3 and possesses a mid-to-upper 90s fastball and complements the pitch with a plus-slider. He also features a changeup, though that offering isn't as advanced as his other two pitches.
Reilly went 5-4 with a 5.77 ERA across 16 appearances (four starts) with Vanderbilt last year. The righty struck out 65 batters in 48.1 innings. He owned a 5.25 ERA across 49 career collegiate appearances.
Round 6 Pick 167: Hunter Furtado, LHP, University of Alabama
Make it back-to-back SEC pitchers, this one a left-hander in Furtado, Pipeline's 192nd-overall prospect.
Furtado made 17 appearances (two starts) out of the bullpen for the Crimson Tide last season. He went 1-1 with a 4.75 ERA across 36.0 innings. The southpaw yielded 31 hits, walked 17 and struck out 38.
The 21-year-old has a plus-slider and an above-average fastball (tops at 98 mph), giving him a solid two-pitch mix that could work at the next level as a relief pitcher. He also has a changeup which he needs to work on if he wants it to become a legitimate offering.
Round 7 Pick 197: Jaden Woods, LHP, University of Georgia
That's now three consecutive SEC pitchers selected by the Pirates, who took Pipeline's No. 219 prospect in the seventh round.
Woods made 10 appearances (all starts) with the Bulldogs last season and went 3-3 with a 5.77 ERA. He racked up big strikeout numbers — 62 in 48.1 innings — but also had high walk totals — 25 free passes. He also surrendered nine home runs (1.7 HR/9).
Woods has a solid pitch mix with an above-average fastball and slider and a solid changeup. The Pirates will look to work with him on improving his control and limiting the long ball.
Round 8 Pick 227: Austin Strickland, RHP, University of Kentucky 
The theme continues as the Pirates go to the SEC to take a pitcher for the fourth-straight pick, this time going to Lexington.
Strickland was 4-2 with a 5.04 ERA across 20 appearances (three starts) spanning 55.1 innings. The right-hander walked 20 and struck out 58 batters. He pitched pretty well in the Summer League in 2022, where he posted a 4.05 ERA with 31 punch outs in 26.2 innings.
This is the first Pirates' selection not in Pipeline's Top 250.
Round 9 Pick 257: Danny Carrion, RHP, University of California – Davis
The run on pitchers for the Pirates in the 2023 draft continues as Carrion, a soon-to-be 22-year-old joins the mix.
Carrion was used 19 times out of the bullpen last season and posted a 2.45 ERA with a pair of saves. In 29.1 innings, he walked 10, struck out 34 and didn't allow a single home run. The right-hander posted a 3.72 ERA with 16 strikeouts in 9.2 innings in the Cape Cod League this summer.
Carrion is not a Top 250 prospect on Pipeline's list.
Round 10 Pick 287: Landon Tomkins, RHP, Louisiana Tech
The Pirates close out day two of the draft with another pitcher in Tomkins, a fifth-year senior.
Tompkins went 6-2 with a 3.52 ERA and 75 strikeouts in 76.2 innings for Louisiana Tech last season. In last year's summer league, he posted an immaculate 0.88 ERA (3er/30.2ip).
The right-hander is not amongst Pipeline's Top 250 prospects.