Pirates Get Their Man; Draft Flamethrower Paul Skenes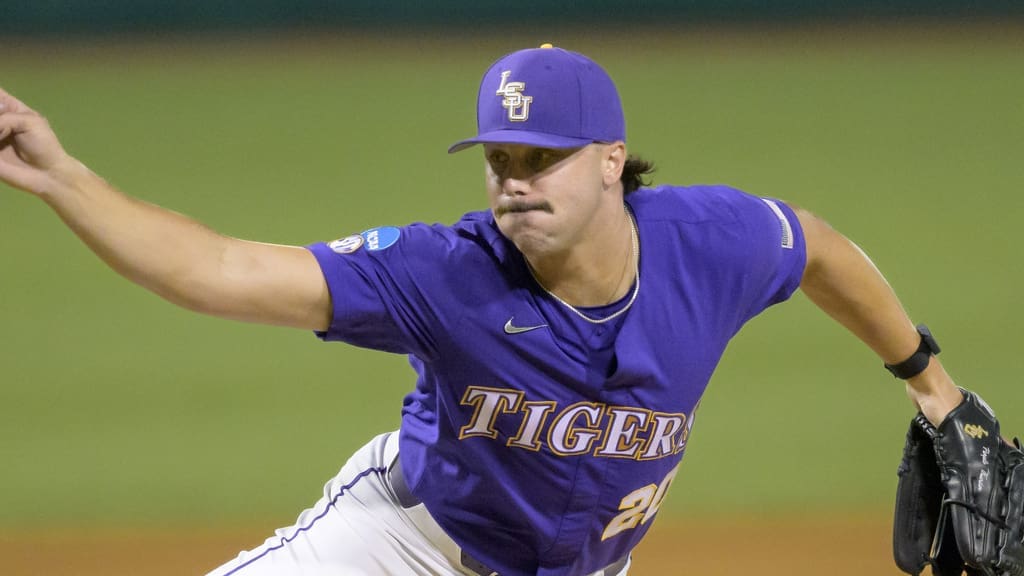 The Pittsburgh Pirates have selected RHP Paul Skenes out of Louisiana State University. Skenes has been on the rise for quite some time, and now the Pirates have selected the best pitcher in college baseball.
"Paul was on the top of our board," said Pirates general manager Ben Cherington during their zoom meeting. "Whatever's nect, he's going to want it. A combination of the pitcher on the field, the person off the field as we got to know him, just felt like the right match at the right time for the Pirates."
Skenes on the season went 13-2 with a 1.69 ERA in 122.2 innings pitched. In addition, the righty allowed an opposing batting average of .165.
Skenes lead the country in pretty much every category, including, ERA, and strikeouts. In addition, Skenes, led the country in opposing OBP, OPS, K%, WHIP, FIP, and SIERA.
One of the more incredible stats from Skenes was his advanced statistics, with a K% of 45.1% and a SIERA of 0.39.
Skenes has separated himself from the rest of the pack as a pitcher, and quite frankly, the Pirates would never get a pitcher of this quality, other than the draft.
Skenes offers a four-seam that has bumped all the way up to 103 mph at times. To go along with a four-seam, Skenes also offers a few different forms of slider's like a gyro, sweeper, and a run of the mill slider.
In addition, Pirates general manager Ben Cherington mentioned that Skenes has added a curveball and introduced a changeup during the spring.
The question now is what the Pirates will sign Skenes for. The Pirates have the biggest pool in the draft, so money shouldn't be an issue, and like Cherington mentioned, "We will use all of our draft pool" a few Saturday's ago.
There were also questions as to where the Pirates will place Skenes if/when he signs with the Pirates, some have even suggested bringing him to the majors, but that would be a bit too aggressive, Cherington alluded to.
Regardless of where the Pirates place Skenes, they got the best pitching prospect, since some are saying Gerrit Cole and Stephen Strasburg.
Cherington also alluded to Skenes may pitch in the Pirates system during the 2023 season, based off of Cherington's comments throughout this draft process, I doubt it will be in the major leagues.
"Certainly anticipate and hope he'll be ramping back up in 2023, and be able to pitch in baseball games in 2023," said Cherington. "But we haven't gotten far enough into that yet to be able to share any details."
With the Pirates' history of drafting pitchers first overall, some trepidation from Pittsburgh's fan's is understandable.