Perrotto: Time to Really Find Out About Henry Davis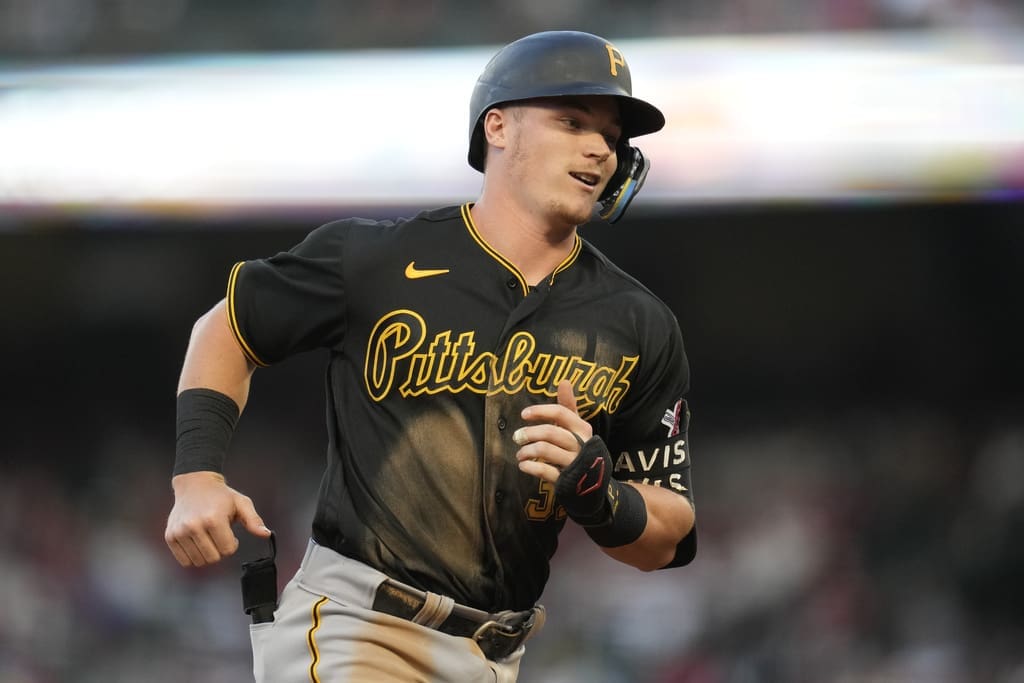 The moment many Pittsburgh Pirates fans have been waiting for appears to be closer.
Rookie Henry Davis made his second major-league appearance as a catcher Thursday night for the Pirates. He caught the final inning as the Pirates were blown out by the Brewers 14-1 at Milwaukee.
That still makes a grand total of two innings caught for Davis since making his major-league debut on June 19. He has made 34 of his 36 starts as a right fielder and the other two as the designated hitter.
Thursday's game was televised nationally by Fox – a rare turn in the spotlight for the Pirates – and A.J. Pierzynski was the color commentator. Pierzynski pulled no punches during his 19-year career as a major-league catcher that ended in 2016. He remains brutally honest in the booth.
Pierzynski confirmed the fear of Pirates' fans. He thinks Davis is a poor defensive catcher.
That probably shouldn't be a surprise.
Davis has yet to start behind the plate. That's about a sure a sign as any that the Pirates have little confidence in letting Davis catch.
Scouts who I have talked to who watched Davis play in the minor leagues since the Pirates used the first overall pick to select him in the 2021 amateur draft have universally panned his defense.
While those talent evaluators praise Davis' strong arm, they also note that he had a hitch in his throwing mechanics. They also believe he is lacking in the areas of pitch framing and blocking.
Davis has been working on his defense as a catcher during pre-game drills since being called up from Triple-A Indianapolis out of the sight of fans and the media. General manager Ben Cherington and manager Derek Shelton both say Davis will get starts behind the plate before the season is over but won't say when.
"He just continues to get better with his glovework," Shelton said. "It's something that, we brought him to the big leagues, and he's had really good at-bats. He helped us win a game the other day in right with what he's done. Just getting him more comfortable overall with everything."
Davis' performance has been a bit underwhelming for the most part so far, especially for a first overall draft pick. He is hitting .226/.327/.361 with four home runs in 37 games and has minus-2 defensive runs saved as a right fielder.
Most prospect mavens had fellow catcher Endy Rodriguez rated ahead of Davis when spring training began. Those same people flip-flopped the two when Davis hit .284/.433/.541 with 11 homers in 51 games combined at Double-A Altoona and Indianapolis to start the season while Rodriguez batted .268/.356/.415 with six homers in 67 games with Indy.
Cherington said the Pirates are far from deciding which of the two is the long-term solution catcher. He also says he would be fine if both stayed at the position for the long haul.
Rodriguez also played some first base and second base in the minor leagues as well as all three outfield spots. He has been used strictly as a catcher since making his big-league debut on July 17.
"We have not made any decisions past 2023," Cherington said. "We believe both, when you look at their baseball cards, it should say catcher first at their position. That's how we feel. Nothing's changed on that front. Both guys are — unique is too strong a word — maybe unusual in that they are both catchers who can catch, we believe can play another position and can also hit.
"So, if you have two of those players on the same team, potentially, you can create advantages for yourself that other teams can't because these are just different players. So, we just want to explore that, and one way to explore that is just to give them as much opportunity in August and September to play, including behind the plate."
Though the returns are early and incomplete, Rodriguez seems to have a a noticeable leg up on being the Pirates' next everyday catcher.