Perrotto: Ryan Borucki Has Gone From One Extreme to Another in '23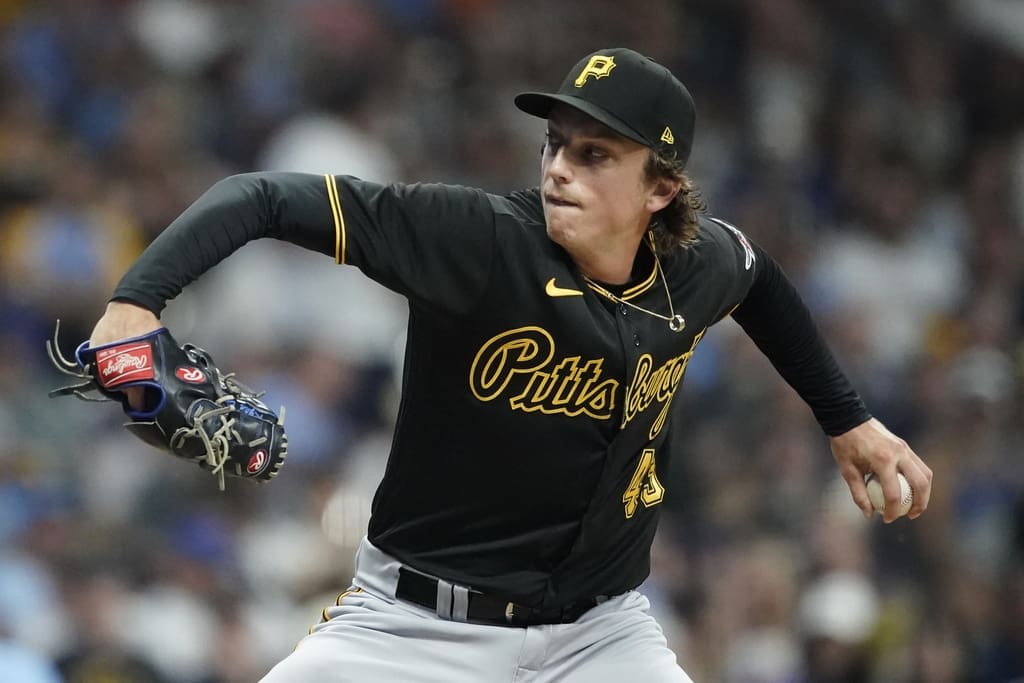 Ryan Borucki knows the major leagues is the place to be, having logged over 4.5 years of service time at baseball's highest level.
However, the Pittsburgh Pirates left-handed reliever had to fight his way back to the big-league level this year. He failed to make the Cubs' opening-day roster in spring training, pitched in eight games with Triple-A Iowa then was released by Chicago on May 7 with a 12.00 ERA.
Yet Borucki has had quite the transformation since then.
The Pirates signed the 29-year-old to a minor-league deal two days later and assigned him to Triple-A Indianapolis. Six weeks later, after he did not allow a run in eight games and 8.1 innings with Indy, Borucki made his Pirates' debut.
Borucki has been one of the more effective relievers in an inconsistent bullpen that has a 4.19 ERA, which is 20th among the 30 major-league teams.
"I feel like I found a good spot here," Borucki said. "It's a fun team to be around. I've been pitching a lot. Yeah, I can't complain at all. Things are going well."
Borucki became a free agent when the Seattle Mariners dropped him from their 40-man roster at the end of last season. He narrowed his choice to signing with either the Cubs or Pirates in early January.
The Pirates were attractive to Borucki because of the relationships he built with current general manager Ben Cherington and manager Derek Shelton during their time in the Toronto Blue Jays' organization. However, the lure of signing with the Cubs was too strong for Borucki, who grew up rooting for them in Mundelein, Ill., located 35 miles northwest of Chicago.
"I played in Toronto and Seattle and I'm from Chicago so my parents or nobody close to me has ever really seen me play in the big leagues on a consistent basis," he said. "That was a big factor."
Borucki, though, gave up 13 runs (12 earned) in nine innings with Iowa. Despite the 12.00 ERA, the Pirates wasted little time in signing the 29-year-old.
"It was really a hard decision last winter," Borucki said. "I really thought about it a lot before I signed with the Cubs. I'm happy to be here now, though. It's all worked out really well, signing with the Pirates."
Borucki has pitched 21 times for the Pirates, including once as an opener in a bullpen game. The Pirates felt Borucki could be successful if he threw his slider more often and he has used the pitch 56.6% of the time since being called up from Indianapolis.
Though Borucki has hit a rough patch lately, giving up four runs over four innings in his last three appearances, he has a 1-0 record, a 3.86 ERA and 22 strikeouts in 23.1 innings. However, what stands out the most is that Borucki has issued just three walks.
"I think the No. 1 factor is just throwing a lot more strikes than I have the last couple of years," Borucki said. "I've struggled with some control stuff but there were some mechanical things that I was trying to figure out and couldn't figure out. Once I finally figured it out, it clicked, and I started filling up the zone more and everything just kind of fell into place for me."
Borucki made his major-league debut with the Blue Jays in 2018 and spent all or parts of five seasons in the big leagues with them before being traded to the Mariners last June. Now that he has gotten back to the majors, Borucki knows the primary task now is staying there.
"Everything has clicked and hopefully I'll continue the success I've had this season, carry it into the offseason and see what happens next season," Borucki said.
Six more weeks remain in this season, but the left-hander has certainly given the Pirates something to think about for 2024.