Perrotto: Pirates Did Not Outthink — or Outcheap — Themselves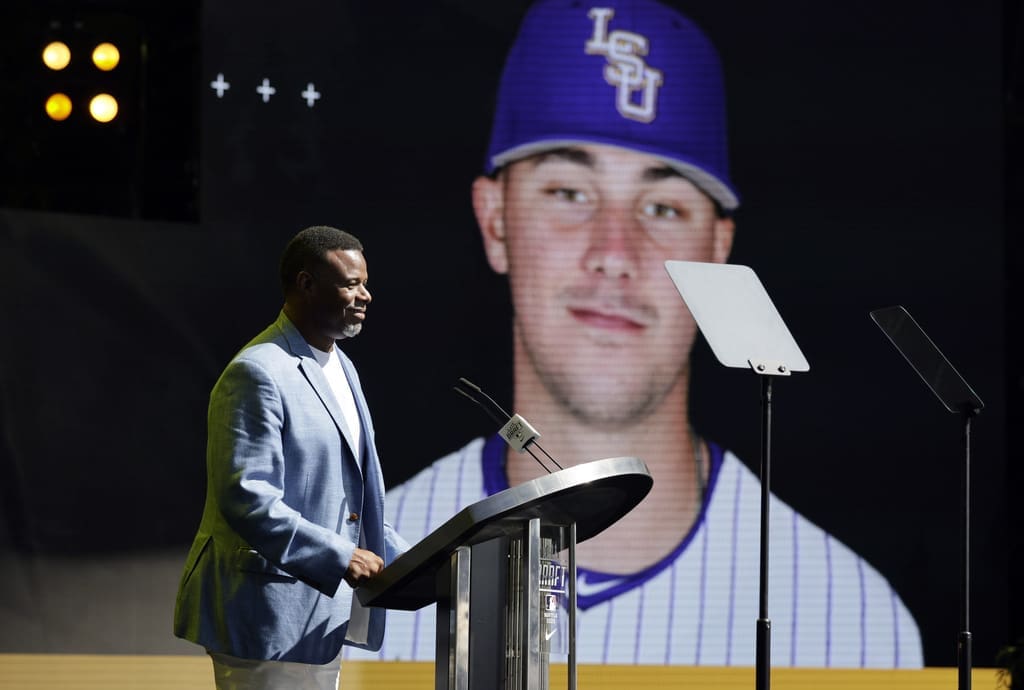 The Pittsburgh Pirates did not play it cheap. They also didn't get cute.
The Pirates took the right player with the first overall pick in Sunday night's Major League Baseball amateur draft by selecting right-hander Paul Skenes from LSU.
The decision wasn't clear cut, nor should it have been. There were multiple players who were worthy of the honor including outfielder Dylan Crews, Skenes' collegiate teammate, as well as University of Florida outfielder Wyatt Langford and high school outfielders Max Clark and Walker Jenkins.
However, Skenes was the player they needed to take. It didn't matter what his asking price was or how much money they could save for later in the draft by taking a player willing to sign for less than the allotted slot bonus.
Skenes has the makings of a true No. 1 starting pitcher in the big leagues. There aren't many of them around and not a player the Pirates could afford in free agency or on the trade market.
I talked to many talent evaluators as well as some former major-league pitchers about Skenes over the last two weeks. Almost all of them believe Skenes is so talented and polished that he could pitch in the big leagues right now.
Skenes, too, feels he could be plugged into an MLB rotation. He said so without a trace of arrogance Sunday night when he held a video conference with the media, instead sounding like a young man who understands he is gifted.
"I think my stuff is big-league ready," Skenes said. "But to be honest, not being in professional baseball yet and having to figure out that stuff, I think there's some stuff that I'm probably gonna have to figure out along the way because I just haven't been exposed to professional baseball.
"But I think with that said, my end goal is to be in the big leagues as long as possible and as soon as possible, so, I'm going to do whatever it takes along the way to accomplish that goal."
The 6-foot-6, 235-pound native of Fullerton, Calif., was Baseball America's College Player of the Year this year and was named Most Outstanding Player while leading LSU to the College World Series title. He had a 12-2 record, 1.69 ERA and 0.75 WHIP in 19 starts with 209 strikeouts in 122.2 innings after transferring from the United States Air Force Academy.
Scouts say Skenes already possesses three above-average pitches, topped by his fastball and slider, and including a changeup.
Skenes even arrived early for his Zoom call. That never happens in baseball.
Pirates general manager Ben Cherington said he and his brain trust did not make a final decision to select Skenes until just a few hours before the draft started. That is not to knock Skenes but a tribute to the high caliber of talent available this year.
However, Cherington certainly seemed very pleased with his decision. Usually a bit cautious when he speaks, Cherington could not hide his admiration for Skenes.
"Everyone can see what he did on the field. He had an incredibly special season at LSU," Cherington said. "We've known Paul since high school. We've been following him, but he took another step forward this spring. It's a really special combination of pitches. It's just about the mix, and command as it is any one pitch. On top of that, obviously, super physical delivery, competitive.
"In getting to know Paul, what you understand is that from his background, you would anticipate discipline and work ethic and service-oriented teammate — all those things you sort of anticipate. But what you also learn about Paul as you get to know him is that he's got this thirst for getting better. Not only willing, but wants to take on the challenge, whether that was going to the Air Force Academy out of high school or transferring to the SEC for his draft year.
"Whatever's next, he's going to want it. So, combination of the pitcher on the field, the person off the field as we got to know him. Just felt like the right match at the right time for the Pirates."
It certainly does.