Potanko: Paul Skenes' Breaking Stuff Brought Him to the Dance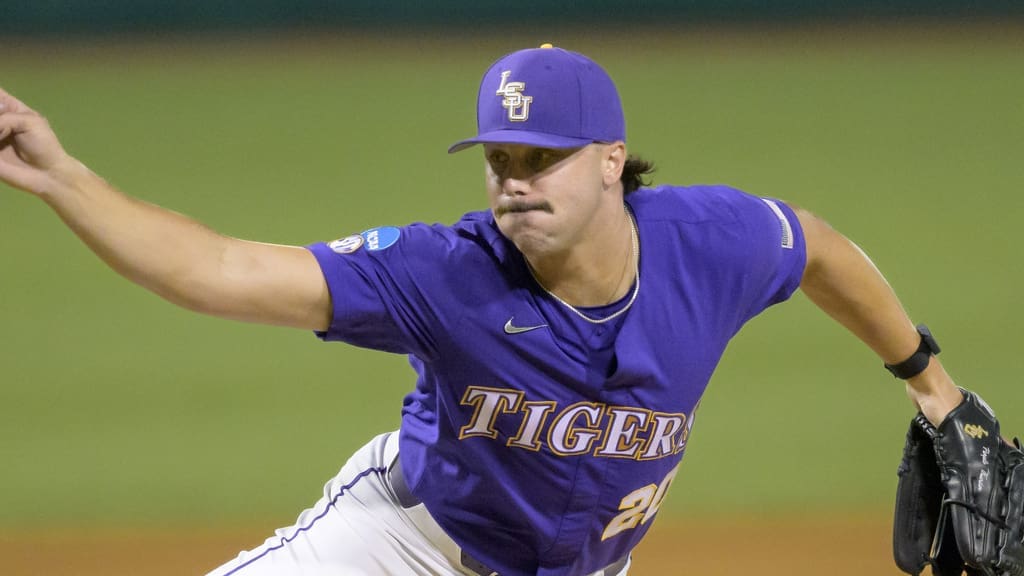 Paul Skenes was the best pitching product going into the 2023 MLB Draft and it didn't even seem close.
When the Pittsburgh Pirates took him first overall in the draft, it seemed to have caused a major divide between two or three sets of fans.
Some say the Pirates made the right call, others say it was a horrible call, and then you have others who may not agree with the pick, but are willing to hold out hope and wait to see what happens.
There is no denying Skenes has an electric fastball that touches 100 mph easily, and has even touched 103 a few times.
One of the things about Skenes that was pushed to the side was his ability to throw breaking balls with effectiveness, and present a more than capable repertoire other than a major heater.
When Pirates general manager Ben Cherington spoke with the media on Sunday, he mentioned that Skenes is always willing to learn new things, and thinks he can build upon the breaking stuff he already has.
"What we saw mostly during the season was sweeper, slider and curveball. He also has a shorter slider, a gyro slider, that he did throw some particularly late in the season a handful of times. So, there's already three breaking balls there and all three of them, we project to be very good pitches at the professional level. It may be that those are the breaking balls he has. I just think he's going to continue to learn."
Skenes later corrected that he doesn't have a gyro slider anymore, and has turned into more of a curveball.
"He's going to continue to figure out what he needs to do against the best hitters in the world to be successful," said Cherington. "He's already been incredibly successful against the best college teams and players and now the next level will be figuring out who the best professional hitters are and what he has to do against them. So, it's a very strong starting point with a guy who is capable of doing other things down the road."
Later on in the evening, the Pirates had Skenes jump on the zoom call and he spoke with the media on his big day, and in particular, he mentioned some specifics with his breaking pitches.
"I developed the sweeper in the fall, over the summer and in the fall, and the whole fall was just trying to develop feel for it. As my velocity increased, my hand sped up and I got a better feel for that breaking ball. And then Incidentally, I don't actually have a gyro slider. I used to throw a driver slider but that's something I'm working on."
Skenes continued.
"And during the season, I tried to throw that gyro slider in catch play,  just kind of playing around with it. Used the same grip and the same cue that I used the last couple of years when I was at Air Force, and it was a curveball and I was trying to throw gyro slider, but my body had changed, my hand had sped up from last year, so that turned into a curveball. Those are the two off-speed pitches that I have, just kind of a different shape with each of them. I think as I continue to develop and pitch and go on that track to the big leagues, I think that feel for those are just going to increase."
As I have mentioned several times on the podcast, and other platforms, the changeup is one of the last pitches a pitcher needs to perfect to have a complete arsenal.
It seems as though Skenes has always been a fastball/changeup guy.
"I've actually always been a changeup pitcher," said Skenes. "Throughout high school, there were times in the fall when I pitched in high school I wasn't allowed to throw a slider. With our high school coach, that's just how he ran the program, which I'm super grateful for because it made me develop feel for the changeup. Up till this year, I didn't really have a very good slider and I didn't know how to pitch on the slider. So, I was fastball changeup, mostly. So, I think I've always had pretty good feel for the changeup."
One of my last questions with Skenes dealt with the advanced technology that we're seeing in baseball with Trackman, Hawkeye, etc., and how often he used that technology to track his pitches and get better by using it.
"Every time I get on the mound," said Skenes on using the advanced tech. "I was extremely lucky to have it at LSU. For every bullpen we had Edgertronic and Trackman. In a lot of them, we had force mounds (force plate-instrumented pitching mound provides measurements of 3D forces and moments under each foot throughout an entire pitch) and so I got a really good understanding of how to read that information, how it pertains to my stuff and how to use that to get hitters out."
Skenes continued.
"We had it in-game, as well. We had Trackman during the game so we got a report after each game, an inning-by-inning breakdown, pitch by pitch, all of that. So I got a really good understanding of how to use my stuff, how it changed over time and how to get hitters out with it. I'm actually really curious and really looking forward to how they use that stuff in professional baseball, with even more resources. Hawkeye and that kind of thing, I'm looking forward to learning about that."