Pirates Top 30 Prospects No. 18: How Will They Use Jase Bowen in '24?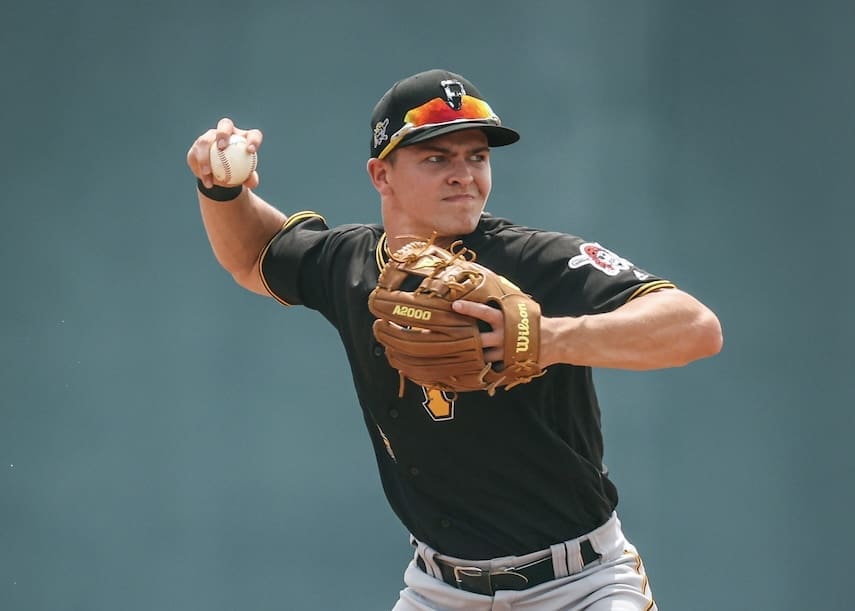 This is one in a series of stories breaking down PBN's Top 30 Pittsburgh Pirates prospects.
If there is one Pittsburgh Pirates prospect who has jumped onto people's radars, it's Jase Bowen. The Pirates drafted Bowen in the 11th round of the 2019 draft, and he is a 23-year-old multi-tooled athlete. 
Bowen received a $267,500 signing bonus with the Pirates as well as coming from Central Catholic High School in Toledo Ohio.
Bowen can play multiple positions in the outfield and even in the infield. Case in point: in the Arizona Fall League, Bowen has played a ton of first base. 
We all know the Pirates have been searching for a long-term solution at first base, and they may have had one all along in their system, just waiting to break out. 
Within the Pirates system, Bowen has slowly risen through the ranks. In 2022, Bowen started to make some noise in the system, with Bradenton slashing .278/.355/.450 with 14 homers and 66 RBIs. 
Towards the end of the '22 season, Bowen jumped to High-A Greensboro, where he struggled through the remaining 27 games. 
Fast forward to 2023, the Ohio native started getting the hang of Greensboro and mashed the ball left and right. Bowen slashed .300/.380/.586 in April with an OPS of .965. In addition, he belted five homers and drove in 18 runs. 
There were some down months, but the one constant Bowen kept alive was the power numbers and his sneaky speed. Each month in Greensboro, Bowen hit between 3-5 homers and stole between 3-7 bases. 
In total, Bowen amassed 23 homers, which led all Pirates' minor leaguers, and 26 stolen bases, resulting in a 20-20 season. He also led the organization with 95 RBIs and received the call up to Double-A in September.
After the '23 minor league season ended, Bowen was sent to the Arizona Fall League with several other Pirates prospects. Through 18 games, Bowen is slashing .348/.408/.594 with an OPS of 1.002 through 17 games (69 at-bats). 
In addition, Bowen is near the top of major categories in the fall league. The righty is ninth in OPS, sixth in average, tied for fifth in homers (three), fourth in RBIs (15), second in hits (24), and seventh in slugging.  
With Bowen now in Altoona, he is on the doorstep of entering the major leagues. The question is, how will the Pirates use him moving forward? 
He's played a solid right field and first base, and can play center field. Will the Pirates use him in multiple roles, or will he stick to one position?
Bowen played 14 games at first base between High-A and Double-A in '23. In '22, Bowen played first base just twice between Single-A and High-A.
The Pittsburgh Pirates' use of Jared Triolo should be a very good indicator of how they will treat Bowen. Although Bowen has more power potential than Triolo, I think the two have very similar situations in terms of versatility.