Vince Velasquez Throws Six Scoreless Innings as Pirates Blank Cardinals 5-0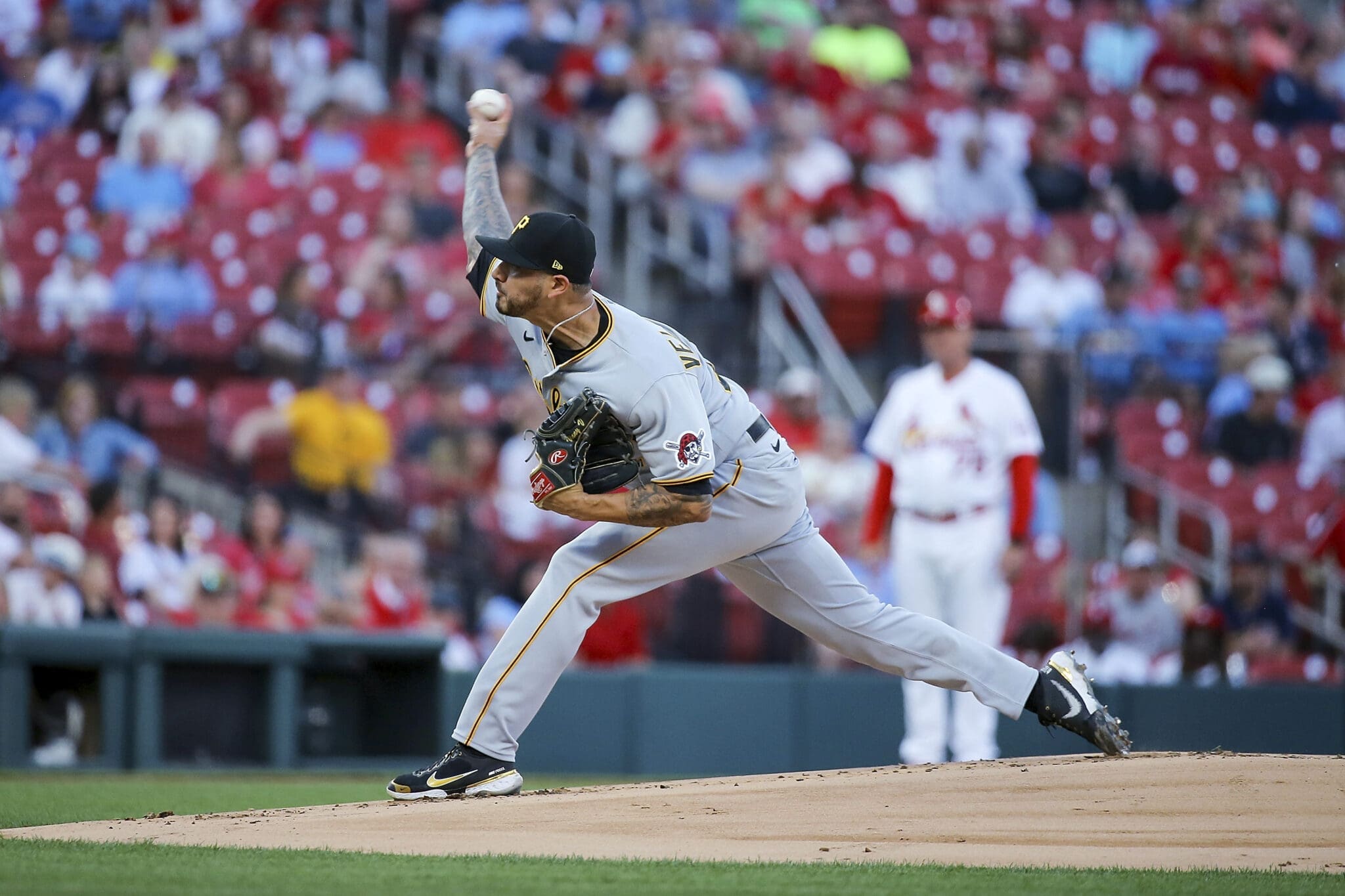 Vince Velasquez had his best start of the year as the Pittsburgh Pirates blanked the St. Louis Cardinals in their 5-0 win on Thursday night at Busch Stadium.
Velasquez held the Cardinals (5-8) scoreless across six innings on the mound. He held the Cardinals to only three hits, walked a pair and struck out a season-high six batters. 60 of his 95 pitches went for strikes.
Entering play, Velasquez was 0-2 with a 9.82 ERA through his first two starts of the season to begin his Pirates' career.
Velasquez (1-2) earned his first victory since June 21 of last season while with the Chicago White Sox.
With runners on second and third with two outs in the fourth inning, Ji Hwan Bae robbed Tyler O'Neill of extra bases and a pair of RBIs with a fine running grab in left-center field. Bae ran a long way to his right and crashed into the wall to keep St. Louis out of the run column.
The following inning, Bae made a diving catch in shallow center to give him a couple of web gems.
Outside of the Bae catch to prevent a pair of runs from scoring, Velasquez didn't find himself in many high-leverage situations. The only other occurrence in which the Cardinals had a man in scoring position was on a Brendan Donovan leadoff double in the first.
With a 2-0 lead in the top of the eighth, Connor Joe and Rodolfo Castro hit back-to-back solo homers, the first of the year for both players. For Joe, it was his first ever in a Pirates' uniform.
Staring at a 0-0 tie in the top of the sixth, the Pirates finally broke through for a run after Andrew McCutchen and Carlos Santana recorded back-to-back doubles off of Cardinals starter Jordan Montgomery (2-1).
McCutchen extended the Pirates lead to 2-0 with a sacrifice fly in the following inning. Bae came home from third to score.
Ke'Bryan Hayes scored on a passed ball in the top of the ninth to give the Pirates (8-5) an insurance run. Hayes doubled and walked in five trips to the plate.
After Duane Underwood Jr. tossed a 1-2-3 seventh inning, Colin Holderman retired Nolan Gorman to get out of a bases-loaded jam in the eighth. Dauri Moreta finished it off in the ninth.
The second game of this four-game series at Busch Stadium will be on Friday night. RHP Johan Oviedo (1-0, 3.18 ERA) will get a chance to face his former team. He will be opposite right-hander Jake Woodford (0-2, 9.00 ERA). First pitch: 8:15 ET.
Takeaways:
That's More Like It: This was the first time since June 29, 2021 with the Phillies that Velasquez went six innings without allowing a run. That game, Velasquez blanked the Marlins over seven innings, allowing just a pair of hits. Just as Rich Hill did on Wednesday, Velasquez was able to shake of two poor outings to begin the year and deliver in his third start.
Double Up: McCutchen's double was his 295th with the Pirates, breaking a tie with Bill Mazeroski for eighth-place on the franchise's all-time list. He needs one more to tie Dave Parker for seventh in Pirates' history and is now just five away from 400 ins his big league career. His 395 career doubles puts him in fifth place among all active players.
Additions Lead Charge: Several of the Pirates' offseason additions played big roles in the club's win on Thursday. Velasquez was brilliant on the mound, Joe homered as part of a two-hit performance, Santana doubled twice and was on base three times while McCutchen hit a double, walked and had an RBI.