Potanko: After Early Struggles, Well-Rounded Cheng Adjusting to Double-A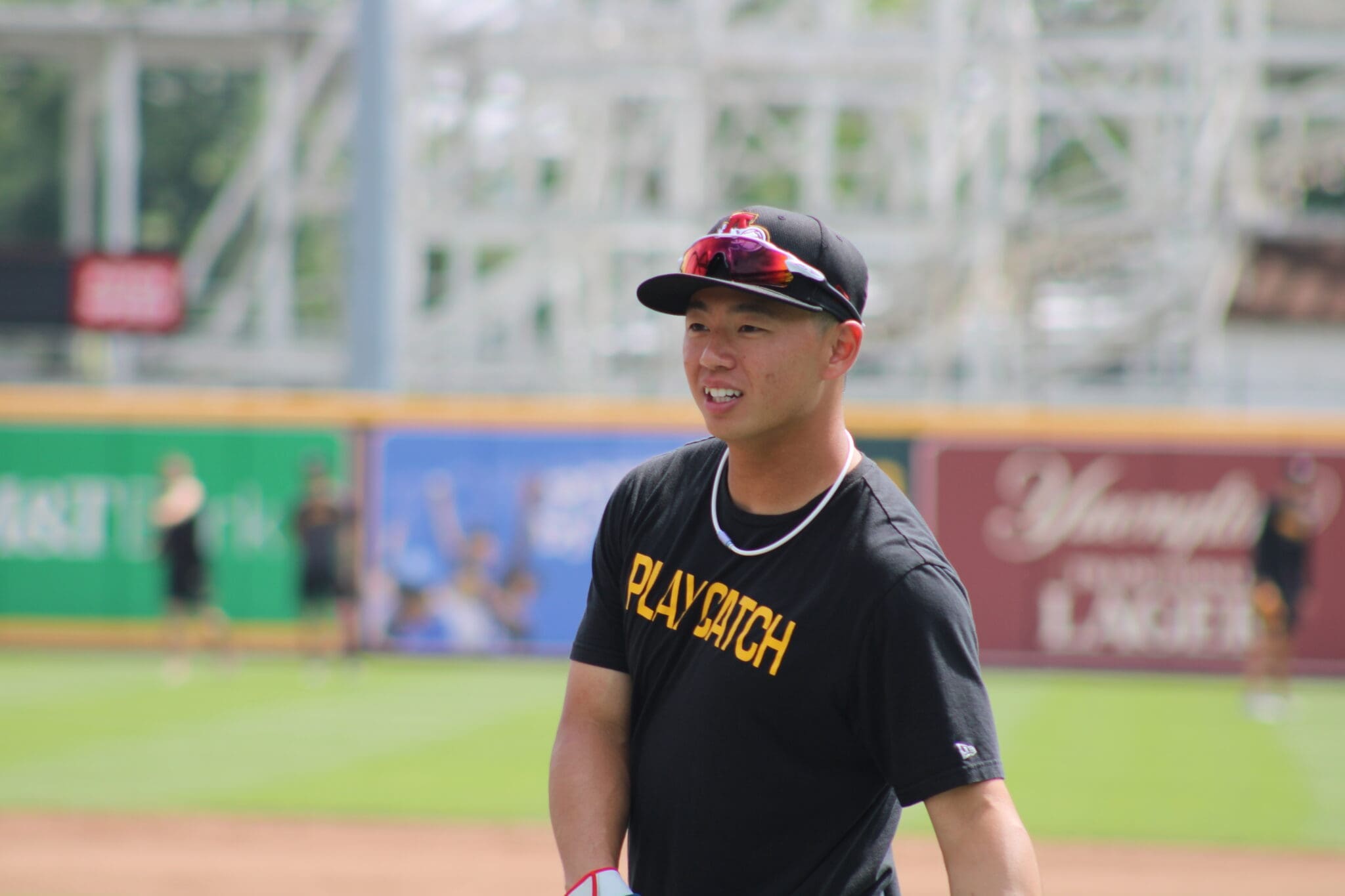 ALTOONA- During my most recent trip to see the Altoona Curve, I was excited to see shortstop Tsung-Che Cheng play in person. 
For just the casual fan, Cheng has burst onto the scene for the Pirates' organization. Before we dive into the conversation I had on Cheng, let's return to the beginning of Cheng's journey. 
On July 2, 2019, the Pirates signed a 17-year-old Cheng for a $380,000 signing bonus.
The young left-handed hitter hails from Taiwan and at the time of the signing, the baseball community thought this signing was a steal, especially for the bonus he received.
The timing of the Cheng signing could have been better since Cheng had to wait until 2021 to play for the in the minor leagues since COVID shut down the minors in 2020. 
For the past two years, Cheng has been a relatively consistent hitter, maintaining a .270 average or better.
Cheng's defensive ability is also something worth noting. 
"His feel for the defensive side is outrageous," said Altoona's manager, Callix Crabbe. "It's like he has four or five options that he thinks about beforehand, and then he cancels them immediately when the ball is hit."
Crabbe continued.
"He is a special talent when it comes to decision making and tactical component on the field, that's really impressive for the age that he is. He has the instincts of a big leaguer that's been around for at least five years. I did not realize the type of carry he has on the ball when he throws it."
Crabbe also mentioned when Cheng throws the ball across the diamond, it has a perfect spin to it. In addition, Crabbe said that Cheng has a tight arm stroke that comes in fast.
Getting back to the offensive side of things, Cheng has had one of his best years in the Pirates' organization. 
A lot of that success occurred in High-A, with the Greensboro Grasshoppers, where he posted a .308/.406/.575 slash line. In addition, Cheng blasted nine homers, a .432 wOBA, and a wRC+ of 162.
Cheng's power stroke fell off once he got the promotion to Double-A. Obviously, Cheng's frame isn't built to hit towering shots. Cheng's game is more about getting on base and hitting for doubles or triples with his speed.
"He started off pretty rough here," said Crabbe. He wasn't necessarily making the type of contact he wanted, but as he started to make better contact, we're seeing some juice in that bat now. If you look at the most recent Harrisburg series, there were several balls hit to the opposite side of the field that burned the left and center fielder by a ton."
Crabbe continued.
"He hit a ball last night over the right fielder's head at 104 [mph]. Power truly isn't going to be his game, but he has enough sock in there where he will be a real threat. They aren't going to be able to play him like he's a slappy guy who slaps balls all over the place. There's some thump in that little body of his."
The transition from High-A to Double-A is a true test for hitters. You're facing pitchers who control the ball better and know where the holes in your game are.
Additionally, the South Atlantic League, home to Greensboro, is a hitters' paradise.
"[Cheng] just has to believe," said Crabbe. When he first got here, it was like he was feeling his way out. It was like a person who steps into cold water for the first time. Once he dipped his toe in, he realized it wasn't that bad. I think it came down to him saying, 'This is not hard,' and he started believing."
Crabbe continued on Cheng's adjustments. 
"He made some slight adjustments in terms of the way he was looking at the baseball. He hit the ball in the air too much when he arrived. Part of that is the transition from Greensboro to here. The pop-up rate started to increase, so we just reframed him. Now he has tighter angles, more of a barrel hitter."
It's likely Cheng stays in Altoona the rest of the year, but his development so far has been encouraging. I will be curious to see how the rest of the year pans out for the 21-year-old shortstop.