Perrotto: Nothing Phony About It, Rodolfo Castro Growing Up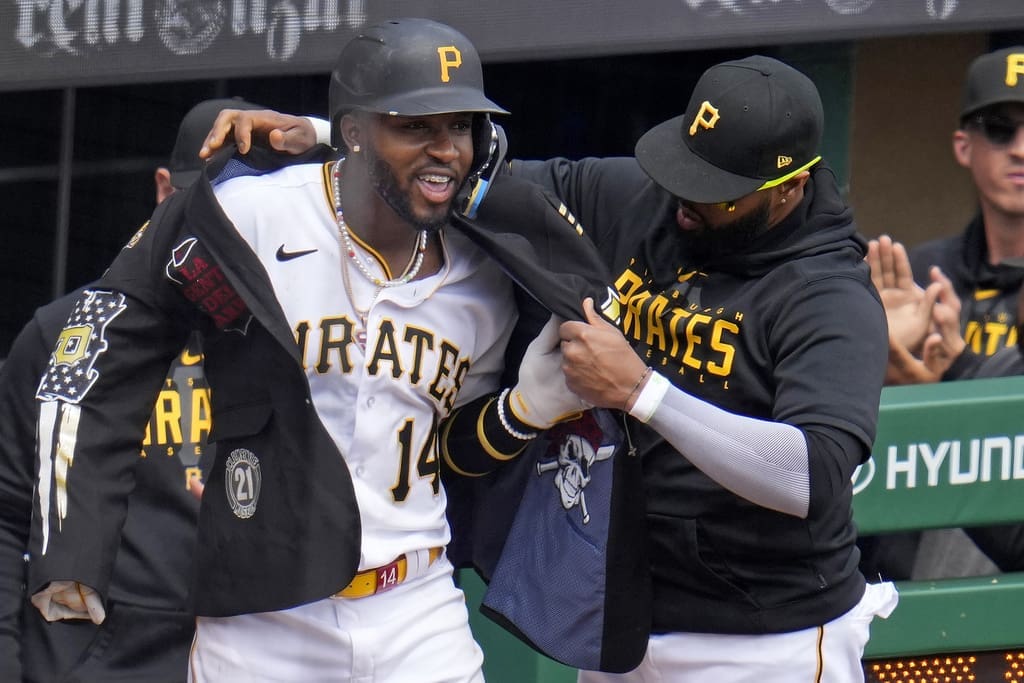 One of the offshoots of signing so many veteran players in the offseason for the Pittsburgh Pirates is that it has given some of their younger players the chance to relax.
The kids, in theory, don't have to carry as much of the load, with some of the older guys around. One player who is benefitting from that is shortstop Rodolfo Castro.
Asked to replace starting shortstop Oneil Cruz, both the Pirates' most talented all-round player and Castro's best friend, Castro has risen to the challenge.
The 23-year-old switch-hitter is batting .286/.385/.468 with three home runs in 27 games for the surprising Pirates, who lead the National League Central after four consecutive last-place finishes.
Castro spent parts of the past two seasons with the Pirates but says there is a different feeling this year, which has helped him relax.
"Seeing our veterans go out there and give their 100% every day, play hard, that gives us a lot of fuel for us to do the same," Castro said. "They set a really good example when it comes to stuff like that and that's what a winning team's all about. They play hard every day, but the veterans for sure are setting a really good example for us."
Castro has filled in more than admirably since Cruz sustained a fractured left ankle on April 9 with an awkward slide into home plate in a game against the Chicago White Sox, making a seamless transition from second base to shortstop.
The loss of Cruz was expected to leave a large void – and not just because he is 6-foot-6.
Yet the Pirates have gone 14-6 since Cruz was placed on the injured list. Castro has been the starting shortstop in 16 of those 20 games.
"Any time you lose a player of that caliber, there is definitely a loss," Pittsburgh Pirates manager Derek Shelton said of Cruz's injury. "But I do think our group collectively has stepped in and done a good job. One thing about Rudy I think we forget is he's 23. He's still a young kid, so he's going to make mistakes and he's going to do things. The thing that I'm most proud of is we're seeing him grow up right before our eyes, and that's really important for a young player. Because of the opportunities he was given last year, the lessons that he learned last year, I think we're really seeing maturity out of him."
Castro played in 102 games combined for the Pittsburgh Pirates in 2021 and 2022, hitting just .224/.288/.419. However, he showed intriguing offensive potential with 16 home runs, though he struck out in 101 of 371 plate appearances.
Yet Castro's defining moment came last August when he received one of the most unusual suspensions in recent memory. He was banned for one game by Major League Baseball for having an electronic device on the field.
The suspension stemmed from a cell phone falling out of his back pocket when he slid into third base during a game against the Arizona Diamondbacks on Aug. 9 in Phoenix. Castillo had just been recalled from Triple-A Indianapolis earlier in the day.
Making the mental lapse even more frustrating was that Castro had been demoted to Indy on June 5 partly because he failed to run out a ground ball in a game against the Diamondbacks at PNC Park.
However, as Shelton said, Rodolfo Castro has matured since those incidents.
"The way he handles his work, the way he handles his business," Shelton said when asked how Castro has grown. "The biggest thing to me, though, is he's way more even-keeled. He has a ton of energy. You see the smile, you see those things, but when things don't go his way or he's made an error or he's had a bad at-bat, we're seeing that not affect his next at-bat or next play."
Perhaps you could say that Castro has answered the call.