Quinn Priester's Struggles Continue as Pirates Fall to Mets 7-2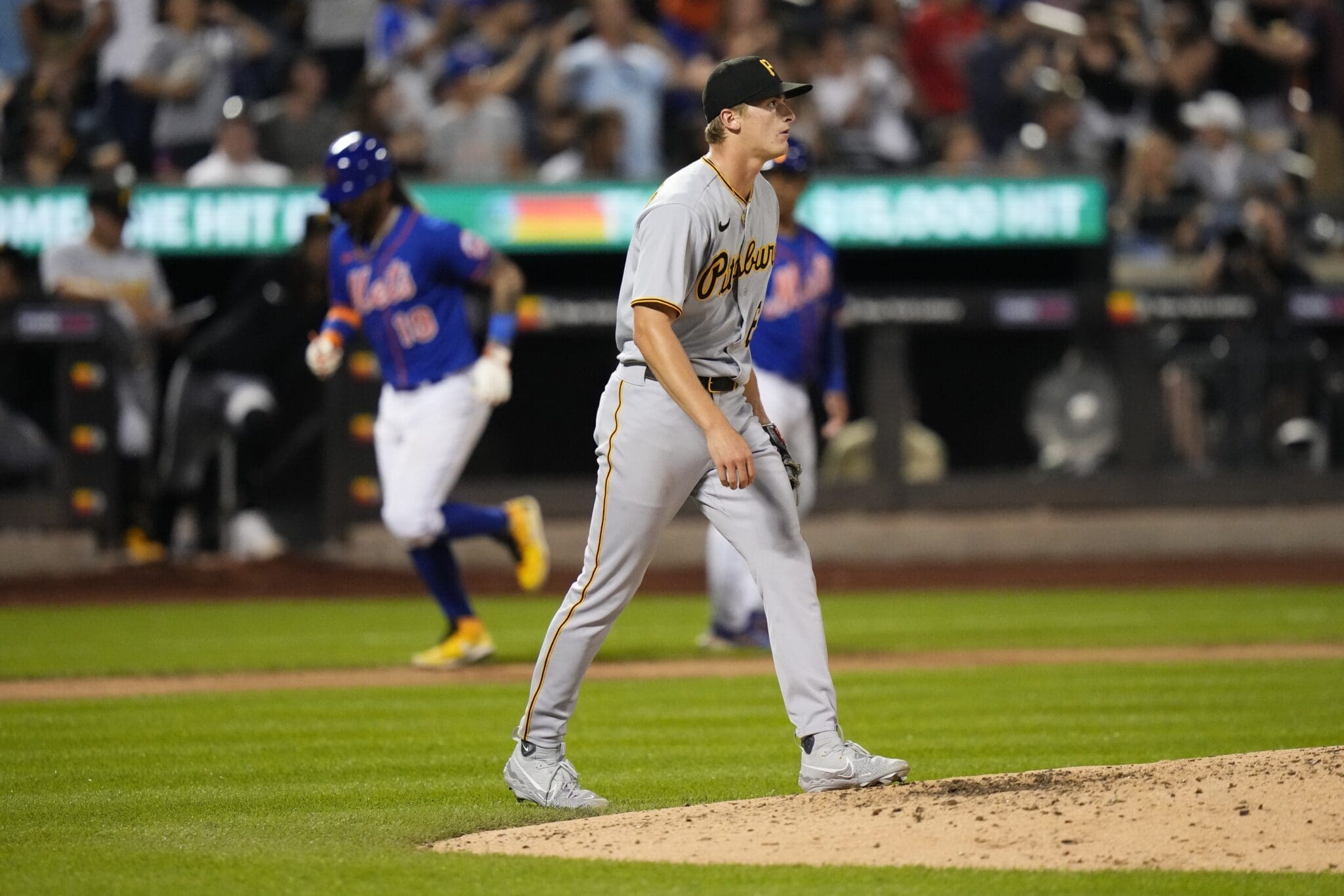 Recap
It was a similar story for Quinn Priester at Citi Field on Monday night as the Pittsburgh Pirates were defeated by the New York Mets 7-2.
Priester (2-2) was tagged for six runs in 5.0 innings while allowing seven hits, walking three and striking out three batters. He threw a career-high 102 pitches.
Daniel Vogelbach hit a solo homer in the second inning and Jonathan Araúz hit a two-run shot in the fourth.
Pete Alonso got the Mets on the board in the first with an RBI double to left field to tie the game 1-1 while Jeff McNeil collected a pair of RBIs — one on a base hit and one on a sacrifice fly off of Priester.
For the Pirates, Ke'Bryan Hayes stayed hot with an RBI double in the third and Henry Davis singled home a run in the first.
Key Moment 
With the Pirates trailing 3-2 in the fourth inning with two outs, Priester surrendered a backbreaking two-run homer to Araúz on a 1-2 pitch. Both home runs Priester allowed came with 1-2 counts.
Star of the Game
Brandon Nimmo finished the game 2 for 5 with a home run, an RBI and a pair of runs scored. Nimmo's homer came off of Osvaldo Bido, who allowed the one run in 3.0 innings of relief.
Stat to Know
Entering play, Hayes was hitting hit .313 with an .860 OPS, five doubles, three triples, six home runs and 26 RBIs dating back to the last day of May (33 games). Those numbers only got better after finishing this game 2 for 5 with a double and an RBI.
Noteworthy
Priester's season ERA now sits at 9.10 (29er/28.2ip) through his first six big league starts.
The Mets scored in each of the first six innings against the Pirates. It's the first time the Pirates have allowed a run in six-straight innings since 2016.
The Pirates knocked Mets starter Carlos Carrasco out of the game after the third inning after forcing him to throw 88 pitches. Carrasco threw 31 pitches in the first, 19 pitches in the second and 38 pitches in the third.
Up Next
The Pirates (53-66) and Mets (54-65) will continue their three-game series on Tuesday night. Bailey Falter (0-7, 5.21 ERA) will be on the mound for Pittsburgh and will be opposite fellow left-hander David Peterson (3-7, 5.61 ERA). First pitch: 7:10 ET.