Pirates Preview: Rich Hill Needs to Provide Length Again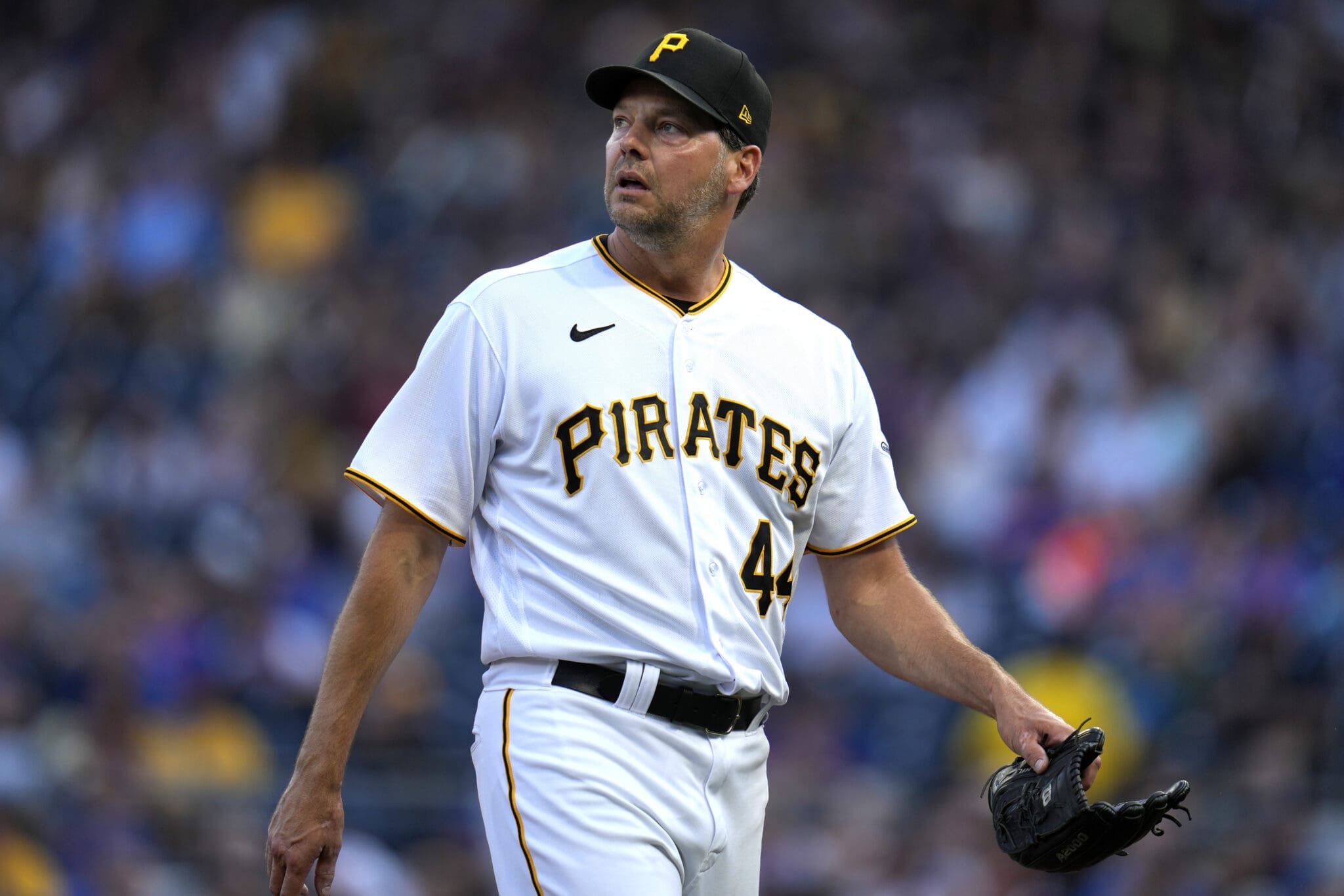 The Pittsburgh Pirates (34-33) have started their road trip in the worst way possible after getting swept by the Chicago Cubs. Now, they will try and turn things around against the Milwaukee Brewers (34-34).
The Pirates' bullpen imploded yet again after giving up six earned runs between the fifth and sixth inning Thursday night.
As a result, the Pirates lost to the Cubs 7-2, but now have a chance against the Brewers to solidify their one-game lead in the N.L. Central.
The first pitch at American Family Field is scheduled for 8:10 p.m. ET. Friday's game will be aired on Apple TV
Weather
American Family Field is a dome, so no worries about the weather; this series
The Pirates will send out LHP Rich Hill (6-5, 4.23 ERA)
Hill will need to provide some length for the Pirates in game one against the Brewers, and over his last two starts, he's done just that.
In his last two starts combined, Hill has pitched 13.2 innings while giving up 11 hits, three earned runs, five walks, and struck out 12.
In his last start on June 9 against the New York Mets, Hill pitched a season-high seven innings and gave up just two earned runs.
Hill used his trusty curveball (38%) in his last start, and he managed to limit the Mets to soft contact with an average exit velocity of 84.2 mph and induced five out of his ten whiffs with it.
Hill has faced the Brewers 11 times (ten starts) and holds a 3-3 record with an ERA of 3.84 in 58.2 innings pitched. In addition, Hill holds a 2.05 ERA in Milwaukee.
The Brewers will send out RHP Julio Teheran (1-2, 1.48 ERA)
The Brewers signed Tehran on May 25 of this year, and since the signing, he has been one of their best pitchers.
In his last two starts combined, Tehran has pitched 13.1 innings while giving up 12 hits, three earned runs, two walks, and struck out 11.
Tehran last pitched on June 10 against the Oakland Athletics and pitched seven strong innings with just six hits, one earned run, one walk, and struck out six. Tehran was a part of a no-decision after Milwaukee lost that contest 2-1.
The righty offers a five-pitch mix with a sinker (40.5%), slider (25.1%), four-seam (14.2%), curveball (10.7%), and a changeup (9.5%). In addition, Tehran's sinker averages 89.7 mph, and his four-seam averages 89.6 mph.
Tehran has faced the Pirates 12 times (11 starts0 and holds a 5-1 record with an ERA of 2.31 in 74 innings pitched.
Brewers Hitters vs. Hill
Christian Yelich: 5-15 with three doubles, three walks, and four strikeouts
Willy Adames: 0-5 with two strikeouts
Pirates Hitters vs. Tehran
Carlos Santana: 7-14 with a double, homer, and three walks
Andrew McCutchen: 6-21 with a double, three homers, and six strikeouts
Austin Hedges: 1-5
Tidbits
Going into Wednesday's game, the Pirates were 22-8 when scoring first. With McCutchen's leadoff homer, and the Pirates losing 10-6, the Pirates are now 22-9 when scoring first.
In addition, with the Pirates scoring six runs, their record now dropped to 27-6 when scoring 4+ runs in a game.
With the Milwaukee Brewers losing 4-2 to the Minnesota Twins on Wednesday, the Pirates remain in first place in the N.L. Central by a full game. Cincinnati, however, has moved to 1.5 games back after their fifth straight win Wednesday night.
Links
Pittsburgh Pirates Place Colin Holderman on IL; Recall Yerry De Los Santos
Perrotto: Old Regime Deserves a Little Credit for Pittsburgh Pirates Success
Pittsburgh Pirates Prospect Watch: Termarr Johnson Homers, Reaches Base Six Times
Around The Network
Pittsburgh Hockey Now: Penguins One Timers: Spezza Subtext, Goalie Whining, Pens on Cup
Steelers Now: Steelers Minicamp Takeaways: Darnell Washington Turns Heads, Golden Stars
Pittsburgh Sports Now: Updated List of Pitt's 2025 Recruiting Targets as Contact Period Begins