Pirates Prospect Watch: Bethel Park's Justin Meis Pitches Seven Perfect Innings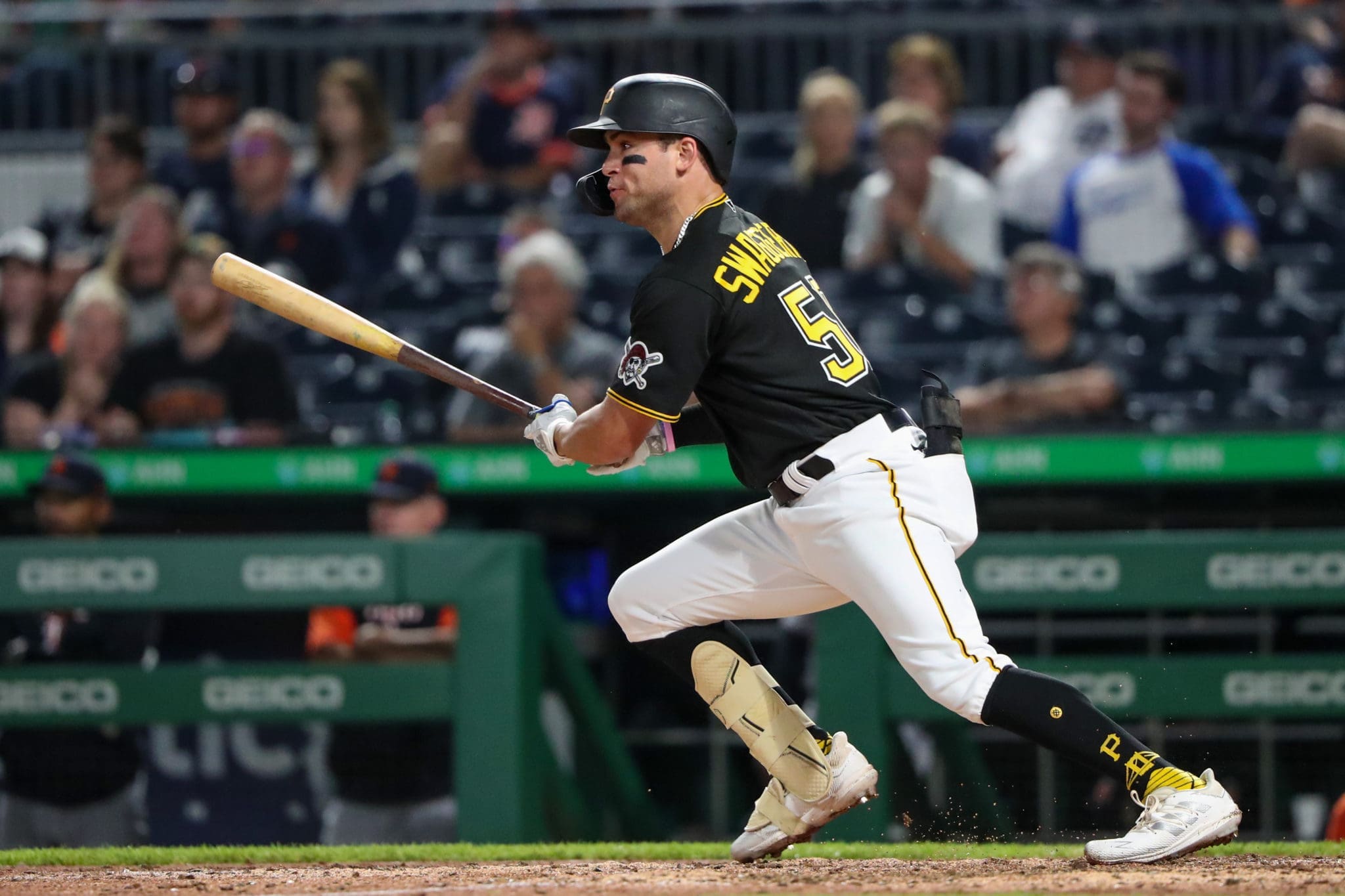 Pittsburgh Pirates' pitching prospect Justin Meis tossed seven perfect innings for High-A Greensboro on Sunday to continue his stellar stretch on the mound. He hasn't allowed a run in his last 14 innings.
A couple of former first-round picks each reached bases five times, one for Triple-A Indianapolis (Travis Swaggerty) and one for Double-A Altoona (Nick Gonzales).
Here are the top performers from Sunday's minor league action.
Indianapolis Indians (67-60)
OF Travis Swaggerty
Game: 3 for 3 with a home run, two RBIs, a run and two walks
Season: .264/.361/.428, 14 doubles, eight triples, nine home runs, 52 RBIs, 15 steals, 94 games
INF Hoy Park
Game: 2 for 4 with a home run, four RBIs, two runs and a walk
Season: .236/.342/.385, 11 doubles, 10 home runs, 34 RBIs, 12 steals, 78 games
Swaggerty was joined by Park in the Indians' offensive outburst that led to a 9-4 win over the Louisville Bats. Park's four RBIs matched a career-high.
Ji-hwan Bae was on base twice, drove in a run, scored a run and picked up a steal.
Altoona Curve (63-62)
INF Nick Gonzales
Game: 3 for 3 with a doubles, two runs, a walk and a hit by pitch
Season: .271/.393/.430, 17 doubles, six home runs, 27 RBIs, five steals, 61 games
RHP Carmen Mlodzisnki
Game: 4.0 innings, two hits, no runs, no walks, five strikeouts
Season: 4-8, 4.91 ERA, 95.1 innings, 98 hits, 37 walks, 101 strikeouts 25 games/20 starts
Mlodzinski's strong performance was backed by Gonzales, who helped the Curve take down the Akron RubberDucks 5-2. Malcom Nunez picked up a pair of hits in the win.
Additionally, Andres Alvarez hit his 20th homer of the season, becoming the first player in the Curve's history to have a 20 home run/20 stolen base season.
Greensboro Grasshoppers (57-66)
RHP Justin Meis
Game: 7.0 innings, no hits, no runs, no walks, seven strikeouts
Season: 4-4, 4.21 ERA, 68.1 innings, 53 hits, 29 walks, 71 strikeouts
1B/OF Jase Bowen
Game: 3 for 4 with a home run, an RBI and a run
Season: .181/.222/.337, two doubles, one triple, three home runs, eight RBIs, five steals, 22 games
It doesn't get much better than Meis' seven perfect innings as the Grasshoppers shut out the Winston-Salem Dash 6-0. The right-hander from Bethel Park needed just 75 pitches to cruise through those seven perfect frames.
With the bats, Bowen led the charge with three hits, including his second longball with Greensboro. Jacob Gonzalez and Mike Jarvis also went deep.
Bradenton Marauders (64-61)
OF Matt Gorski
Game: 2 for 3
Season: .231/.286/.462, one home run, one RBI, four games
OF Sergio Campana
Game: 2 for 4
Season: .212/.332/.334, 13 doubles, one triple, seven home runs, 27 RBIs, 28 steals, 97 games
The Marauders were crushed by the Fort Myers Mighty Muscles 11-2. Gorski, who is rehabbing with Bradenton, collected a pair of hits. Campana also had a pair of hits to extend his hitting streak to five games.
Tres Gonzalez doubled in his only at-bat, and Termarr Johnson drove in a run with a sacrifice fly.