Pirates Preview: Can Bucs Get Back on Track for the Rockies Series?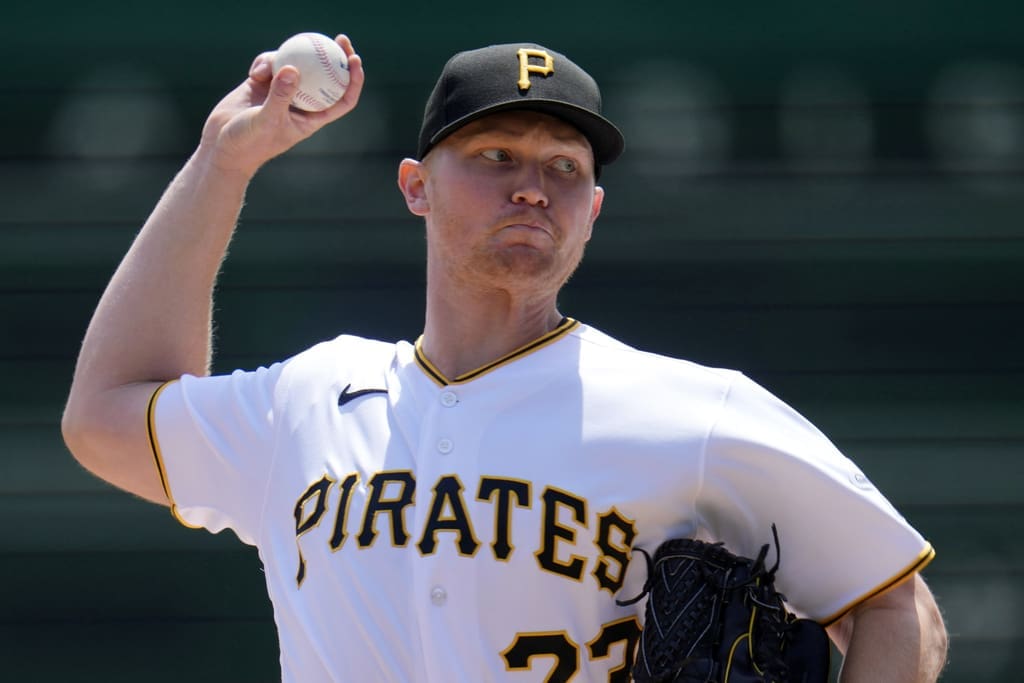 The Pittsburgh Pirates (20-15) are on the heels of losing seven straight games and are in desperate need of a victory. To try and change their luck, the Pirates will square off against the Colorado Rockies (14-21) in a three-game set.
Roansy Contreras toed the rubber in the Pirates' last game Sunday and had major trouble with putting guys away with two strikes and left some meaty pitches over the plate.
As a result, the Pirates lost 10-1 to the Toronto Blue Jays. The Pirates' offense also went cold yet again and failed to cash in with runners in scoring position again.
First pitch is scheduled for 6:35 p.m. You can watch all of the action on AT&T Sportsnet, or listen to the game on the Pirates radio station, 93.7 The Fan.
Weather
There should be mostly cloudy skies on Monday, but no rain is in the forecast as of now. Temperatures will range from 68-74 degrees, and there will be a slight four mph wind blowing north/northeast.
The Pirates will send out RHP Mitch Keller (3-1, 3.32 ERA)
Keller pitched much better than his stat line suggested in his last start on May 3 against the Tampa Bay Rays. Keller's final line read five innings pitched, five hits, five runs (one earned), one walk, and eight strikeouts.
Keller fell victim to sketchy defense behind him, resulting in a rough outing, but nonetheless, Keller provided enough intestinal fortitude to try and keep the Pirates in the game.
Keller has improved in almost every facet of his game, including his hard-hit percentage. Last season, Keller allowed 37.3% of hits resulting in hard hits; in 2023, Keller has reduced that to 25.5%, which ranks in the 81st percentile.
Keller has faced the Rockies three times (two starts) and holds a 1-1 record with an ERA of 0.63 in 14.1 innings pitched.
The Rockies will send out LHP Kyle Freeland (3-3, 3.76 ERA).
In their last meeting against Freeland, the Pirates touched him up for nine total runs (seven earned) and had him yanked in 2.2 innings pitched.
After that outing on April 17, Freeland has started in three games and has pitched much better.
In a combined 17 innings pitched, Freeland allowed 13 hits, seven earned runs, two walks, and struck out 14. The best outing in that span was his last start, where he pitched five shutout innings against the Milwaukee Brewers.
Freeland offers a five-pitch mix with a sinker (34.9%), slider (24.8%), curveball (16.2%), four-seam (15.7%), and will occasionally throw a changeup (8.4%).
Freeland has faced the Pirates eight times (eight starts) and holds a 3-3 record with an ERA of 5.12. Half of his starts have been at PNC Park, and he holds a record of 0-2 there.
Interesting Batting Match Ups
Rockies Hitters
Kris Bryant: 5-8 with two doubles against Keller
Mike Moustakas: 5-12 with one double and one homer against Keller
C.J. Cron: 1-6 with three strikeouts against Keller
Pirates Hitters
Austin Hedges: 5-11 with a double against Freeland
Andrew McCutchen: 9-30 with a double and a homer off Freeland
Carlos Santana: 0-6 with two walks against Freeland
Tidbits
The Pirates have now hit an extra-base hit in 35 straight games, after Mark Mathias' double in the fifth inning Sunday. That mark leads the league.
For the first time in 2023, Ke'Bryan Hayes has had multiple hits in back-to-back games after his 2-4 performance on Sunday.
Bryan Reynolds' hitting streak officially ended Sunday evening as he went 0-5 at the plate.
Links
Pittsburgh Pirates GM Ben Cherington Gives Vince Velasquez Update
Perrotto: Higher Level of Competition Brings Some Exposure
Subscribe to the best Pittsburgh Pirates coverage with PBN+
Around The Network
Pittsburgh Hockey Now: Penguins Wrap: A Week of Flashbacks & Looks Ahead
Steelers Now: Farabaugh: The Steelers Must Fix Their 'YAC' Problem
Pittsburgh Sports Now: Ohio 2024 4-Star CB Terhyon Nichols Sets Pitt Official Visit