Pirates Preview: Can Bucs Break the Stroman Code?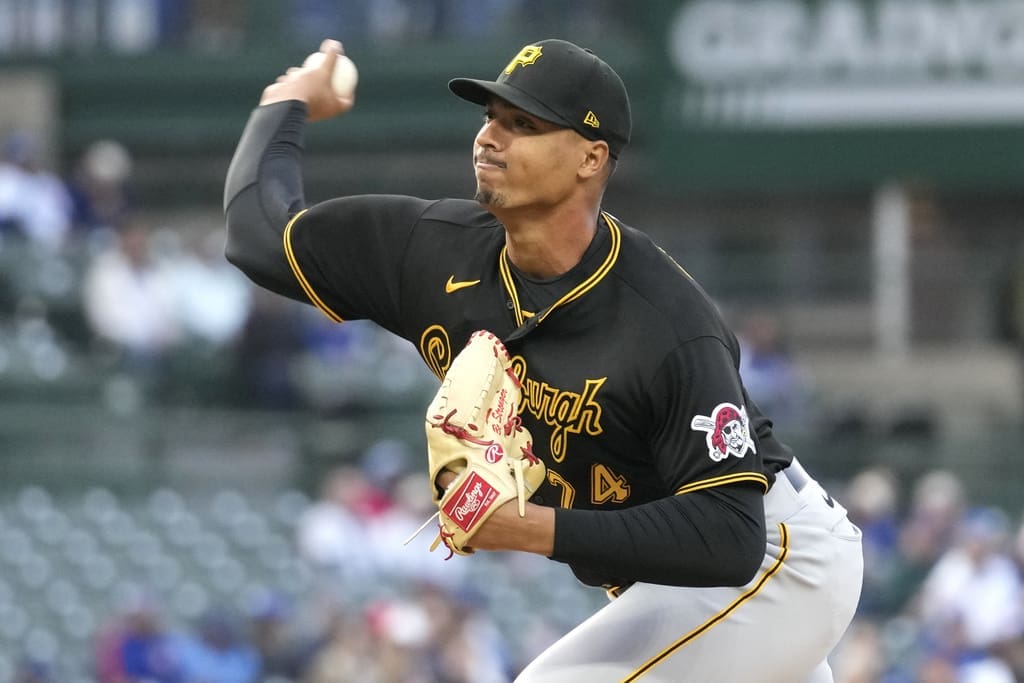 The Pittsburgh Pirates (34-37) have hit an extremely rough patch after losing their seventh straight on Monday night against the Chicago Cubs (34-38).
The Pirates had a very good outing from Osvaldo Bido on Monday after he went six strong innings and only gave up three earned runs in the process.
Other than Henry Davis notching his first hit, extra-base hit, and walk in the majors, the Pirates' offense ran cold and lost 8-0 as a result.
First pitch at PNC Park is scheduled for 7:05 p.m. You can watch all of the action on AT&T Sportsnet or listen to the game on the Pirates radio station, 93.7 The Fan.
Weather
Temperatures are supposed to be around 77 degrees when the Pirates and Cubs get underway. Expect the skies to be cloudy, with an eight mph wind blowing southeast throughout the game.
The Pirates will send out RHP Johan Oviedo (3-6, 4.40 ERA)
Although Oviedo struck out eight in his last outing on June 15 against the Cubs, he was only able to go 4.1 innings.
Oviedo had a hard time putting batters away, and his pitch count suffered as he threw 100 pitches while giving up eight hits and four earned runs in the process.
The Pirates and Oviedo have got to either figure out what to do with his four-seam or get rid of it altogether. It's well and good that it reaches the upper 90s, but when opponents hit it at a clip of .330, it becomes an issue.
If the Pirates weren't desperate for starting pitchers, I'd recommend throwing him in the bullpen, but he has to make do with his situation now.
Oviedo has faced the Cubs eight times (seven starts) and holds a 1-3 record with an ERA of 4.38 in 37 innings pitched.
The Cubs will send out RHP Marcus Stroman (8-4, 2.45 ERA)
Stroman's last start was against the Pirates, and he pitched six full innings while giving up two earned runs, four hits, two walks, and struck out five.
Stroman attacked Pirates' hitters with his sinker (42%) and slurve (25%) mostly and received a lot of borderline calls with those pitches.
Stroman's other pitches include a cutter (11.2%), four-seam (8.3%), splitter (6.9%), and slider (6%).
Stroman's average exit velocity on his sinker is currently at 91.5 mph, which tells me that he's been a tad lucky. Maybe that luck will change Tuesday night.
Stroman has faced the Pirates six times (five starts) and holds a 1-3 record with an ERA of 3.41 in 29 innings pitched.
Cubs Hitters vs. Oviedo
Ian Happ: 6-13, two doubles, one triple, and three walks
Nico Hoerner: 5-7 with one walk
Christopher Morel: 3-8 with a triple and four strikeouts
Pirates Hitters vs. Stroman
Jason Delay: 2-2
Bryan Reynolds: 5-10 with a double
Carlos Santana: 6-27 with four doubles
Andrew McCutchen: 3-17 with one double
Tidbits:
With his double on Monday, Davis becomes the 11th Pirates player to record an extra-base hit as their first hit.
While striking out seven on Monday, Bido becomes the seventh Pirates player since the modern era to record 6+ strikeouts in their first two games. Nick Kingham was the last to do it in 2018.
During their seven-game losing streak, the Pirates have allowed 7+ runs four times and have been shut out twice. In addition, the most the Pirates have scored during the streak was six runs on June 14 when they lost 10-6 to the Cubs.
Links
'He's Born for This': Jared Jones Has Matured Exponentially (+)
Perrotto: How Previous Pittsburgh Pirates' 1-1s Fared in Their Debuts
Pittsburgh Pirates Officially Select Davis' Contract, DFA Villalobos, Option Mathias
Davis' Spark Can't Ignite Pittsburgh Pirates Fire as Hitting Woes Continue (+)
Around The Network
Pittsburgh Hockey Now: Sizing Up the NHL Trade Board and Potential Penguins Fits
Steelers Now: PFF Thinks Steelers Have a Top-5 Defensive Line
Pittsburgh Sports Now: 2024 4-Star DE Elias Rudolph Sets Decision Date