Perrotto: Pirates' 2023 Rookie Class More About Size Than Production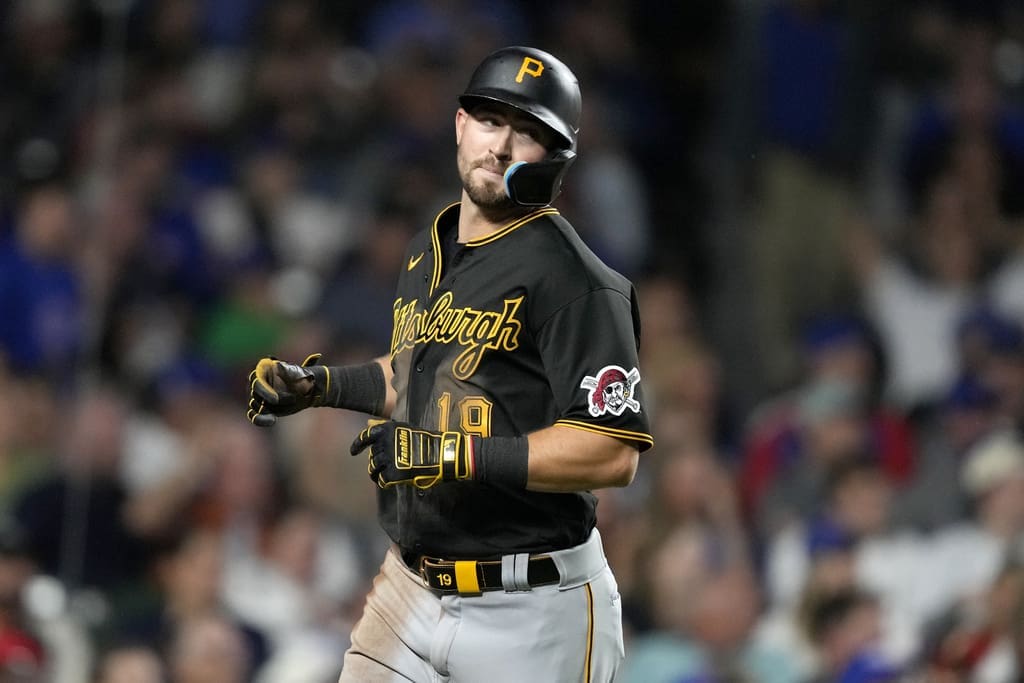 The Pittsburgh Pirates used plenty of young players during the 2023 season.
A total of 14 Pirates made their major-league debuts, including nine who began the season ranked among the organization's top 30 prospects by Baseball America. Overall, 13 players on that top-30 list saw action in the big leagues.
With an average age of 25.9, the Pirates also finished the season with the youngest roster in MLB. The worst-in-the-majors Oakland Athletics were next at 26.7.
The Pirates wound up with a 76-86 record despite having so many inexperienced players, a 14-game improvement over their 62-100 mark in 2022.
There was a common theme among the Pirates' rookies when they met with general manager Ben Cherington and manager Derek Shelton during the final days of the season in individual interviews.
They found playing in the major leagues even more difficult than they envisioned.
"It was sort of resounding," Cherington said. "It was very clear listening to our players, particularly the young group, that the major league game's hard. It's faster. Adjustments get made faster by the opposition. Stadiums are louder, all of that. It's a different experience than playing in (Double-A) Altoona or (Triple-A Indianapolis).  To some extent, no matter how much we try to create environments in the minor leagues to test that, there's nothing quite like experiencing it."
However, Cherington and Shelton are both optimistic that the young players will benefit from logging time in a big-league uniform.
"One might be working on the same things in Indy as they are in Pittsburgh in terms of skills and things like that," Cherington said. "But applying that in a major league game does feel different. More than anything, we had a lot of young players get to do that this year. In a lot of cases, have enough time in the big leagues to actually already make some adjustments inside the major league experience. Not just a cup of coffee but enough of a runway to actually go through some adjustments. (Now,) it's up to us to help them get better at it this offseason and come into spring training in a better spot."
Yet few of the Pirates' 19 rookies made much of an impact in the major leagues this year. It is extremely doubtful that any will garner even one National League Rookie of the Year vote.
Utility player Jared Triolo led the nine rookie hitters with 2.1 bWAR. The only other position player with a plus figure was catcher Endy Rodriguez at 0.2.
Triolo's contributions came in a limited role as he played in just 54 games, including 51 starts. He started 35 times at third base, 10 at second base and six at first base while hitting .298/.388/.398 with three home runs and six stolen bases in 209 plate appearances.
Triolo's .388 OBP was the highest by a Pirates rookie with at least 200 plate appearances since Carl Taylor had a .432 mark in 1969 in 261 trips to the plate.
Four of the Pirates' 10 rookie pitchers had positive bWAR, though none had a figure that stood out: Carmen Mlodzinski (0.8), Andre Jackson (0.6), Luis Oritz (0.5) and Hunter Stratton (0.4). Mlodzinski was 32th in MLB among rookie pitchers.
Part of the low bWAR numbers has to do with a small sample size as most of the rookies only spent portions of the seasons in the major leagues. Nevertheless, they will have to show improvement when the Pirates report to spring training in February, something Shelton made clear to the entire rookie class.
"There is going to be a lot of competition in spring training," Shelton said. "Prepare yourself when you come in to be in a competitive environment. We talked about that last year. I think the depth that we have this year, and the fact that they got a ton of major league reps. Some of those guys we talked about last year didn't play in the big leagues, or had less than 30 at-bats, 40 at-bats. Now we're talking about guys that have a wide scope of playing time – there's going to be competition.
"This is where meritocracy comes into play. Just cause you're here now, doesn't mean you're going to play here in April, because we have a lot of people vying for positions."
And that is the way it should be if the Pirates are as serious as they claim to be about trying to break their streaks of six straight losing seasons and eight consecutive seasons without a postseason berth in 2024.