Perrotto: To Ben Cherington, They're 'Our' Prospects Not His Prospects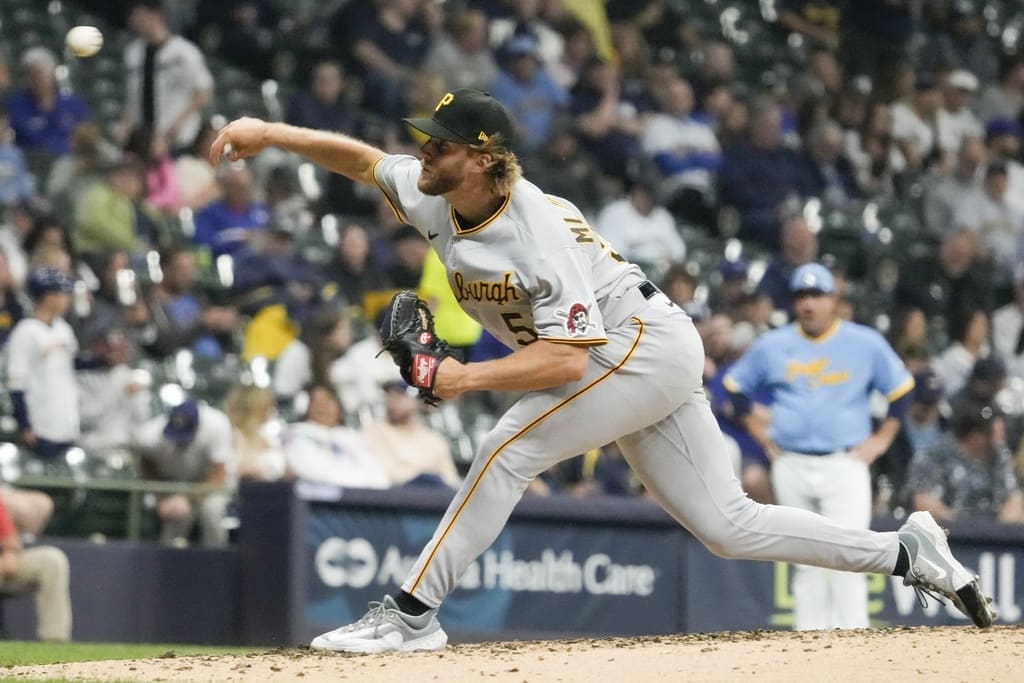 PITTSBURGH – The fanfare that accompanied Henry Davis reaching the major leagues earlier this week was predictable.
Davis was the first overall pick in the 2021 amateur draft and the Pittsburgh Pirates consider the catcher/outfielder one of the potential foundation pieces of their rebuilding.
However, there was also an added significance to Davis being called up from Triple-A Indianapolis on Monday. He became the second player drafted since Ben Cherington became general manager prior to the 2020 season to reach the major leagues.
Right-handed reliever Carmen Mlodzinski was brought up from Indianapolis last week. He was a supplemental first-round pick in the 2020 draft.
"I think it's exciting, having both (Davis) and Carmen here, which are guys that have been here during our group," Pirates manager Derek Shelton said. "So, it's exciting because I think it shows that the process that Ben put in place and the way he's talked about it is starting to come to fruition a little bit with our group. And, anytime we can add guys internally that we feel are going to be part of what we're building, it's exciting."
Davis is 1 for 7 with a double and a walk in his first two games. He started at right field in his debut Monday night against the Chicago Cubs then was the designated hitter on Tuesday.
Mlodzinski has pitched three times and allowed one run in 2.1 innings.
"It means a lot organizationally to have any player that was drafted originally or signed through our international department come up and contribute," Cherington said. "If guys are coming up and helping us win games, that's what we need to do."
Davis and Mlodzinski haven't helped the Pirates win any games yet. The Pirates' losing streak reached eight games Tuesday night when they were shut out 4-0 by the Cubs at PNC Park.
However, it is encouraging to see other draft picks from the Cherington regime getting close to the big leagues.
Infielder Nick Gonzales is playing at Indianapolis and right-hander Jared Jones was just promoted to that level from Double-A Altoona despite being just 21 years old. In 2020, Gonzales was drafted in the first round and Jones was picked in the second round.
Gonzales was once considered a top-100 prospect but has fallen off most of those lists. However, the Pirates still have hope for the 24-year-old, who is hitting .258/.366/.445 with six home runs in 54 games.
Jones was just 1-4 in 10 starts with Altoona but the record was deceptive. He had a 2.23 ERA, 1.08 WHIP and 47 strikeouts in 44.1 innings.
Jones lost his Triple-A debut on Tuesday when he gave up three in 5.2 innings against Columbus. However, he allowed just three hits and struck out five.
In his typical understated way, Cherington refuses to take a bow for those players moving up the organizational ladder.
"Doesn't matter at all to me whether they were drafted since I've been here or not," he said. "We want as many good players as we can get and that'll never stop. We need to keep the pedal down on finding the next group of young players and continue to get better at that and development and just keep that line going.
"That's the name of the game and we know we have to be really good at that to sustain winning in Pittsburgh, and so we're very focused on it all the time. So, it doesn't mean anything in terms of when they were drafted, but the fact they're Pirates and if they're ready to come help us win a game, that certainly does mean something, and we need more and more of that."
How many of those types of players the Pirates draft and develop will ultimately determine the success of Cherington's tenure. He is off to a good start.