Perrotto: Pirates Just Keep Putting on That Happy Face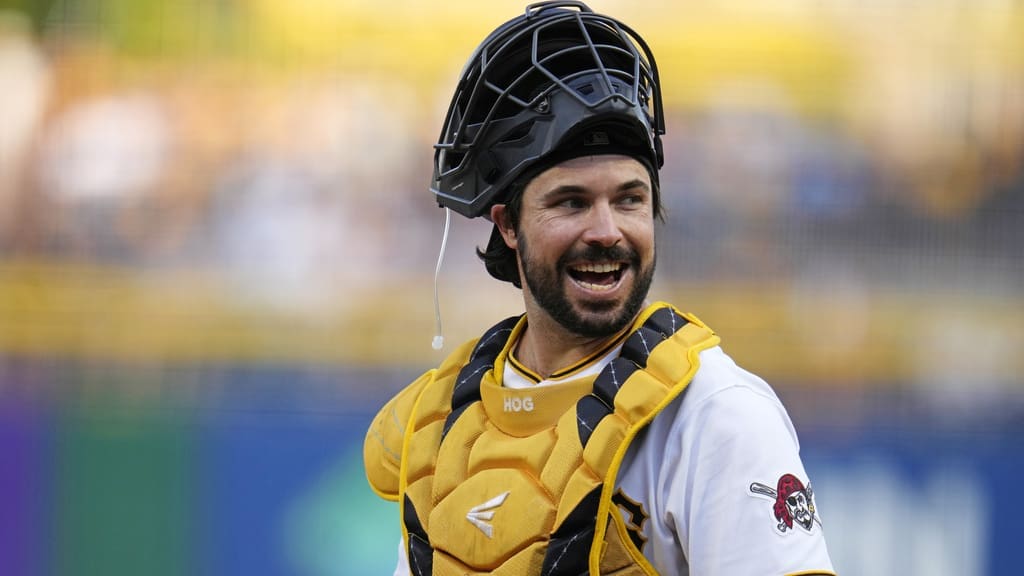 PITTSBURGH – The Pittsburgh Pirates have played at a .323 clip since the beginning of May.
One doesn't have to know algebra or geometry or trigonometry or even sabermetrics to realize that is a pace of less than one win in every three games.
The winning percentage should be enough to sound alarm bells in the Pittsburgh Pirates' clubhouse. But it's not.
After the Pirates lost to the San Francisco Giants 8-4 in 10 innings on Sunday at PNC Park, there didn't seem to be a whole lot of concern in the clubhouse.
Maybe 44 losses in the last 65 games have made the players numb to the pain of losing. Perhaps they just believe losing is their lot in life after four straight last-place finishes in the National League Central and back-to-back seasons of at least 100 losses.
However, it was quite surprising that designated hitter Andrew McCutchen and outfielder Bryan Reynolds were so matter-of-fact about the Pirates' 10-week stretch of bad play after another galling loss.
I asked Reynolds if he felt this could still be considered a year of progress for the Pirates after these dreadful last two-plus months.
"We just haven't been playing good baseball recently," he said. "We've played good baseball this year, so we've shown that we can. We have to get back to that."
Reynolds is right to an extent. The Pirates were 20-8 at the end of April after a fantastic start to the season. And they did play good baseball then.
However, they rarely played good baseball in May and June. July is shaping up as an utterly disastrous month with the Pirates going 2-10 so far.
So, Reynolds is a bit off base if he thinks the poor play is only a recent issue.
McCutchen has been around the big leagues longer than Reynolds. He has that type of cool-and-collected personality that doesn't allow him to get ruffled.
So, it was unsurprising that McCutchen tried to put a positive spin on the Pirates' downfall when I asked about the winning percentage since May 1.
"We're 10 or 11 games below .500. People would think we'd be in a lot worse position," McCutchen said. "We could be the Oakland A's. Nothing against Oakland but we could be in that position, where we have such a tough start in the beginning and now we're trying to play catch-up. Regardless, you can still say that we had such a good April that we put ourselves in the position to where we're struggling but we're still in a place where we can make up some ground. That's the way that I like to look at it."
McCutchen is right when he says the Pirates are not the Oakland Athletics, who have the worst record in the major leagues at 25-70. The Pirates are 41-52 and most fans probably would have taken that through 93 games if asked at the start of the season.
However, the 20-8 start changed the optics, rightly or wrongly. It doesn't give the Pirates the option of dismissing 2.5 months of poor play and McCutchen can only spin that so much.
In some regards, it is a good sign that Reynolds, McCutchen and the rest of the Pirates still have a positive attitude. Good things tend to happen when your mind is right.
Conversely, it's disappointing that no one seems angry that the Pirates have played so poorly for so long. It would be nice to see someone take accountability and say "Hey, we stink right now." It's called being honest.
But that's not how the Pirates roll, and a lot of it comes from the top and owner Bob Nutting, one of the least accountable people in sports.
He was more visible than he had been years when the Pirates were winning early in the season. Now, Nutting has receded into the background.
This has officially become another lost season for the Pirates so we're not likely to hear from Nutting again.
The Pirates will accelerate what is quickly becoming a full-bore youth movement Monday night when right-hander Quinn Priester and catcher Endy Rodriguez get called up from Triple-A Indianapolis to make their major-league debuts against the Cleveland Guardians at PNC Park. Infield prospect Liover Peguero is also coming up from Indianapolis.
Rodriguez will presumably replace the pitcher-like-hitting Austin Hedges and Peguero will take the place of overmatched shortstop Tucupita Marcano.
Perhaps the young guys will breathe some life into the Pirates. Better yet, maybe they won't accept losing quite so easily.