Perrotto: No Two Ways About It Now for Paul Skenes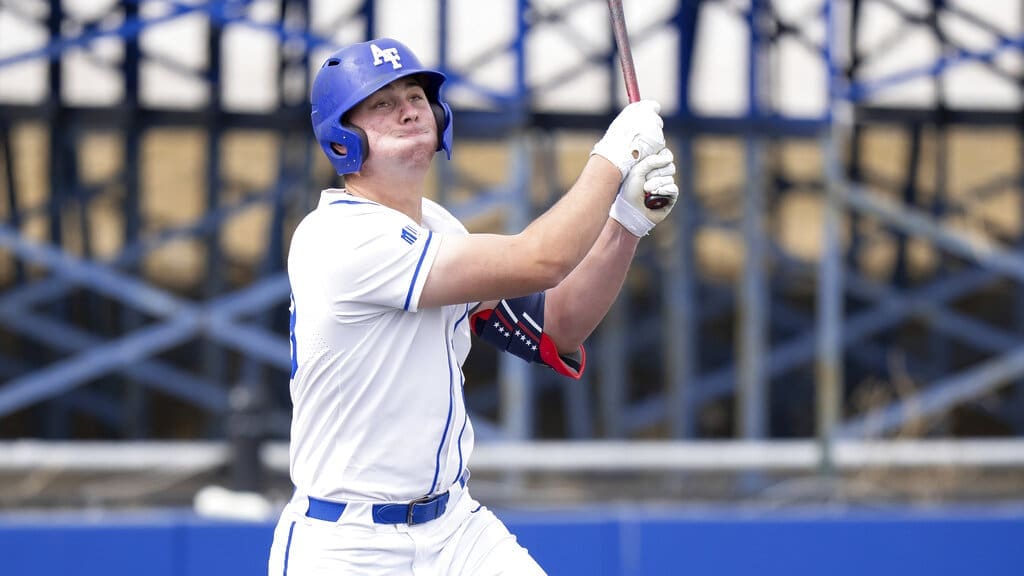 Paul Skenes once dreamed of being the next Shohei Ohtani.
Selected by the Pittsburgh Pirates first overall in Major League Baseball's amateur draft this past Sunday, Skeenes has the raw talent to match the Los Angeles Angels' two-way sensation – on the mound.
However, less than a year ago, Skenes had thoughts of being a two-way player in pro ball. That plan ended not long after he transferred from the Air Force Academy to LSU.
Skenes quickly decided once he joined an elite college program that being a dual-threat player wasn't realistic. In two seasons with Air Force in 2021 and 2022, he played 30 games as a catcher, two as a first baseman and one as a left fielder.
While Skenes missed hitting this year, he has no regrets about his decision to pitch a pitcher only at LSU. He wound up winning a national championship, being named the College World Series Most Outstanding Player and then went No. 1 in the draft.
"If I were a two-way player, I know my body would not feel as good as it did throughout the year," Skenes said. "Two-waying kind of gets in the way of player development because you're splitting your time and energy and focus. What you're seeing at the big-league level with Shohei Ohtani is it's very possible to be elite both ways, but I think it does take a lot of time, energy and effort to do so."
Skenes believes his 6-foot-6, 235-pound stature would make it difficult to pitch and hit in professional baseball.
"Just how my body works, having long limps, having so much rotation in my hips, it was very taxing on my body to do both, especially right-handed," Skenes said. "The mindset was I couldn't hit this year. Going into the preseason, I was planning on hitting and pitching but quickly the priority became making sure I was healthy on the mound, 100 percent healthy on the mound to put us in position to win every Friday night. That was the mindset and it worked out. We won a national championship."
Despite being an All-Star player as both a pitcher and hitter, Ohtani has yet to reach the postseason in his six seasons with the Angels since coming to the United States from his native Japan.
Skenes, though, was an impact hitter at Air Force. He had a .367/.453/.669 slash line with 24 home runs in 402 plate appearances while compiling an 11-4 record as a pitcher with 11 saves and a 2.72 ERA in 33 games (15 starts) and 122.1 innings.
This year at LSU, Skenes was phenomenal while sticking to just pitching. He went 12-2 with a 1.69 ERA and 0.75 WHIP in 19 starts with 209 strikeouts in 122.2 innings.
Skenes' plan to help his draft stock rise by transferring worked but he readily admits that leaving Air Force was not a decision he made lightly. He truly loved his two years in Colorado Springs.
"I went on a recruiting camp to Air Force after my freshman year of high school. Immediately when I went there, I was just sold on going to the Air Force Academy," Skenes said. "I didn't want to do anything else. I got recruited by some other schools, but Air Force was the one place I wanted to go. So, it was the easiest decision of my life to go there, hardest decision of my life to leave."
If Skenes ever has a change of heart about being a two-way player, the Pirates seem at least a tiny bit open to the idea.
"I guess what I would say about Paul is it doesn't seem like one should bet against him," general manager Ben Cherington. "It hasn't been our focus. I think we want to hopefully get Paul into the organization and get a sense of where he's at. He's obviously made incredible strides as a pitcher. We believe there's more to come there. We know he's had success as a hitter in the past. We just want to get with him, map out a progression and we'll start there and see how it goes."
It wouldn't seem prudent for Skenes to take up hitting again. Although it would be fascinating to watch him try.