Perrotto: Ben Cherington is Keeping It Real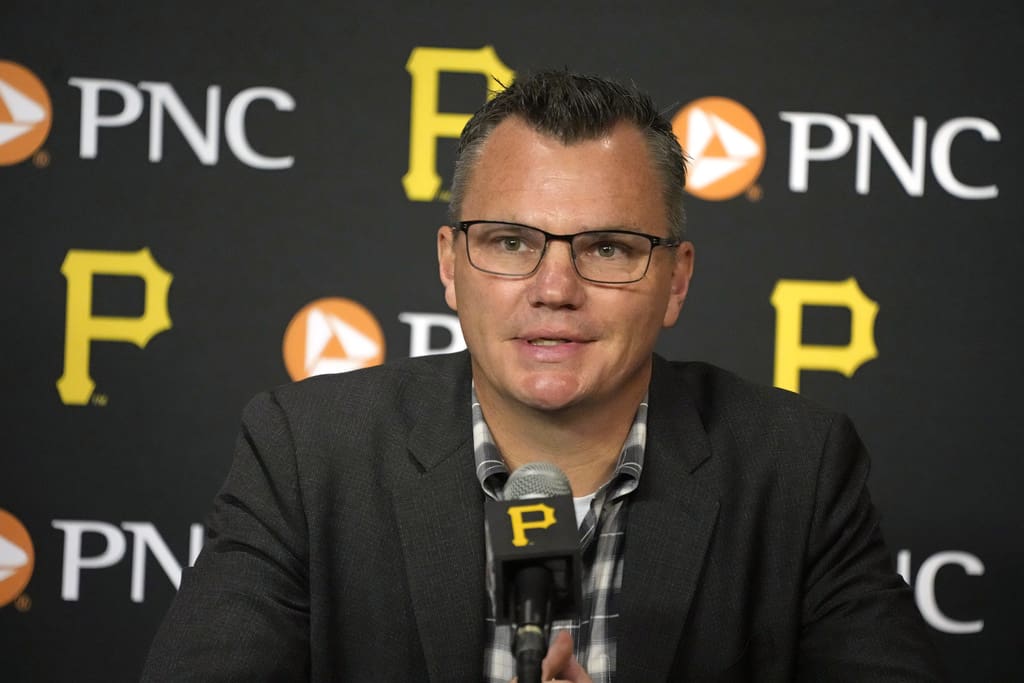 PITTSBURGH – A few moments after the final out of the season was recorded on Sunday, many Pittsburgh Pirates players talked about making a run at the postseason in 2024.
The enthusiasm was understandable. The Pirates finished 76-86, a 14-win improvement over last year's 62-100 finish.
Ten games under .500 feels pretty good after you've lost 100 games the previous year, 101 the year before that and went 19-41 during the pandemic-shortened 2020 season.
But have the Pirates improved to the point of getting into the playoffs for the first time in 2015? Pirates general manager Ben Cherington wouldn't rule out a postseason push in 2024 but he also wasn't making any predictions Tuesday when he met with the beat writers who cover the Pirates.
Cherington struck an optimistic tone but was also quite realistic as he looked back on the season that just ended and looked forward to next year.
"We improved," Cherington said. "We improved in the win column. I believe we improved under the hood in a lot of categories: offensive, pitching, at a team level, at an individual level. That was important. We came into the year focused on improvement. We wanted to get better. We did."
But …
"Certainly not satisfied," Cherington continued. "We have more improvement we need to make across the board. There's no particular area. We need to keep getting better. As the work shifts from in-season to offseason, the focus of that getting better shifts a little bit too. It starts with me and doing my job really well this offseason to find ways to make the roster better, continue to put us in a position to be stronger going into spring training. Our focus will be the same: continued improvement, take another step. I believe if I do my job well and we all do our job well, including the players, this offseason, we can do that. Progress made. Not satisfied."
Cherington would not specify which areas of the team he wanted to strengthen over the offseason. To his point, the Pirates do need to get better across the board as they finished 22nd among the 30 major-league teams in both runs scored and runs allowed.
While those rankings aren't good, they are better than last season when the Pirates were 27th in runs scored and 28th in runs allowed. Yet the Pirates need to at the very least get to the middle of the pack in both categories to have even an outside shot of contending next season.
"We haven't gotten deep into our offseason planning yet," Cherington said. "We'll pick that up now that the season's over. We'll go through a series of exercises and meetings to get deeper into that planning, start to identify actual targets, whether they be through free agent, trade or otherwise. I think it's too early to say exactly what that means: how many, where.
"I think we want to start by being really open minded about how we can improve. Then, as we get through our meetings through the end of October and get into the meat of the offseason, which usually kicks up after the GM Meetings (in November). At that point, we'll have more clarity on maybe what the targets are. And then you find out. You find out what's available and what's not. We do the best we can to execute."
The Pirates' starting rotation was threadbare by the end of the season because of injuries and poor performances. Right-handers Mitch Keller and Johan Oviedo were the only regulars and manager Derek Shelton filled the final three spots with a mix of openers, bulk-inning relievers, and bullpen games.
During the season's final days, Shelton talked about the need for the Pirates to improve their pitching depth. Cherington readily admits it's one area he will work on over the winter.
"I think we want to be really open-minded to how we can improve our starting pitching group between now and spring training," Cherington said. "You want to walk into spring training feeling like you have 10. I don't think I can tell you right now we have 10. I also think it's within our reach between now and February to get to the point where we can say we have 10."
Having 10 major-league quality starting pitchers might seem overly optimistic for a low-budget franchise like the Pirates, who spend judiciously in free agency. The reality, though, is they won't be contending in 2024 without a significant upgrade to the starting rotation — and the roster in general.
Cherington knows so and that is why he isn't contemplating how the 2024 postseason roster might look just yet.