Potanko: Nick Gonzales Hitting His Stride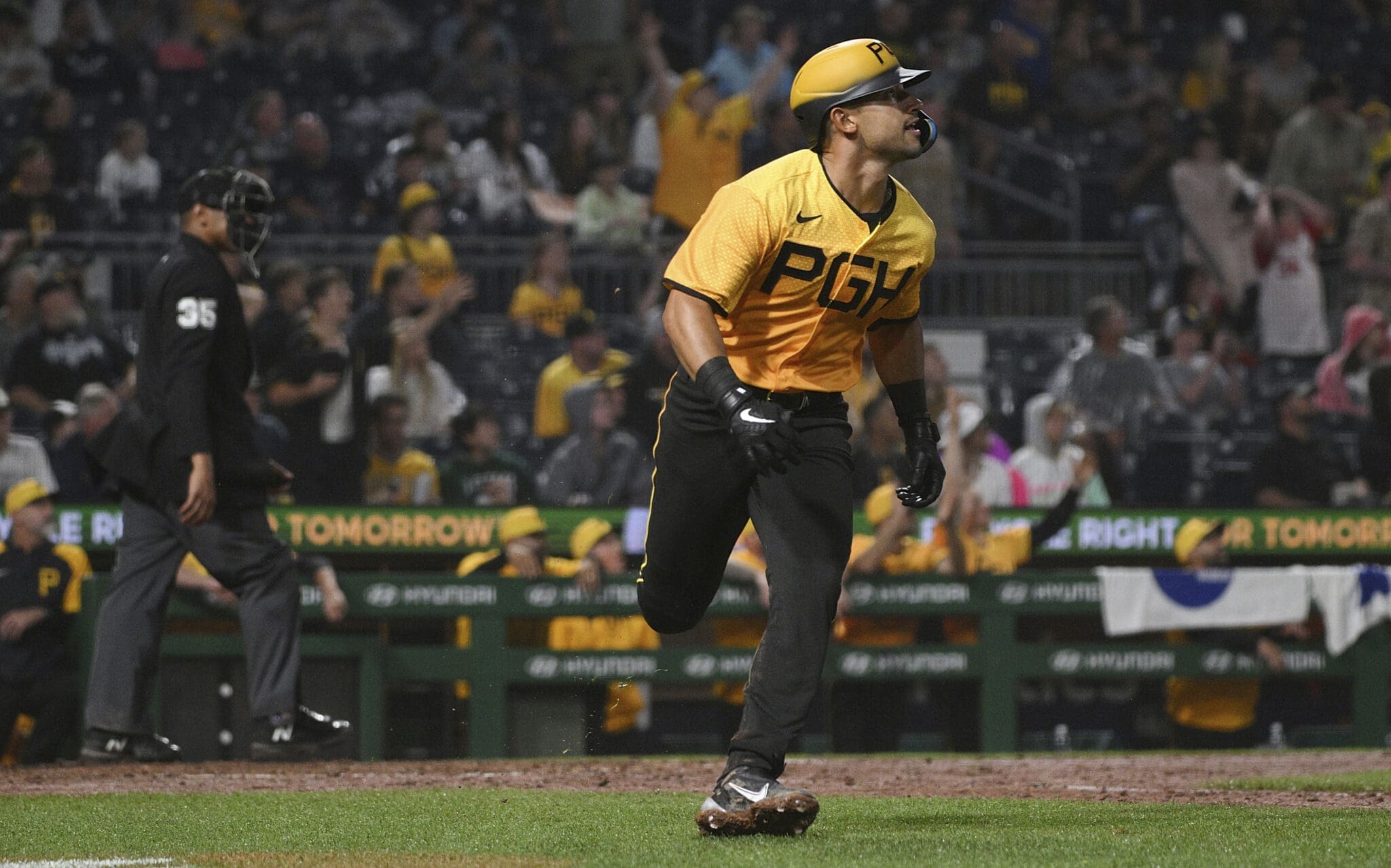 PITTSBURGH- Adjusting to the major leagues can be different for each prospect. Some take no time, and others take quite a long time.
A prime example of this would be Henry Davis and Mitch Keller for the Pittsburgh Pirates.
Davis has seemed to adjust to the league a lot quicker than Keller did, but we're not here to talk about either player, we're here to discuss Nick Gonzales.
Gonzales' first four hits consisted of a single, double, triple, and a homer. The last Pirates' rookie to accomplish this feat was Ke'Bryan Hayes in 2020.
Other than something as flashy as that, Gonzales seemingly looks more and more comfortable at the plate, as he sees more and more pitches come his way.
One of Gonzales' weaknesses has been his ability to hit off-speed pitches, and quite frankly, I thought major league pitching would bury him.
So far, I've been wrong. He may not be getting his hits off of breaking balls, but he's staying away from them and working the counts into his favor to receive a fastball.
Sunday afternoon, the Pirates may have lost to the Brewers, but Gonzales reached base twice and even belted a 414 ft two-run homer.
"We know he can drive the ball," said Pirates manager Derek Shelton on Gonzales after Sudnay's loss. "He creates torque, we've seen both of his home runs to centerfield. A situation [today] where there's a runner on second, nobody out, and he's trying to drive the ball in the middle of the field and he showed the ability to do that."
With Ji-Hwan Bae going to the 10-day IL on Sunday, Shelton discussed how reassuring it is to have a guy like Gonzales be able to step in that spot and perform.
"It's a blessing, and obviously a dream come true to come to the big leagues and play," said Gonzales. "It's been a lot of fun, and I'm really excited and looking forward to what the future brings."
Something that the Pirates have shown since general manager Ben Cherington took over is making their players more versatile. Gonzales has seen that transition by moving to shortstop, second base, and even third base in the minors.
Since the call up to the majors, Gonzales has wavered between shortstop and second base, but what has Shelton seen from Gonzales in the field?
"He's done a nice job moving," said Shelton. "He had the one ball today that was a knuckleball. Knuckleballs are tough regardless of how long you've been in the big leagues. But other than that, it looks like he has continued to get better. I think some of that is because of the versatility he has shown in the minor leagues, being able to play on both sides of the ball."
Making those transitions can always be tough, though.
"It was tough at first," said Gonzales on moving from position to position. "Definitely in the minor leagues moving around from third, short, and second and kind of doing everything really helped me, props to those guys who challenged me to do that, and that was really cool of them. Double-A got a little bit of shortstop, and this year in Triple-A was moving all around."
Going back to that adjustment period all prospects go through, they start to notice a difference between Triple-A pitchers and major league pitchers.
"Have to hit the mistakes. You get a good pitch to hit, you have to do damage with it early," said Gonzales. "Make the adjustments and go from there. Try not to expand too much. Stay within your approach and everything like that, and put a good swing on the ball."
Gonzales has definitely made some positive strides early on in his major league career, now we have to wait and see if he continues to make those strides as the season gets longer.