Mark Mathias, Andrew McCutchen Lead Pirates' 14-3 Rout of Rockies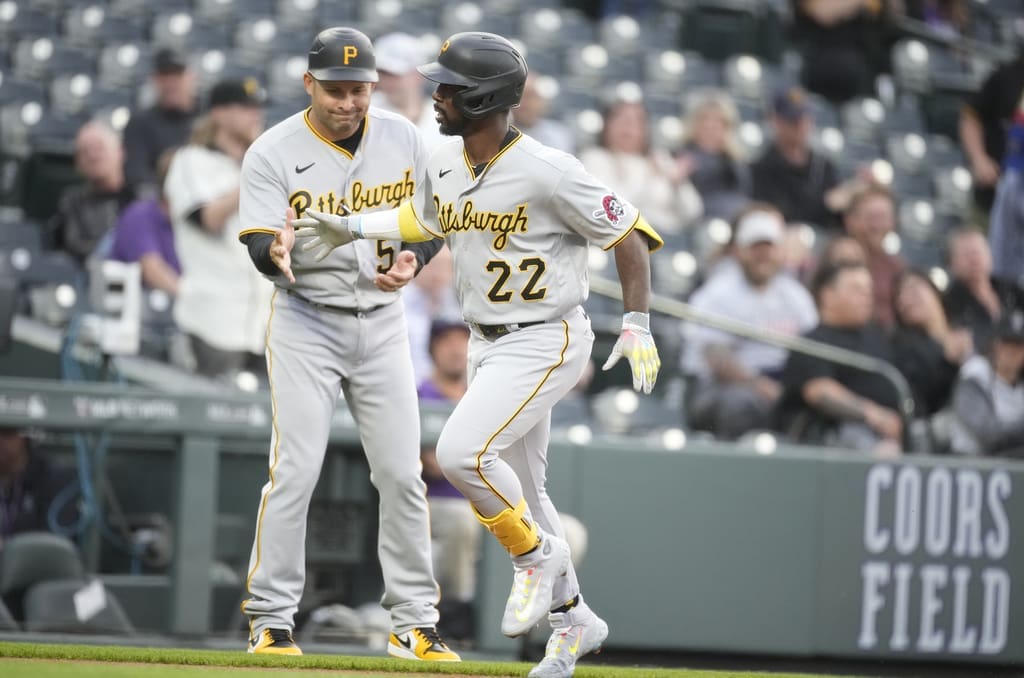 Mark Mathias had a career-high four hits and Andrew McCutchen and Jack Suwinski homered to lead the Pittsburgh Pirates to a 14-3 rout of the Colorado Rockies on Monday night in the opener of a three-game series at Coors Field in Denver.
The Pirates (10-7) had a total of 16 hits. Ke'Bryan Hayes, Bryan Reynolds, McCutchen and Carlos Santana had two hits apiece.
Hayes and Santana each had three RBIs and Reynolds and Ji Hwan Bae each contributed two.
That was more than enough support for veteran left-hander Rich Hill (1-2) to notch his first win with the Pirates after signing as a free agent in the offseason. Hill went six innings and gave up one run on six hits while striking out seven and walking two.
Pirates starters have worked at least six innings in seven consecutive games and have a 2.30 ERA in that span.
The Pirates have alternated wins and losses in their last 11 games. The Rockies (5-12) are on a six-game losing streak.
McCutchen got the Pirates started when he hit a solo homer in the first inning that just eluded leaping left fielder Jurickson Profar. It was McCutchen's ninth career home run at Coors Field, where he has a .308 batting average.
Suwinski ended the Pirates' scoring with a 461-foot solo homer off utility infielder Alex Trejo in the ninth inning.
The Pirates chased Rockies starter Kyle Freeland (2-1) during a six-run second inning in which six different players had RBIs.
Mathias, Bae, Austin Hedges, Hayes and Reynolds strung together consecutive run-scoring singles with none out. Santana drove in the last run of the inning on a force out to pad the Pirates' lead to 7-0.
Santana played in his 1,800th career game. Just six active players have appeared in more games — the Detroit Tigers' Miguel Cabrera (2,708), San Diego Padres' Nelson Cruz (2,018), Cincinnati Reds' Joey Votto (1,991), Chicago White Sox's Elvis Andrus (1,963), Arizona Diamondbacks' Evan Longoria (1,921) and McCutchen (1,911).
The switch-hitting Santana is also 8 for 17 (.471) against left-handed pitching this season.
A squeeze bunt by Bae and an RBI single by Hayes put the Pirates in front 9-0 in the third.
Kris Bryant countered with a solo home run in the bottom half of the inning to account for the Rockies' lone run. Bryant went 3 for 4 with a walk.
Santana's two-run single capped a four-run fifth inning that made it 13-1. Hayes had a sacrifice fly and Reynolds singled in a run.
The Rockies scored twice in the eighth inning against Wil Crowe. Harold Castro hit a sacrifice fly and Mike Moustakas added an RBI double.
The series continues at 8:40 p.m. Tuesday with Vince Velasquez (1-2, 5.40) pitching for the Pirates against Jose Urena (0-2, 9.90). The game will be televised by AT&T SportsNet Pittsburgh.