Derek Shelton is Excited Just Like Everyone Else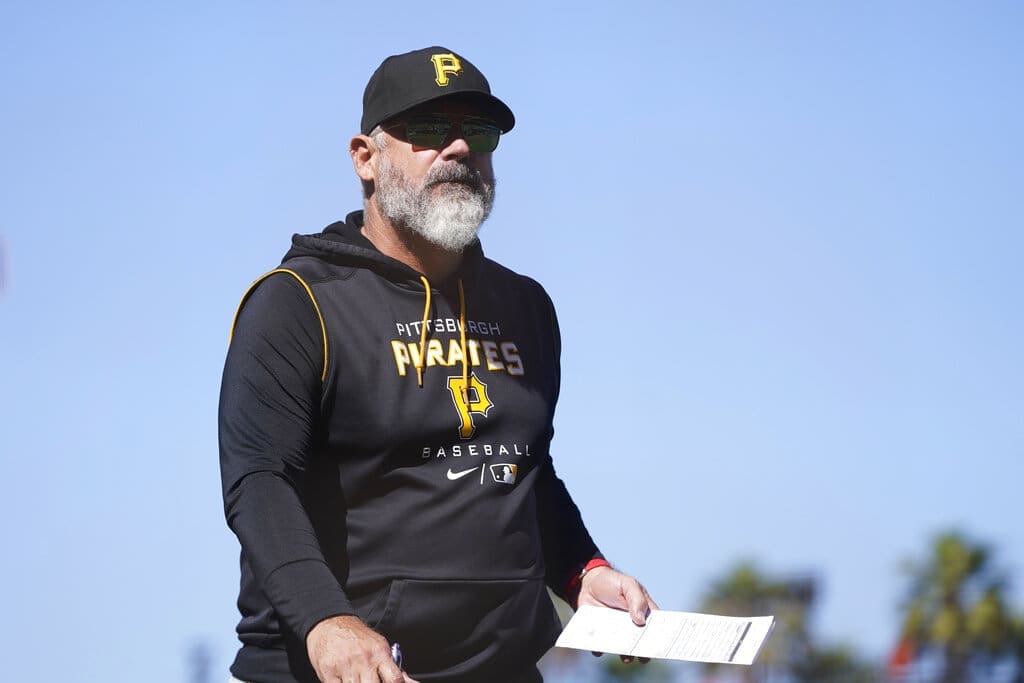 Derek Shelton likes a good homecoming story just as much as anyone else. He also likes good baseball players.
Thus, it is no surprise the Pittsburgh Pirates manager is ecstatic that Andrew McCutchen is returning to the organization. The Pirates signed the 36-year-old outfielder as a free agent last week five years after trading the fan favorite to the San Francisco Giants.
"It was something that was important for our club and important to the city," Shelton said Friday as he met with Pirates' beat writers at PNC Park. "I think the most important thing is he's still a good player. The conversation I had with him, then he said it publicly — this is not a farewell tour."
McCutchen also figures to add veteran leadership to a young team along with other players signed in free agency like left-hander Rick Hill, catcher Austin Hedges and first baseman/designated hitter Carlos Santana.
"He also functions within what we needed and adding veterans into our clubhouse was something that was important to (general manager) Ben (Cherington) and I, this year," Shelton said. "I think it's going to be exciting with him coming back. So, I think it's going to be a cool story for the city but more importantly for us as a club that we're bringing back someone who is going to add value to us both on the field and in the clubhouse."
McCutchen hit .237/.316/.384 with 17 home runs and eight stolen bases in 134 games with the Milwaukee Brewers last season. Though he made 82 starts as the designated hitter as opposed to 49 in the outfield, McCutchen had four defensive runs saved.
Derek Shelton said he envisions McCutchen playing both left field and right field while also getting playing time as the DH.
"It'll depend on what our lineup construction is and where it goes," Shelton said. "The thing is, and we can measure it now, is he still moves well. The flip side of that is I have to manage with him his volume (of playing time) because he is a veteran player – when he plays the field, when he DHs, what the matchups are, what his days off are – that will just be a lot of communication with where he's at and how he feels each day."
DRAFT KINGS SIGNUP BONUS
$50 FREE BET!


Get a $50 bet free when you sign up with DraftKings.
GET NOW
When the idea of signing McCutchen was first broached, Shelton said his only trepidation was how the Pirates could still get enough playing time for their young outfielders to continue to develop. However, the Pittsburgh Pirates are confident there will still be at-bats left for such players as Jack Suwinski, Cal Mitchell and Ji Hwan Bae.
"I think we went into the offseason and I think we'll go into every offseason with the thought of how we want to make our club better now but (also) have to be very thoughtful of what the long-term effect is with our players," Shelton said. "My initial thought was how is he going to fit in? When we started to look at it, it was all so positive.
"When we got down to it, it was like what do you think? I thought it was a move we needed to make. If we could get him, let's get him."
Shelton, who has lost 20 pounds since the end of the season, rarely likes to discuss lineup decisions. However, he did reveal a small piece of what it will look like on April 7 when the Pirates play the Chicago White Sox in their home opener.
"Cutch will be in there," Shelton said with a smile.