Pirates Prospect Watch: Termarr Johnson Records First Hit; Nunez Hits First Pirates' Homer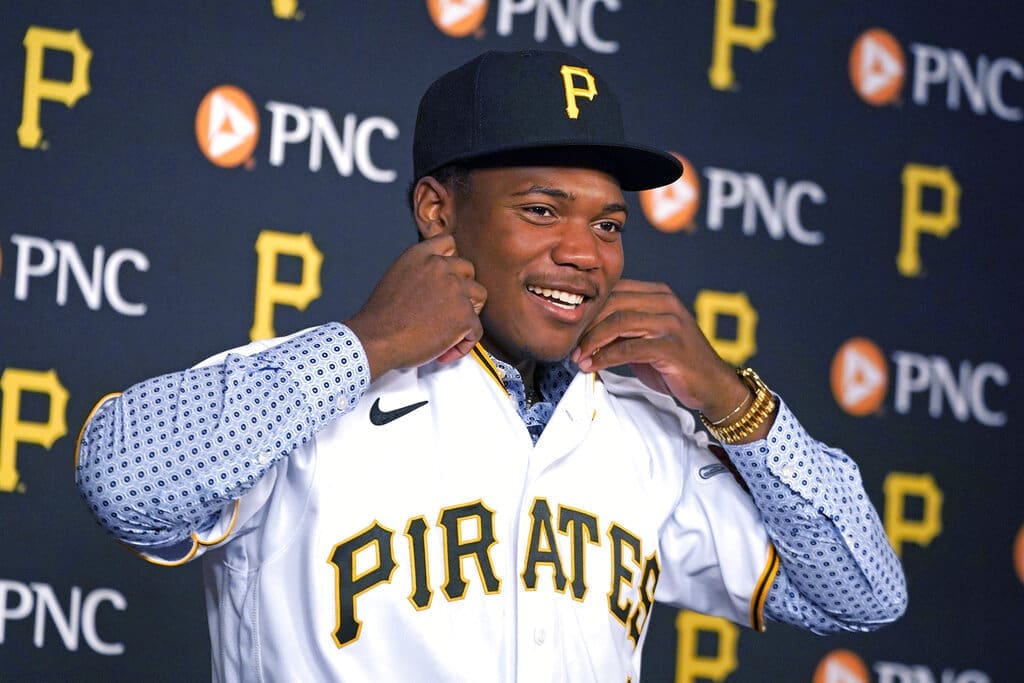 Down in the FCL, Pittsburgh Pirates' 2022 first-round selection Termarr Johnson recorded his first professional hit with a double to right field. Johnson finished the game 1 for 3.
Three of the Pirates' top four affiliates picked up wins on Saturday, led by these standout performances.
Indianapolis Indians
RHP Mike Burrows
Game: 4.1 innings, three hits, one earned run, two walks, six strikeouts
Season: 1-3, 4.93 ERA, 34.2 innings, 34 strikeouts, nine walks, nine games/seven starts
INF Kevin Padlo
Game: 3 for 5 with a double and an RBI
Season: .533/.563/.867, two doubles, one home run, six RBIs, four games
Burrows pitched very effectively in a piggy-back situation in the Indians' 6-1 victory over the Memphis Redbirds. Padlo continued his hot start to the Pirates' organization with three more hits.
Diego Castilllo also recorded a three-hit game and a stolen base while Cal Mitchell slugged a two-run homer.
Altoona Curve
1B Malcom Nunez
Game: 2 for 2 with a home run, two RBIs, a run and a walk
Season: .286/.389/.500, one home run, three RBIs, one steal, four games
RHP Aaron Shortridge
Game: 5.0 innings, four hits, one run (unearned), two walks, for strikeouts
Season: 1-3, 6.75 ERA, 26.2 innings, 18 walks, 19 strikeouts, eight games/eight starts
Altoona took down the Binghamton Rumble Ponies thanks in part to Nunez's first homer with the Pirates since being acquired from the Cardinals. Shortridge had his best start of the year with the Curve.
Francisco Alvarez recorded a pair of hits including a double, and  J.C. Flowers tossed three strong innings in relief.
Greensboro Grasshoppers
RHP Sean Sullivan
Game: 4.0 innings, one hit, two runs (both unearned), two walks, seven strikeouts
Season: 2-5, 4.56 ERA, 73 innings, 26 walks, 81 strikeouts, 19 games/14 starts
INF Dariel Lopez
Game: 2 for 4
Season: .294/.333/.500, 15 doubles, one triple, 19 home runs, six steals, 93 games
The Grasshoppers were blanked by the Jersey Shore BlueClaws 8-0, but Sullivan turned in a strong performance on the mound. Lopez led the offense with two hits.
Bradenton Marauders
C Wyatt Hendrie
Game: 3 for 4 with an RBI and a run
Season: .236/.332/.356, eight doubles, three triples, three home runs, 18 RBIs, three steals, 65 games
INF Tsung-Che Cheng
Game: 2 for 4 with a double, an RBI, a run and a walk
Season: .265/.360/.407, 19 doubles, six triples, four home runs, 41 RBIs, 23 steals, 81 games
Hendrie and Cheng led the way as Bradenton defeated the Palm Beach Cardinals 7-5. Jack Brannigan, a 2022 drafteee, hit his second homer of the season.