Perrotto: Derek Shelton Getting What He Deserves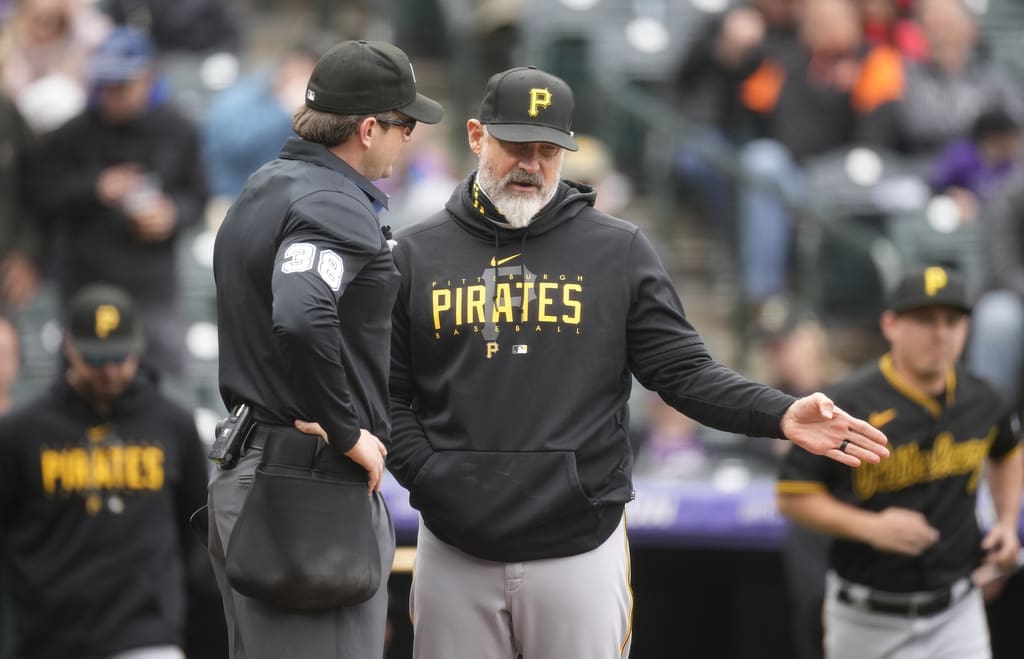 PITTSBURGH – Until this season, it has been more difficult to evaluate Derek Shelton than just about any other major-league manager.
Shelton had a nightmarish first year with the Pittsburgh Pirates in 2020 as they had a 19-41 record – the worst in the major leagues – during the pandemic-shortened season. That begat a complete rebuild by the organization that included a 101-loss season in 2021 and a 100-loss season last year.
Considering his teams were overmatched most of the time from a talent standpoint, Shelton could only be fairly measured in ways other than the win-loss record. What Shelton did get high marks for was never losing the respect of his players and his teams continuing to play hard.
The early part of this season has been different. The Pirates have been quite competitive with a surprising 15-7 record following a winter in which general manager Ben Cherington significantly bolstered the roster with veteran players.
That was enough for the Pirates to give Shelton a contract extension Saturday night before they beat the Cincinnati Reds 2-1 at PNC Park. While the Pirates would not reveal the terms of the extension, they did acknowledge his contract was set to expire in October.
Shelton's extension was based more than on him being a good guy and his players liking him. That became clear when I asked Cherington about Shelton's communication skills, and he steered the conversation toward his manager's strategic acumen.
"It's the vast majority of the job, I would argue," Cherington said of Shelton's ability to communicate. "Like any leadership job, being an elite communicator and continuing to strengthen that skill is so critical."
Cherington then changed course.
"He's really good at the tactical stuff," Cherington said. "He's a smart, very curious baseball mind. He has been really dogged at building the apparatus and process that helps him prepare for a game, make a decision during the game, debrief after a game. That stuff is important. He gives himself a really good chance to make good decisions."
It was interesting to hear Cherington say that. Throughout his four years in Pittsburgh, Shelton's strategic moves have rarely been dissected because he has been saddled with rosters so thin in talent that Danny Murtaugh could have risen from the grave and been unable to wring out many more wins.
"But the rest of the day is all about communication," Cherington continued. "He's a leader of an entire travel party. It's 50-some odd people. That group has to be working well together, in a place where they can come to the ballpark and be productive. Where trust is being built, where you can challenge each other inside that group. You may disagree and move forward. Communication is a fundamentally important part of that."
From the standpoint of someone who has covered the major leagues for five decades, it was difficult to get a read on Shelton right away. Major League Baseball prohibited clubhouse access to the media during Shelton's first two seasons because of the pandemic.
However, since access was restored last season, I've gotten a clearer picture of Shelton's relationship with players and staff. No one has uttered a bad word about him to me, either on or off the record.
The respect he has in the clubhouse is obvious.
"The respect of the group is very important to me," Shelton said. "And I've spent a lot of time talking to a lot of managers that I respect about how they go about it and what they do and what their conversations are. The game's changed over the last 10 years about how you have to relate to players, and I think that's important.
"But the respect from players is extremely important to me, and it's important to me from the guys that have left – the guys that we've traded, the guys that we've DFA'd, the guys that are not here anymore, the fact of the relationships that I still have with them, then it makes me internalize like personally, maybe I am doing something right."
The critics will point to Shelton's 157-249 record in four seasons. They will refer to NFL coaching legend Bill Parcells' line that you are what your record says you are.
However, Shelton's record doesn't say who he is. He has guided the Pirates through some of the worst times in franchise history and somehow managed to keep a positive attitude.
And Shelton is deservedly getting the opportunity to stay a while longer when times are seemingly getting better.