What It Might Take For Pirates To Extend Oneil Cruz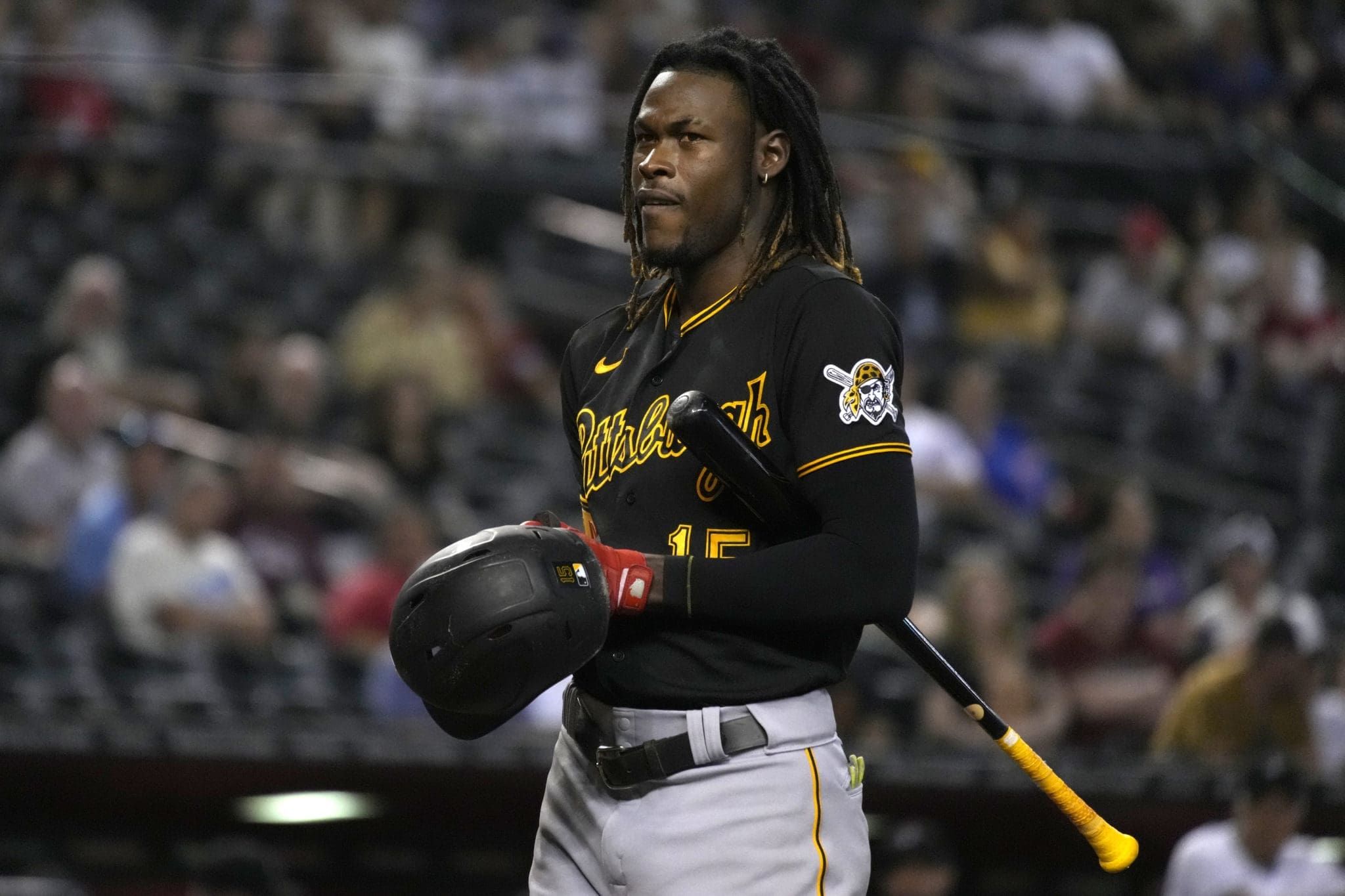 Prior to the 2022 Pittsburgh Pirates' home opener, the club officially announced the largest deal ever handed out in free agency.
Ke'Bryan Hayes put pen to paper and inked an eight-year $70M extension, a deal that also has a club option for a ninth season.
For the Pirates, it was the first major sign of showing a commitment to putting a winning product on the field moving forward.
Fast forward, and the Pirates again have an opportunity to make another statement by locking up a key piece of their young core.
Oneil Cruz completed his first extended look of big league action after the Pirates called up the recently-turned 24-year-old midseason.
In 87 games with the Bucs, Cruz posted a .744 OPS. He hit 17 homers, drove in 54 runs and swiped 11 bags.
While there were noticeable growing pains, Cruz flashed his potential with some impressive tools.
He showcased his big-time power with tape-measure home runs and huge exit velocity numbers.
He displayed his ability to run with impressive sprint speed. Defensively, he showed off his rocket of an arm from shortstop.
For the Pirates, Cruz figures to be a key component to the next winning teams of the franchise.
While Cruz is under team control through the 2027 season, his price tag figures to go up as he continues to play more.
By extending the 6-foot-7 shortstop, the Pirates can keep him in the black and gold for the even longer-term and avoid arbitration in the process.
So, what might a potential deal look like?
It's safe to assume any agreement will break the club record for largest deal in franchise history. We are likely talking about nine figures here.
Cruz hasn't yet eclipsed a full year of major league service time, currently checking in with a service time of 0.110 after 2022.
Cruz posted a 1.3 fWAR this season, giving him a 1.4 fWAR for his career after briefly appearing at the end of the 2021 season with Pittsburgh.
Typically, players with below one year of service time don't sign for the type of dollar amount you might expect.
For example, White Sox shortstop Tim Anderson signed a six-year $25M extension in 2017.
But when it comes to a player of Cruz's caliber and upside, he will likely been in the upper echelon of these types of extensions.
Because of this, let's examine the two largest deals ever handed out to a player with under one full year of service time.
Wander Franco, Tampa Bay Rays. Extension Details: 11 years $182M
Date of extension: 11/23/2021
Service time at extension: 0.104
Career fWAR at extension: 2.4
Age at extension: 20 years old
Years covered: three years of pre-arb, three arbitration years, five free agent years
Notes: Largest contract for anyone with under one year of service, deal can max out at 12 years and $223M with escalators and club option.
Ronald Acuña Jr., Atlanta Braves. Extension Details: Eight years $100M
Date of extension: 4/2/2019
Service time at extension: 0.159
Career fWAR at extension: 4.0
Age at extension: 21 years old
Years covered: two years of pre-arb, four years of arbitration (super two), two free agent years
Notes: Largest deal for someone with under one year of service prior to Franco's deal, comes with two $17M club options.
The takeaway here is if the Rays can afford to pay that type of an extension to Franco, then the Pirates surely could too.
Looking at Cruz, he is already under club control for six more seasons, so any extension would assumingly cover at least seven years, but preferably longer from the Pirates' side of things.
If I had to venture a guess, I would bet the Cruz's guarantee would have to fall somewhere in between what Franco and Acuña received — depending on the years of course.
If the Pirates do extend their young star at some point, the deal will in all likelihood surpass the Hayes extension for biggest deal in franchise history, forcing owner Bob Nutting to spend like we have not seen before.
For the Pirates, it should be worth it.
Locking up Cruz would give the clubhouse another clear sign of an effort to win, and it would give the fanbase a welcomed and unprecedented commitment that would go over favorably.