The Starting Rotation Has Been Much Better of Late, and so Have the Pirates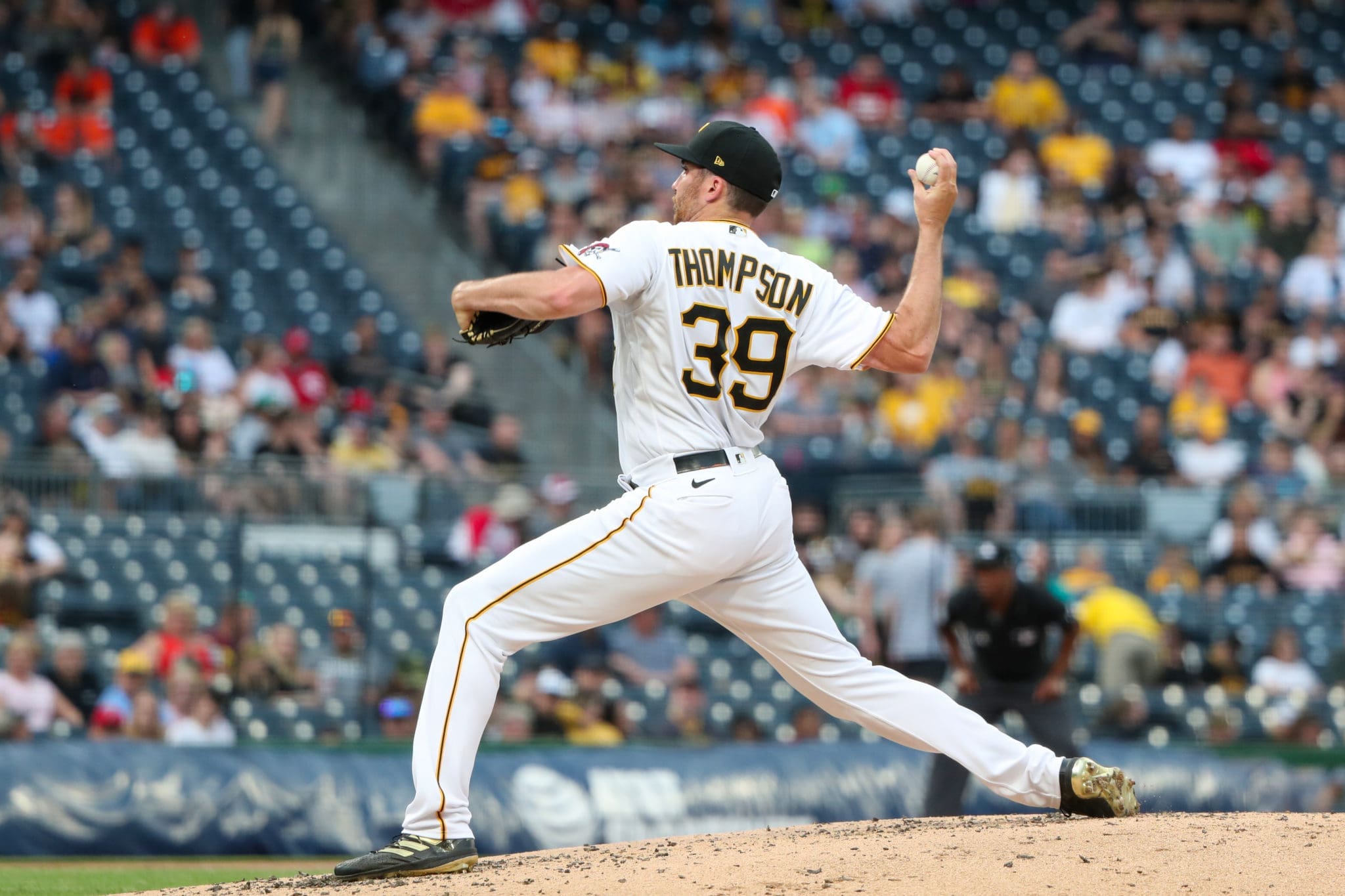 After picking up a 3-0 win over the Diamondbacks on Sunday, the Pirates have been victorious in eight of their last 12 contests including earning wins in five of six games on the week. The Pirates swept the Dodgers in Los Angeles prior to taking two out of three against Arizona, and the Bucs are currently sitting at 24-28 on the season.
In the win on Sunday, right-hander Zach Thompson tossed five shutout innings while scattering just four singles. He walked a pair of batters and struck out four. It was the latest strong outing from Thompson who has turned around his season after a rough start.
Thompson ended April with an ERA sitting at 10.05. He had allowed at least four runs in three of his first four outings, and only worked into the fifth inning one time. In his last six starts, however, it has been a much different story. Over that stretch, Thompson has posted an impressive 2.21 ERA with a respectable 3.78 FIP. Opponents are only hitting .209 with a .581 OPS against him.
Thompson hasn't allowed a run in three of those six outings, and he's allowed two runs or less in five of them. His season ERA dropped from over 10 to a much more respectable mark of 4.60.
But Thompson isn't the only one who has seen significant improvement among the Pirates rotation. In fact, the Pirates rotation as a whole has been much better over the last month or so, and the Pirates are feeling the effects of that.
All season long, the Pirates rotation has been anchored by veteran left-hander Jose Quintana, who has posted a 2.32 ERA in his first 10 starts to begin the season. The rotation has also received a big boost from rookie right-hander Roansy Contreras.  In his three starts since joining the Bucs rotation, the 22-year-old has only allowed two earned runs over 15.2 innings pitched (1.15 ERA).
While JT Brubaker's last start did not go well, In eight starts from Apr. 19 through the end of may, the righty really found his grove. Over 40.1 innings, Brubaker recorded a 3.12 ERA with a 3.56 ERA and 43 punch outs, and like Thompson, has cut his season ERA by over half.
After two appearances out of the bullpen, Mitch Keller did a fine job against the Dodgers in his first games back in the rotation. Keller battled some control problems, issuing five free passes over five innings, but only allowed two hits and two runs while picking up five strikeouts to earn the win over the Dodgers on Tuesday.
It's no surprise that the improvement from the starting rotation as a whole has led to a good stretch of baseball for the Bucs. Currently sitting 4.5 games out of the Wild Card spot, the Bucs rotation will look to keep it going into the summer months to bring some buzz to PNC Park.