Pirates Prospect Watch: Chandler, Solometo Combine on Shutout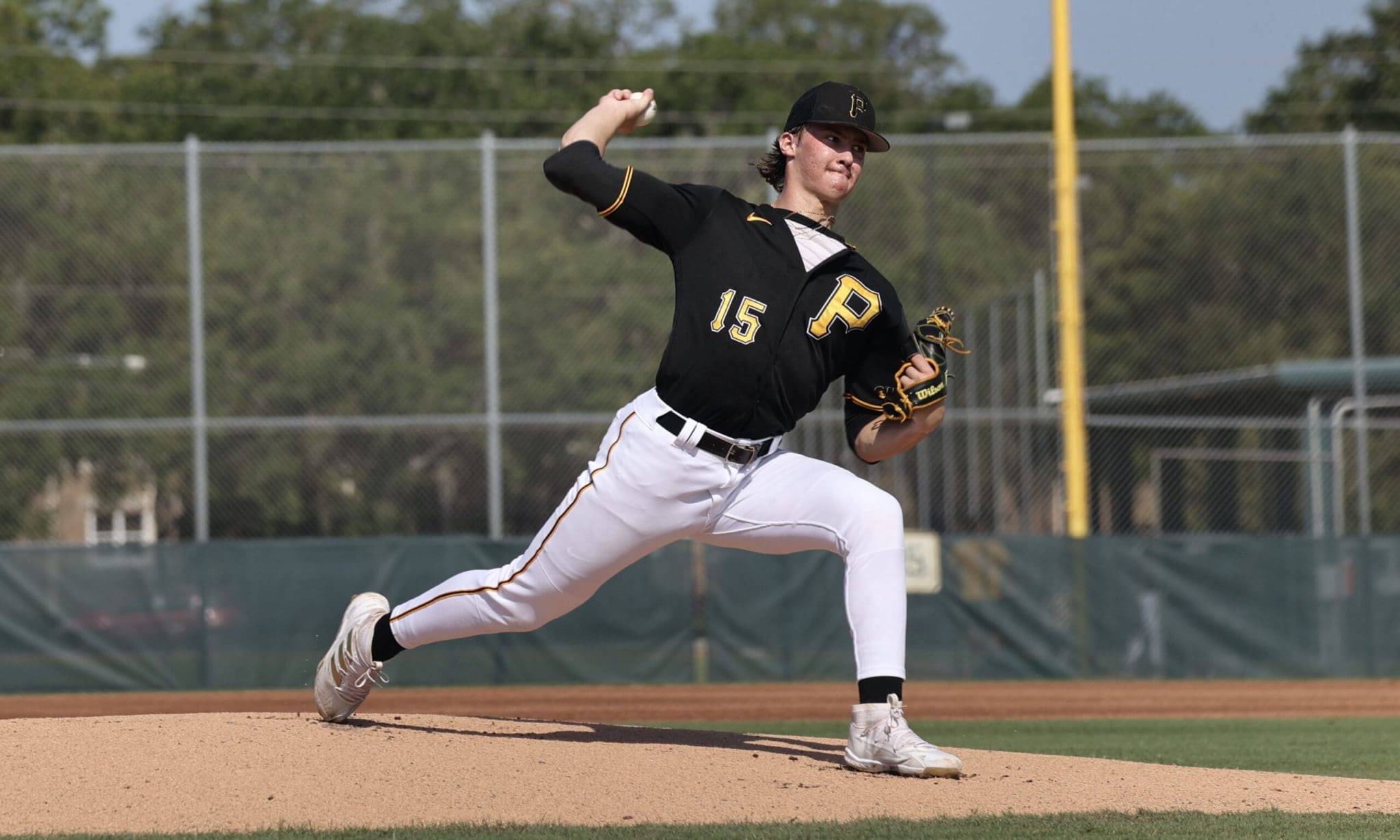 After Monday's edition of Pirates Prospect Watch broke down comments made by Pittsburgh Pirates general manager Ben Cherington regarding three minor leaguers, the Bucs' top four affiliates were back in action on Tuesday night.
A number of Pirates' pitching prospects enjoyed quality performances on the mound Tuesday and some position players shined as well. Here's who shined the brightest.
Indianapolis Indians
RHP Cody Bolton
Game: 3.0 innings, one hit, no runs, no walks, five strikeouts
Season: 2-2, 2.72 ERA, 56.1 innings, 39 hits, 33 walks, 61 strikeouts, 21 games/12 starts
OF Travis Swaggerty
Game: 1 for 3 with a walk
Season: .259/.346/.415, 12 doubles, seven triples, seven home runs, 43 RBIs, 12 steals, 80 games
Indianapolis lost a pitcher's duel to the Iowa Cubs 2-1. Bolton looked excellent across his three innings in relief of Johan Oviedo, who gave up one run and struck out three in two innings.
Swaggerty was on base twice for the Indians. Diego Castillo drove in their lone run
Altoona Curve
INF Liover Peguero
Game: 2 for 3 with two RBIs
Season: .264/.303/.398, 20 doubles, four triples, eight home runs, 44 RBIs, 22 steals, 98 games
RHP Kyle Nicolas
Game: 5.0 innings, three hits, two earned runs, five walks, five strikeouts
Season: 1-3, 3.87 ERA, 74.1 innings, 58 hits, 37 walks, 86 strikeouts, 19 games/18 starts
Play between Altoona and the Harrisburg Senators was suspended in the seventh inning with the score tied at 2-all, but Peguero was able to drive in a pair prior to the stoppage. Nicolas was able to battle some control issues to limit the Senators to just two runs.
Greensboro Grasshoppers
SS Francisco Acuna
Game: 2 for 4 with a home run, a double, four RBIs, two runs and a steal
Season: .267/.357/.436, 17 doubles, four home runs, 22 RBIs, seven steals 55 games
RHP Jared Jones
Game: 5.0 innings, five hits, two earned runs, five strikeouts
Season: 5-6, 5.01 ERA, 106 innings, 100 hits, 43 walks, 125 strikeouts, 22 games/22 starts
Acuna turned in an impressive effort in his two-hit, four-RBI performance from the ninth spot in the Grasshoppers' batting order. Jones was impressive across his five innings in the start. Ultimately, Greensboro fell to the Rome Braves 6-5 in 10 innings.
Jacob Gonzalez recorded a three-hit games and Domingo Gonzalez provided three scoreless innings of relief.
Bradenton Marauders 
RHP Bubba Chandler
Game: 4.0 innings, three hits, no runs, one walk, three strikeouts
Season: 0-1, 4.32 ERA, 16.2 innings, 14 hits, 12 walks, 22 strikeouts, five games/three starts
LHP Anthony Solometo
Game: 5.0 innings, three hits, no runs, no walks, four strikeouts
Season: 4-0, 3.15 ERA, 34.1 innings, 27 hits, 11 walks, 35 strikeouts, 10 games/five starts
Chandler and Solometo combined to blank the Tampa Tarpons in Bradenton's 6-0 victory. Chandler, who has battled some control issues, allowed only one free pass and Solometo improved his record to 4-0 after earning the win.
Norkis Marcos paced the Marauders' offense with a pair of home runs and three runs driven in.