Pirates Prospect Watch: Endy Rodriguez, Nick Gonzales, Termarr Johnson Shine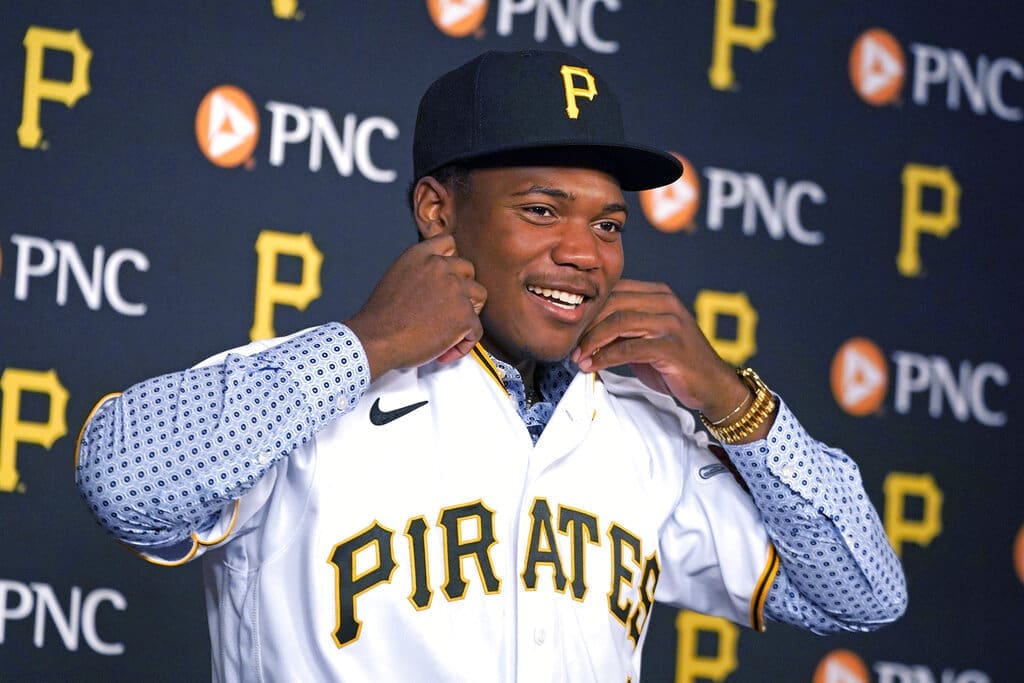 Thursday's minor league slate consisted of strong performances from some of the Pittsburgh Pirates' top prospects.
At Double-A Altoona, Endy Rodriguez and Nick Gonzales led the charge in a big night for the Curve's lineup.
Termarr Johnson, the Pirates' first-round draft pick this year, recorded a multi-hit game for the second straight night for Low-A Bradenton.
Indianapolis Indians (64-60)
OF Bligh Madris
Game:  2 for 5 with two doubles
Season: .286/.359/.477, 18 doubles, three triples, six home runs 25 RBIs, three steals, 62 games
OF Travis Swaggerty
Game: 1 for 3 with an RBI and two walks
Season: .256/.353/.408, 13 doubles, seven triples, eight home runs, 48 RBIs, 15 steals, 91 games
The Indians edged the Louisville Bats 3-2 for their fifth win in their last seven games. Two-thirds of the Indians' outfield mix helped Indianapolis earn the win.
Cam Alldred, Nick Mears, Cam Vieaux and Eric Hanhold combined for 7.2 innings of scoreless relief.
Altoona Curve (61-61)
C/DH Endy Rodriguez
Game: 2 for 3 with two home runs, three RBIs, three runs and two walks
Season: .362/.457/.783, eight doubles, seven home runs, 20 RBIs, 18 games
2B Nick Gonzales
Game: 3 for 5 with a double, an RBI and two runs
Season: .261/..379/.403, 15 doubles, five home runs, 25 RBIs, five steals, 58 games
A pair of the Pirates' more highly regarded prospects in Rodriguez and Gonzales helped Altoona cruise to a 13-7 victory over the Akron RubberDucks. Rodriguez has been on fire in his first taste of Double-A.
First baseman Aaron Shackelford picked up a pair of hits and doubled in three runs in the win.
Greensboro Grasshoppers (54-66)
RHP Ricky DeVito
Game: 4.0 innings, three hits, two runs, one walk, eight strikeouts
Season: 3-5, 4.70 ERA, 67 innings, 59 hits, 41 walks, 87 strikeouts, 34 games/five starts
C Abrahan Gutierrez
Game: 1 for 3 with a walk
Season: .256/.353/.409, 19 doubles, 12 home runs, 55 RBIs, four steals, 102 games
DeVito picked up a career-high eight strikeouts, but still took the lass as Greensboro fell to the Winston-Salem Dash 8-0. Gutierrez was the only player in the Grasshoppers' lineup to reach base twice.
Bradenton Marauders (64-58)
2B Termarr Johnson
Game: 2 for 3 with a double, two runs and a walk
Season: .368/.435/.526, three doubles, two RBIs, seven games
OF Sergio Campana
Game: 2 for 3 with a home run, an RBI, two runs and a walk
Season: .206/.328/.318, 12 doubles, one triple, seven home runs, 27 RBIs, 28 steals, 94 games
Johnson stayed hot for Bradenton in its 8-7 victory over the Fort Myers Mighty Muscles. He drew a walk in the ninth inning, setting the stage for a Wyatt Hendrie walk-off home run.
Juan Jerez hit his seventh homer of the season in the win, and Tsung-Che Cheng collected two more hits.