Pirates Walk Off Reds 4-3 on Kevin Newman's 10th-Inning Single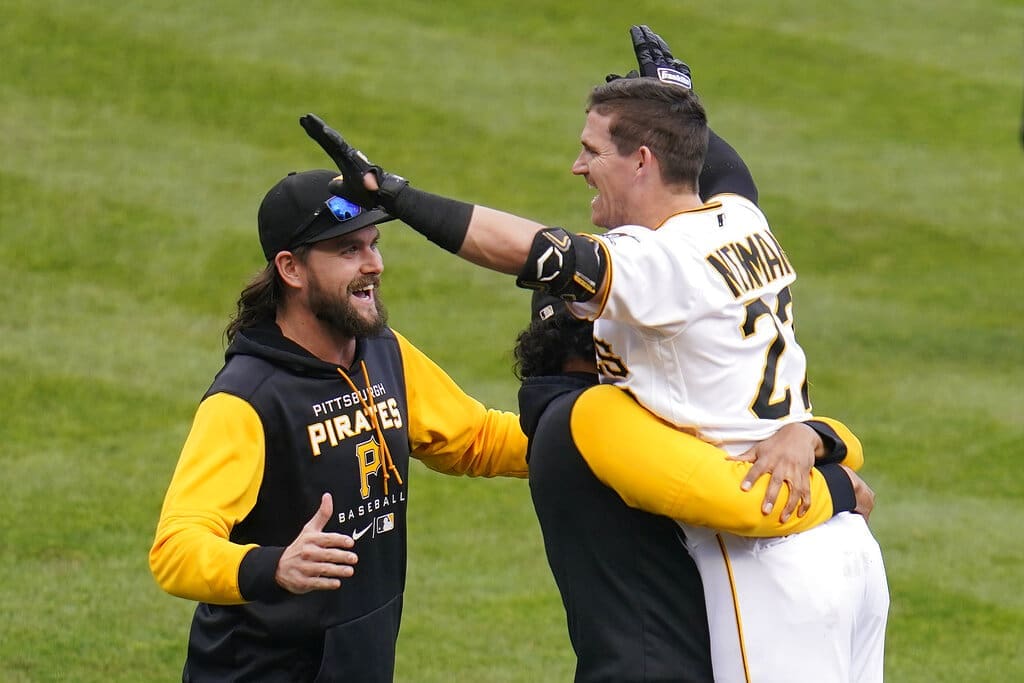 PITTSBURGH — A day's worth of good work by Bryce Wilson was quickly undone Wednesday afternoon but the Pittsburgh Pirates were still able to bounce back to beat the Cincinnati Reds 4-3 in 10 innings to sweep the three-game series at PNC Park.
Kevin Newman's RBI single with one out gave the Pirates their seventh straight win over the Reds in September. It was his seventh career walk-off hit and extended his hitting streak to 10 games.
"In this situation, I just take a deep breath, take it pitch to pitch and try to get a good pitch to hit," Newman said.
The heroics came after the Reds rallied in the top of the ninth inning with back-to-back home runs by Kyle Farmer and Jake Fraley off Chase De Jong to tie the score at 3-all and force extra innings.
Newman dumped his single into shallow center field off Alexis Diaz (6-3) to score pinch runner Rodolfo Castro from second base. Castro was running for Diego Castillo, who would have been the Manfred Man at second after making the last out of the ninth inning.
Yohan Ramirez (3-1) pitched a scoreless top of the 10th.
After Wilson went eight shutout innings, De Jong failed to hold the 3-0 lead.
Spencer Steer led off the ninth with a single and Farmer followed with a two-run shot to left-center to make it a one-run game. Fraley's blast to right-center tied it.
Wilson allowed just three hits while setting a career high for innings. He struck out six and walked one.
The last Pirates pitcher to throw at least eight shutout innings in a game was Ivan Nova in 2018.
Pirates manager Derek Shelton said he did not regret lifting Wilson after 90 pitches.
"In hindsight you can second-guess everything," Shelton said. "But in terms of why we made the decision and the thought process was, we're going to stick to our process. I'm more excited that Bryse threw the ball as well as he did for eight innings and was able to execute pitches. That was the thing that I'll take away from his outing."
Reds shortstop Jose Barrero, who came into the game with a .149 batting average, had all three hits off Wilson. He doubled in the third inning and singled in the sixth and eighth.
Oneil Cruz, Miguel Andujar and Cal Mitchell had two hits each for the Pirates.
The Pirates (59-97) are within one game of the fourth-place Reds (60-96) in the National League Central standings. Both teams have six games left.
The Pirates took a 3-0 after two innings. Andujar doubled in a run in the first and Cruz had a two-run double in the second.
After having Thursday off, the Pirates will visit the NL Central champion Cardinals on Friday night in St. Louis to start a three-game series.
Johan Oviedo (4-2, 3.13) will start for the Pirates while the Cardinals are undecided on their starter. Oviedo was traded from the Cardinals to the Pirates on Aug. 1.