Perrotto: Oneil Cruz Trying to Become Long-Term Outlier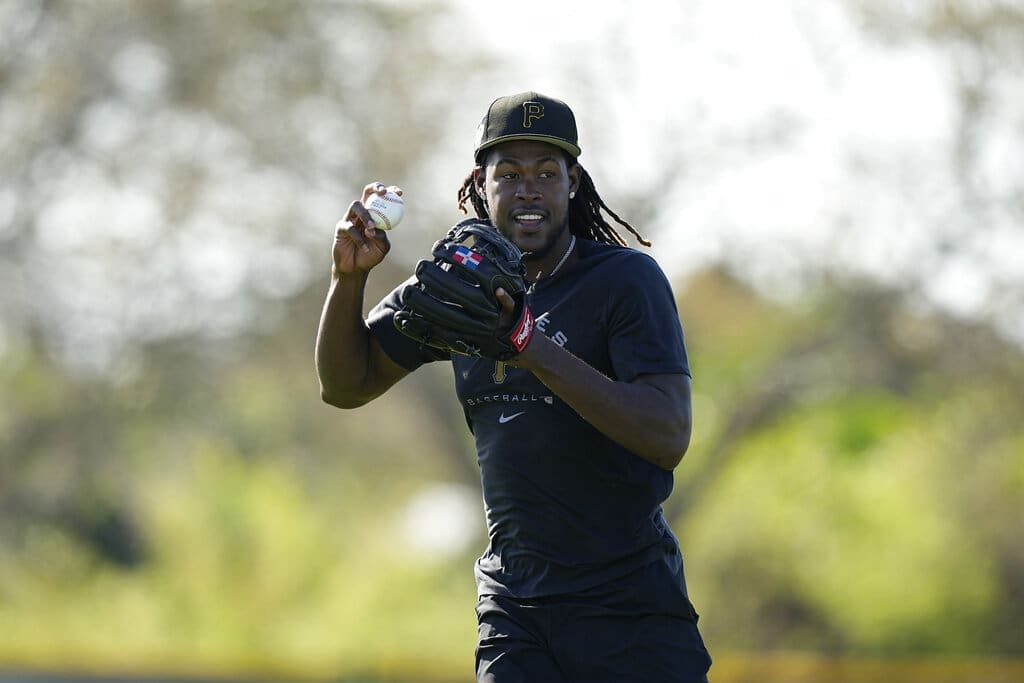 Oneil Cruz didn't need a translator to understand this question.
The Pittsburgh Pirates burgeoning star was asked by an intrepid reporter – OK, it was me – if he gets tired of questions about being a 6-foot-7 shortstop.
Before team translator Stephen Morales could relay the query in Spanish to Cruz, the Dominican Republic native rolled his eyes and laughed.
"It doesn't bother me that much," Cruz answered during a recent break at spring training in Bradenton, Fla. "People are going to say what they want to say. (I'll) just take care of business."
It seems almost as though 6-foot-7 Shortstop Oneil Cruz has become his proper name, kind of along the lines of Mars High School Graduate David Bednar and Frugal Owner Bob Nutting.
People just can't get over the oddity of Cruz being the tallest man ever to play shortstop in a major-league game.
However, to Pirates manager Derek Shelton, Cruz is simply his starting shortstop as the 24-year-old gets set to embark on what is expected to be his first full major-league season. Shelton and the rest of the team's brain trust are beyond the fact Cruz is taller than Michael Jordan.
"I think there's two points to it," Shelton said. "The oddity part will always be there just because it's such an outlier of how big he is. The most important thing is people just look at him as a shortstop now. That's how we view him. We view him as a guy that's going to play shortstop for us. He's always going to be a little bit of that unicorn because there's nobody that big playing in the middle of the diamond. I think the fact that people are starting to look at him as a shortstop is a really positive sign."
Indeed, the chatter about the Pirates needing to move Cruz to move to one of the corner infield or outfield spots has ceased.
The 24-year-old has played 79 games as a shortstop in the major leagues and the advanced metrics suggest he has been a tick above average with one defensive run saved. The traditional stats haven't been so kind as Cruz has been charged with 17 errors.
While Cruz possesses one of the strongest arms of any infielder in the major leagues, the accuracy of his throws has been a significant reason for the errors. Shelton was asked whether that was a result of bad footwork by Cruz or not having confidence in his accuracy.
"I think it's a combination of both," Shelton said. "Mainly, it's a footwork thing because the one thing that height does provide is having to move his feet and get himself underneath him. The other factor that he's going to continue to learn and grow on is he throws as well as anybody in the game and he's got a weapon there with his arm.
"As you're learning the major league game, at times when you get rushed, you try to rely on that. I think we saw a couple of his routine errors last year where he just tried to rely on his arm, and he can't do that. That's why the footwork and being able to do that is still going to be so important."
Cruz says he realizes he needs to continue improving his defense.
"I've been working hard at it, at the stuff I needed to work on to be better," he said. "I'm doing the same thing right now. It's nonstop. I'm going to continue to do that. Get better every day."
The Pirates are hopeful that having regulars at first base and second base this season can also help advance Cruz's defense. Last year, they used 10 players at each position.
Ji-Man Choi figures to be the primary first baseman after being acquired in a November trade with the Tampa Bay Rays. Rodolfo Castro and Ji-Hwan Bae are battling to be the second baseman and Cruz has experience playing with both, mainly in the minor leagues.
Cruz admits that he is more comfortable paired with Castro in the middle infield.
"The communication part is the most important thing," Cruz said. "I think me and Castro do that a lot. I feel really good having him next to him at second best."
Cruz, though, is a little hesitant to predict how much Choi could help cut down on the throwing errors.
"It can go either way," Cruz said. "It's on my part to make good throws to first base, and that's what I'm working on right now. The way I throw the ball to first base is huge, and I'm working on that."
If Cruz can do that then he could well be one of baseball's great outliers for many years to come.